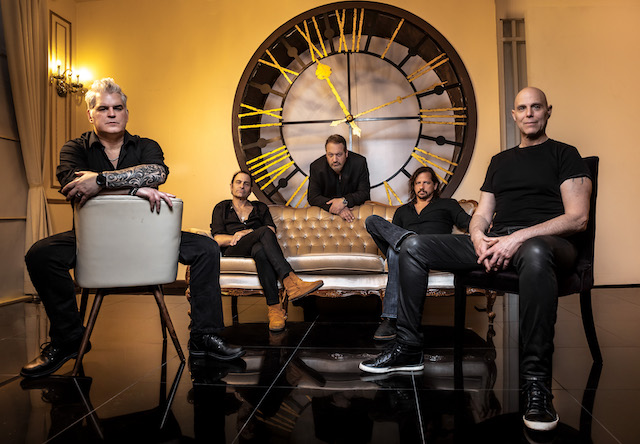 Interview | Gene Potts – Vocalist Colossal Street Jam
A Great Family
Stunned by its overwhelming power blasting from my speakers Colossal Street Jam's `No Way to Live' to me already is this year's revelation. Their action packed anthemic rock is bold as brass. Injected with all of classic rock's ingredients, it rocks forward with tremendous groove and oozes passion. But that's not all: Colossal Street Jam also puts in place a wider variety of styles, melting on the surface of its hard rocking colorful canvas. There's well dosed amounts of soul, blues and jazz incorporated with ear mingling melodies and gigantic hooks atop. Top notch marksmanship fused to infectious grooves and nesting melodies, brought to us by guitarist extraordinaire Sal Marra, the throbbing and growling lows of bass player Tony Flora laying down the solid foundation together with counterpart Dave Halpern on drums.
Topped off by the oozing organic pump of the Hammond and keyboard swirls injected by Eric Safka and Gene Potts versatile gritty vocals that provide the rougher edges for the songs to orbit along. `No Way to Live' is a must hear for everybody craving for great classic rock anthems that warp you back to the packed arenas of the 80s and 90s. Time to get acquainted with the band behind this colossal debut album and touch base with their vocalist Gene Potts, who's very (inter)active on their social media outlets and great to be in touch with.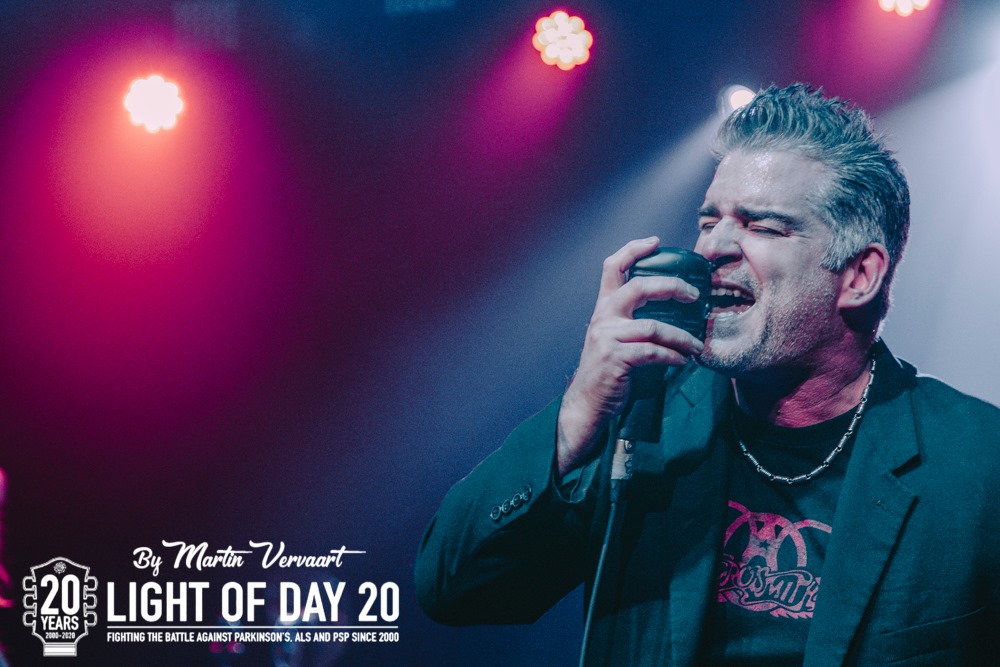 COLOSSAL STREET JAM IS A 5-MAN SHOW
Colossal Street Jam is one of the bands to keep your eyes skinned for. Don't we Gene?
,,I hope so! We think we've got a good and diverse release that touches many genres. Hopefully everyone likes it.''
Off the bat, how was it possible to leap forward so rapidly? Compared to `Living Free' the band has not just stepped forward but took a giant leap in musical progression.
,,`Living Free' was written mostly by Sal [guitars], Tony [bass] and I. Dave [drums] and Eric [keys] joined on during the recording in late 2015. We were able to write a few with them to finish the album. It was really the beginning phase of the new Colossal Street Jam, lineup.''
All ingredients were present on `Living Free' but they seem to be magnified and crystalized on `No Way to Live'. Can you elaborate?
,,I think it's because we grew as a band and as a family. We write differently now; it's a 5 man show. Sal brings in the riffs and we build it together. Everyone having their say and influences.''
Touching on the chemistry one of the main influences pointed out in the bio is the love for classic rock and Grand Funk Railroad in general. Their typical and nesting arena rock hooks are very present on Colossal Street Jam's overpowering sound, yet on the new album the battery feels powered up to the max and we see a more varied cocktail of styles rocking up their tracks. It works in their favor for sure, but it pops the question; What I do miss between them is the tone of Grand Funk Railroad (big influence on you guys) that is present on the debut, like on the title track predominantly. By choice or evolution?
,,Evolution, ,,Won't Last This Way" is definitely a throwback to early Grand Funk. I think the difference may be in that our engineer Tony Lewis was just getting used to working with us. Some of the tracks were recorded someplace else as well. I think we still have that heavy Grand Funk/Deep Purple influence, but we just became a little more diverse and we can also afford better production these days. It also lies in the fact that we are tapping into the influences of everyone in the band not just Sal and I.''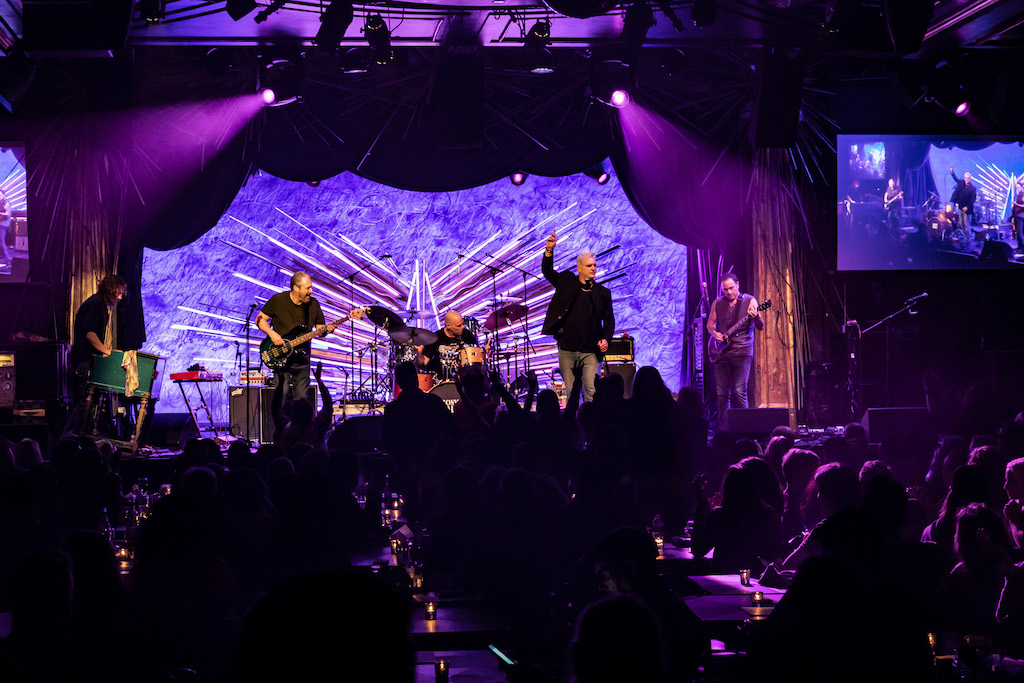 A FUSION OF STYLES
The interplay is key on the album and it all feels more powerful and organic. How did this progress occur?
,,I think it's just time together. Learning each other's styles and what we want to say as a band. We are a live band first and foremost, so what we have learned there we are trying to bring into our recordings.''
Another key feature are the individual musical abilities of the players involved. All bringing their A-game, yet there's a tremendous interplay and cohesion throughout the album. Explain?
,,It's about listening to each other's ideas and experimenting with them. Making what is best for the song to be most important but also give everyone the outlet to be themselves and show what they can do. We were very meticulous with the flow of the album; the song order was key as well to show the proper flow of the songs and to show off the different sides of the band and the members of it.''
And, there's this previously mentioned fusion of styles. Soul, blues, jazz and even the meandering proggy elements of Pink Floyd are present. How did you guys incorporate all these styles and elements?
,,I love the "Prog" parts, a lot of that comes from Eric and what he is influenced by. We had never really experimented with that in our songs before. What we really did was get the verses and choruses to where we wanted them to be and then we just tried different ideas in middle eights or solo breaks. We are always good at changing the direction or adding multiple riffs in the songs as well, to make them different or as our drummer, Dave Halpern says "Colossified".''
Some of these remarkable songs I want to highlight for their variety of styles packed: Hard rocking into the title track that flourishes with the variety of the album in one track alone. How did this come to terms?
,,First song we wrote for the album was the title track ,,No Way to Live". The album just grew from there. We had a lot of personal and health issues after recording that one, 2 bouts with cancer and the pandemic and some deaths in our families. We weren't sure the album was going to move forward from there but thankfully we are all healthy and we were able to get back on track. Took us three good years to record this whole album. Back to ,,No Way to Live", that song has a hook, a great middle riff that changes up the song and then the vocal hook at the end. I think it was a good way to start as it showed we were going to try a little bit of everything with this release.''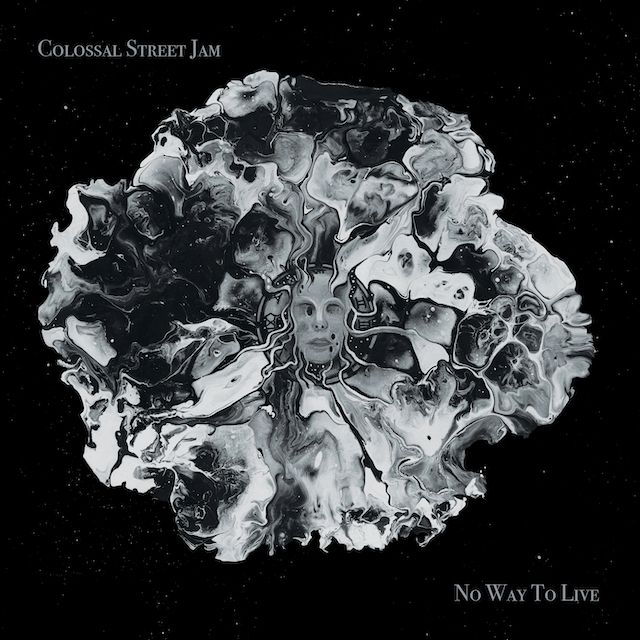 TONY LEWIS THE ENGINEER
The album progresses with a lot of variety. ,,Seconds" has the same swagger of The Who's finest tunes, while blending propelling guitars with intricate Hammond and welling emotions. It contrasts with Sal's tasteful playing on ,,Morning Light" with its ethereal section, opening towards the feelgood and uplifting ,,Before I Sleep again".
There's the brass opened power rocker ,,Look it Here" with its swing and soul sections. The song is a knuckle busting fusion of Wilson Pickett's strut of ,,Mustang Sally" and the powerful soul of Aretha Franklin's ,,Chain of Fools". Tapping from another barrel ,,My Fight, Alone" is packed with great Heep-style melodic guitars opening and subtle guitar sections, before growing in drama. Heartfelt vocals and passionate execution. Strings and Hammond, great instrumentation. Definitely one of the deeper songs….
Hard rocking knuckle busters like ,,Dancing in Place" with its melting guitar slides and welling organs, or ,,Big Trouble" that fires on all its soul engines while unloading Who-reminiscent guitar hooks and varied vocals. Or the blues rouser ,,Nothing Like it" with its arena rocking pretentions and air boxing fist evoking motion. There's a lot on offer here, great texture. A lot to discover for yourself… and then I find that closing track.
Why did you guys decide to record ,,Songbird" as a reprise?
,,,,Songbird'' was on 2016's `Living Free' and has been a fan favorite for a long time. People have varied views on what the songs is about. Love or longing, it's just a beautifully written song by Sal Marra. While Sal was out for cancer treatments, we wanted to do something with the album to move forward. Our engineer, Tony Lewis had a great idea to redo the song with strings. We were lucky enough to get Lorenza Ponce, who has recorded and toured with Hall and Oates, Dixie Chicks, Sheryl Crow and Bon Jovi, to name a few. She came up with an amazing violin and viola arrangement, I redid the vocals and Eric redid some organ tracks underneath it.
Really was so pretty when we listened back to it and decided to make it the last song on the album. Fun fact, Sal snuck out of the house during his last chemo treatment to sing the harmonies.''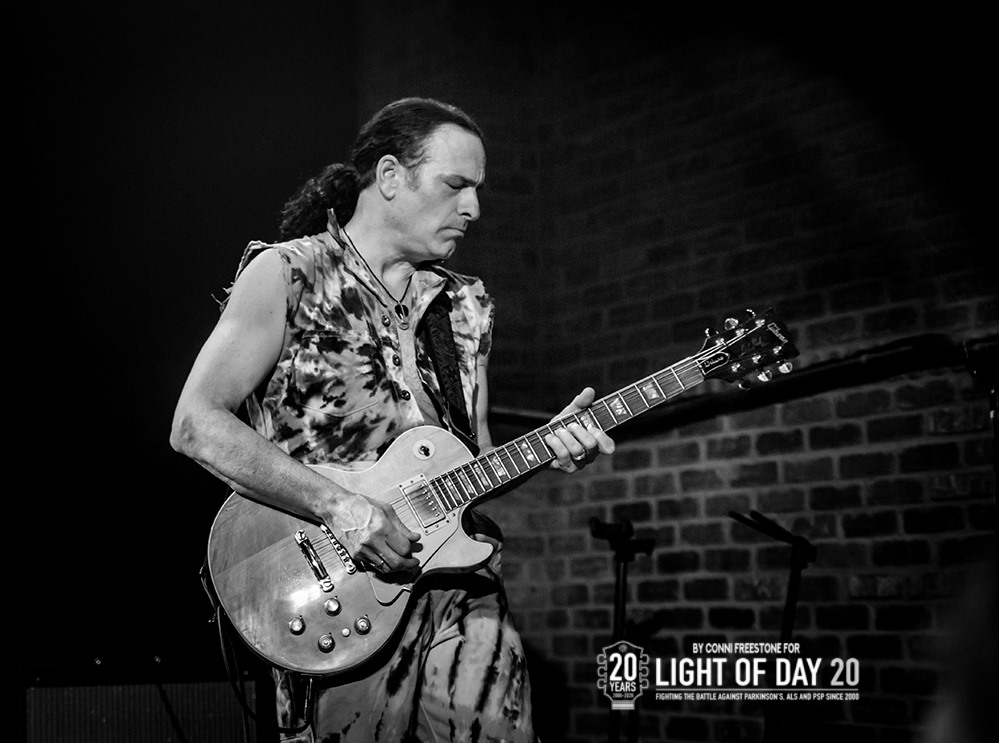 THE VOCAL EXECUTION
And… there's Gene Potts, switching his powerful register constantly. The title track with its raw raspy vocals, suddenly mellowing melodic on the chorus. How much do you train your voice towards that?
,,It's called 200 shows a year for over 20 years. I had a battle with reflux about 10 years ago that made my vocal cords and my voice a little harsher, but I embraced it. I lost a little of my high end in the process, but I am happy I still have a voice and the raspiness adds to the classic rock influence of the record.''
Is the rasp natural or do you have to harness or force towards it?
,,The rasp is natural, but I do know when to kick it in if I need it.''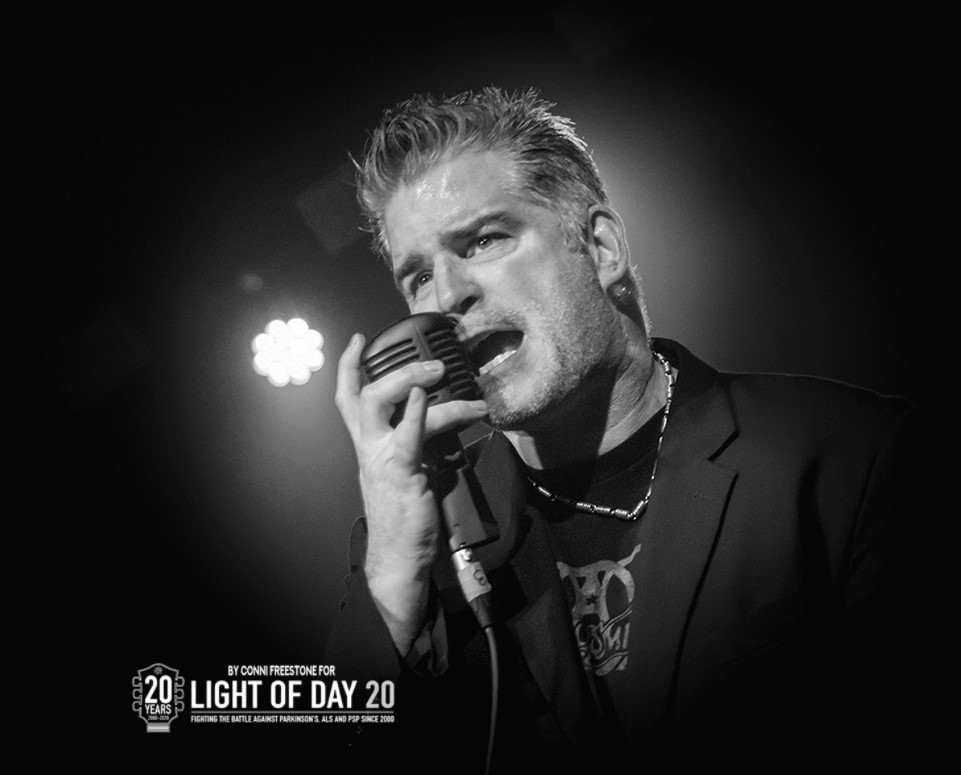 With all the different musical structures at play, Potts is the steady beacon to focus on. He holds up firmly but I can imagine it tough to vary towards the atmosphere and power driving forward. To be on top of things you have to be precise in the execution of your vocals and don't force to overpower. Thus, is safeguarding important.
How big is your input in the melodies in order to flex your vocal chords and utilize this appeal?
,,Sal and I work on the melodies. I guess it's really based on the key of the song and if I get into my upper register. I don't purposely think ahead to be raspy it just comes out for the most part. If there something in a song that needs to sound rougher, I go for it. Sal has a raspy voice as well, but he can hit some crazy clean high harmonies.''
How hard was it to make them all sound as fluently melting as they do?
,,Sal and I have been singing together for a very long time. Its funny sometimes we talk at the same time and are in harmony. It's just a lot of time together whether it be with CSJ, or with acoustic projects that we have on the side. We spend a crazy amount of time together.''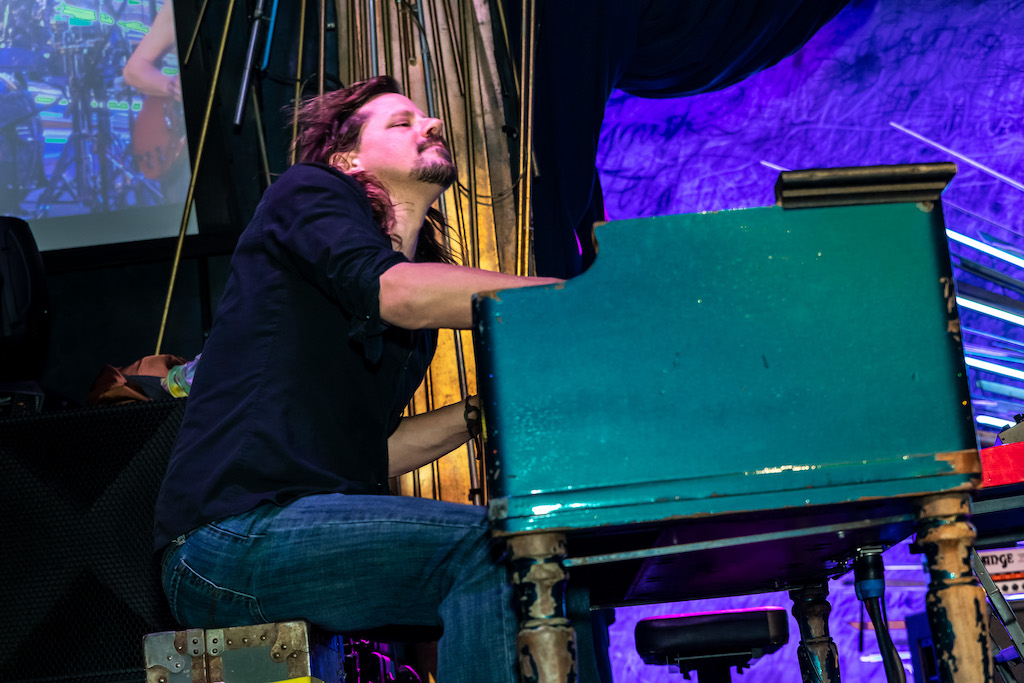 A WIDE VERIETY OF INFLUENCES
About this cooking pot of styles and the presented rich tone of the tracks and album, it all feels extremely genuine and in touch with the general output. Fusing it together and making it meld like Colossal Street Jam does on `No Way to Live' however is spectacular. How much of this variety comes from the players' background and influences?
,,I think because we all are influenced by mostly 70s classic rock, you get those big choruses and big harmonies inside the great guitar/Hammond driven tunes. That's what we go for. I'm heavy into R&B and soul music as well and I think that helps with melodies and choruses too.''
Yet it sounds all genuine like your own. Who of you is safeguarding the output of sound?
,,As a whole, we all are and in the studio it's our engineer/producer, Tony Lewis.
Our drummer Dave Halpern is also a great arranger, it helps us keep focused on our goal for each song.''
The unison is well captured in the organic production. Interested in who stands where and what they brought in personally to make the sonic soundboard collide this way we need to know. Gene gladly provides us with their backgrounds brought in from the past…
,,I am influenced from Mark Farner and Paul Rodgers to Prince and even metal. I studied vocals with Rosemary Conte, her sons are Steve and John Conte, both well-known musicians who have played with Southside Johnny, Billy Joel, The NY Dolls, David Johansen and Michael Monroe. I learned a great deal form her that I use to this day.
Sal Marra is influenced greatly by the 60s and 70s and by Jimmy Page, Jeff Beck, and Keith Richards. He's a fiery live player and lets it all hang out. His voice is key to a lot of our songs as well as he sings amazing harmonies. He is the key to start every song written.
Tony Flora is an awesome well-rounded player and our most consistent live who is influenced from everything from Motown and soul to hard rock. He and Dave hold this all together.
Dave Halpern is influenced by everything; he is a master drummer and arranger who can play any style. He even played on a BeeGees record! He locks it all in for us!
Eric Safka is our wildcard, he's a great live player who demands attention (you can't take your eyes of him) and an unbelievable Hammond organ player. His influences range from Jon Lord out to all the great "Prog" players. He's also one hell of a piano player as you can hear on this album.''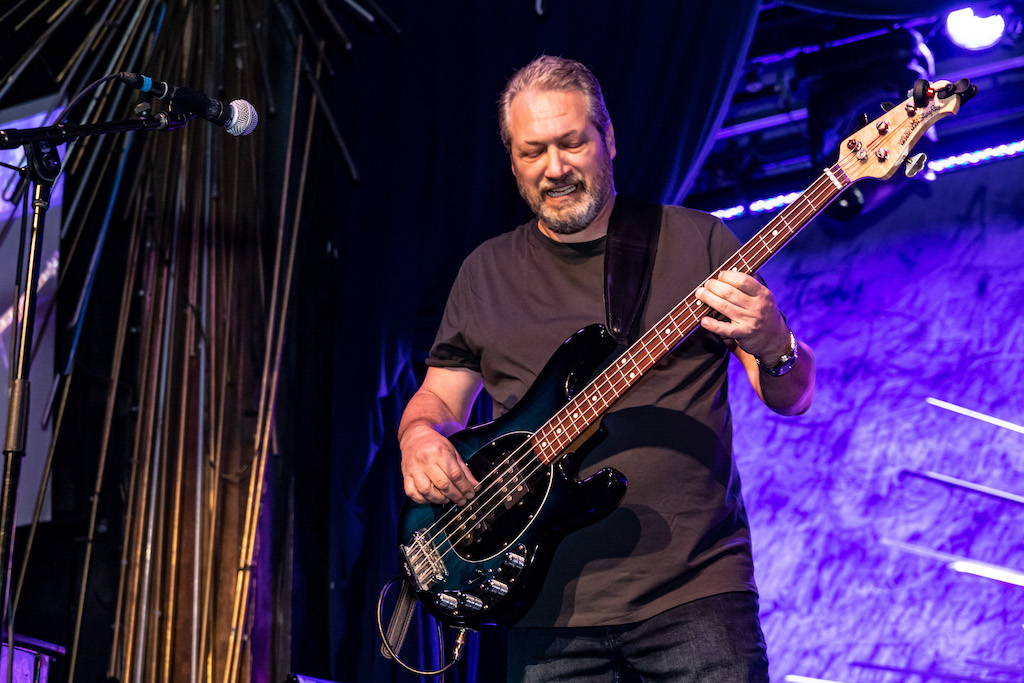 THE HISTORY OF COLOSSAL STREET JAM
To get a full scope on the band I believe it is necessary to get into your history. How did Colossal Street Jam form?
,,Sal and Tony started the band with our original drummer. I worked a day job with the drummer and had just started sharing a basement apartment with him. They practiced there. After a few rehearsals I joined in, and the rest is history. We've been together for a long time with some members in and out and we also took an extended period off as well to explore other musical avenues. We got back together in 2014 and have grown since with the additions of Eric and Dave. At one time we were the house band at the legendary Stone Pony is Asbury Park, we have a long history of making music and opening for some very big acts. This version of the band is hands down the best we have ever had, it's a great family to be a part of.''
New Jersey based, is this where the blue-collar rocking throb hails from. Come to think of it, Colossal's music feel like the perfect blend of Springsteen's attitude and stride and Bon Jovi's arena rock and rousing melodies.
Is it genetic for the state and area?
,,We don't really identify with either. There are many here who still do. Both have done huge things for our area, especially Asbury Park and we have a great deal of respect for both. I've been onstage with Jon twice and have done some private events for him and his wife. David Bryan also sits in occasionally with us as well. David is an awesome guy. We have never met Bruce. Although both are influenced by a lot of the same music we are, I think we are more influenced by that dirty raw Humble Pie/GFR vibe. Not really a NJ thing and unfortunately not necessarily huge in the states.''
With an album like `No Way to Live' behind their belts it is obvious they aim high. Their organic songs are made to be rocked out to in sweaty clubs or giant arenas and everything in between. And with the revival of classic rock in general and melody in particular it is a must to swing things into action. Inevitable we need to find out if the guys map out their future or rather just see what tomorrow brings?
,,A little of both, we are trying to set up some small tours and hopefully get back to Europe. Being an unsigned independent act sometimes you have to wing it and just do your best to get your music out and heard and also to get on the best shows possible and to the most amount of people. We are very lucky that locally we have a very good following which helps us get on some great national act shows.''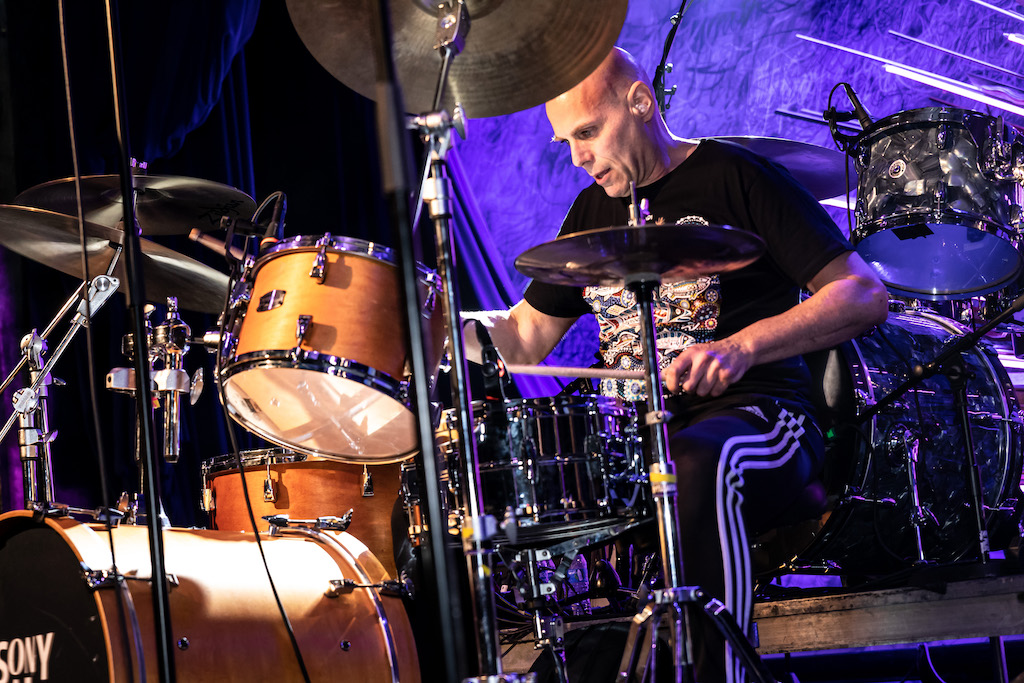 THE FUTURE OF COLOSSAL STREET JAM
So where do you see the band in the next 2-3 years?
,,I am hoping that `No Way to Live' hangs around for awhile and we can tour for it. I am hoping we record another full-length album and this time in the studio that is being built by our Organ/Keyboard player, Eric Safka. Be great to not have to wait 3 years to release more music but like I said I hope the new release has "Legs". I am also hoping that we can secure a distribution deal for the new release in either US or Europe and to keep moving forward and get the name Colossal Street Jam out to everyone.''
There's a connection to Europe as well. The horn section featured on the album is Dutch, how did this come to pass?
,,Roland Smeets of Active Music Management is our friend in The Netherlands, he booked our first two tours in Belgium, Germany and The Netherlands. We met him thru Eric and has been a friend for some time now. He's a great asset for our band and a huge help. He is also part of the touring horn section for The Temptations, The Supremes and was once in the touring Blues Brothers band.''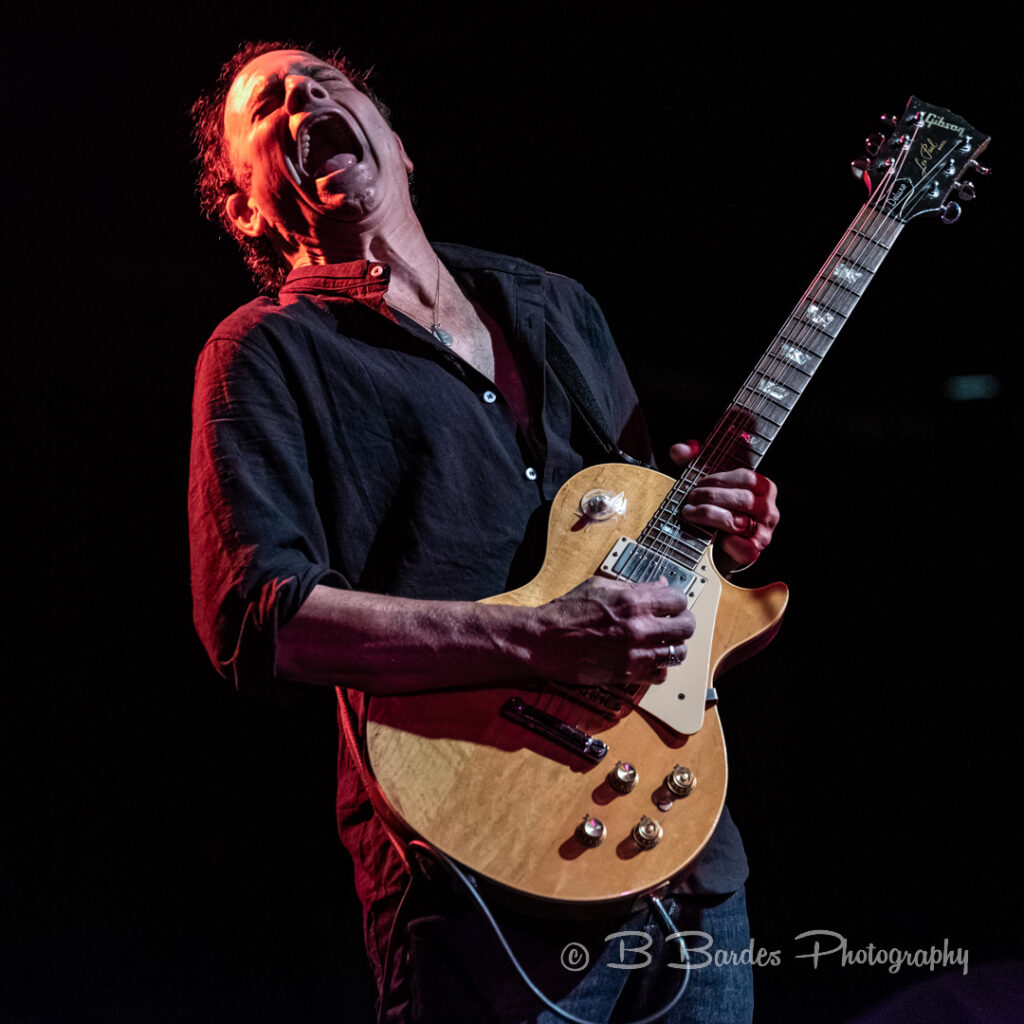 How hard was it to incorporate this into your music?
,,We wrote the song ,,Look It Here" with a horn section and female vocal in mind. We asked Roland if his touring horn section would lay down the tracks and they did. They have a major studio in Grevenbicht, The Netherlands and were able to record there and send the tracks to our studio.''
Modern day recording techniques make things possible indeed but haven't you encountered no challenges during the recording and mixing of these sections into the album?
,,I'd have to say that we had little challenges when it came to the horn section and female vocals for ,,Look It Here". Our biggest challenges on the album as a whole were getting the time to finish it thru the pandemic and health issues. The best thing for us is our engineer/producer Tony Lewis is an official sixth member of the band. We trust in him and did not have to be present while a lot of the work was being done in the background. He knocked this one out of the park. The mixes, mastering and the production are the best we've ever had.''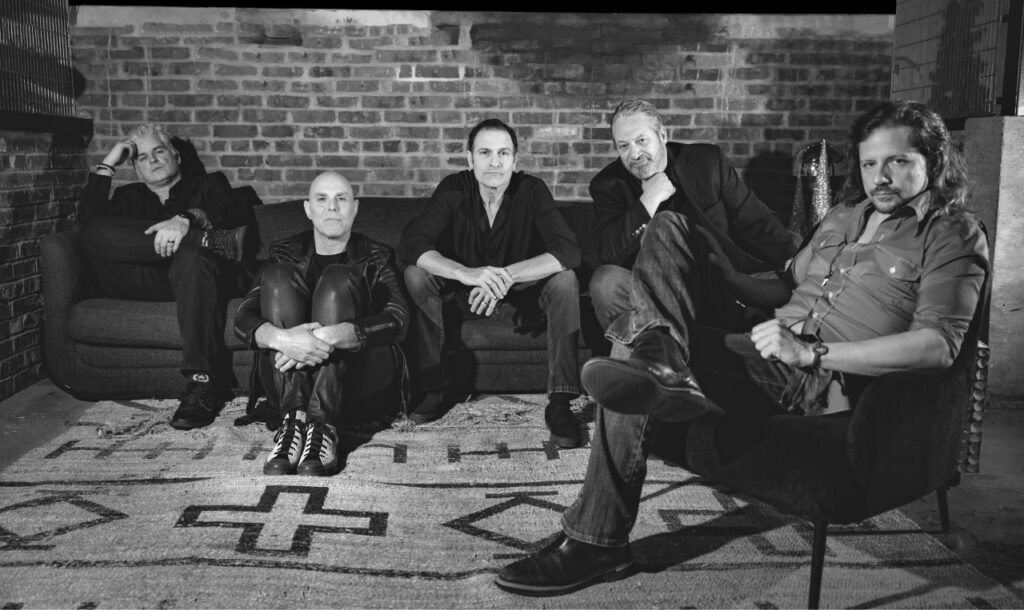 COLOSSAL STREET JAM AND KING'S X
Gene previously mentioned his devoted fan share and interest locally. However, we see another thing coming into play here as Colossal Street Jam might be the best kept secret in the musician's rock community. Colossal has toured with tons of renowned acts from the scene. Not only they shared the stages with genre giants The Black Crowes, Blackberry Smoke, and hailed classic rock veterans like Zebra, Deep Purple, Robbie Krieger of The Doors and personal idol Mark Farner, the founder of Grand Funk Railroad. And let's not forget Ritchie Blackmore, Steve Morse, Bruce Dickinson, Leslie West and even Clarence Clemons, once we're at it. Variety in music as well as onstage. It settled their name, but there's always special connections. King's X for instance, who also appear in Colossal Street Jam tees on their own promo photos.
What's the connection there?
,,Unfortunately we did not tour with Kings X, but we did do 3 shows with them. Jerry Gaskill is a good friend of ours over many years. We got to play with Kings X before we were even friends and even spoke to one another. I am a huge Kings X fan forever. It was a thrill not only to play with them but also when I first got to meet them. Once we knew each other, years later, Jerry was kind enough to support us and wear our shirts. Once on the Monsters of Rock cruise and then another time (which is one of the pictures you are speaking about) when we opened for them at The Gramercy Theatre in NYC. They did a photo shoot for the new album, and he was wearing our shirt.
The album got delayed and they had another picture for the album but that one with our logo pops up everywhere from music magazines to show promos, its very cool for us. By the way, that photo was taken by Derek Soto who has now become our videographer for our next few videos that should be released soon.''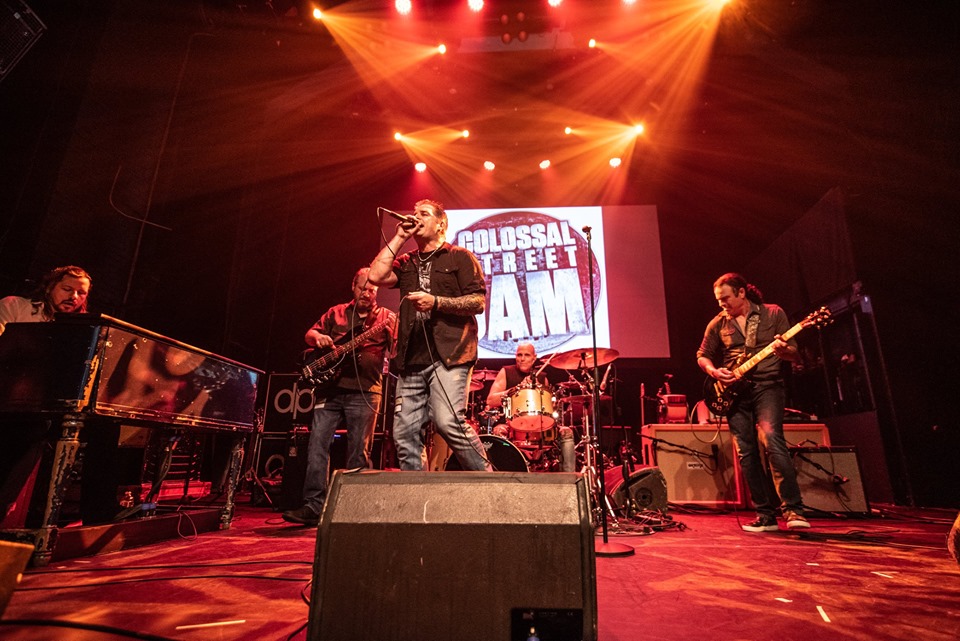 I thank Gene for his open and honest response and the time he took to get into this back and forth with us. Time for our final words… Anything you want to add?
,,Check out our website and our social media pages. We have some great videos coming soon and we are hopefully coming back to Europe and fingers crossed we come to the UK for the first time soon. Listen on all the streaming platforms for `No Way to Live' and our other albums, `Living Free' and `Just Take Hold'.
Thank you, Edwin, for all the promotion and the love you've shown for our music. It's great to know you! Spin that Vinyl!''
The pleasure is all mine for sure, and with that vinyl spinning relentlessly, it is time to give this edition a proper short review, as this vinyl adds to the pleasure of playing.
We keep our eyes skinned for the tour announcement and look forward to meet soon. For those who yet haven't met their new music, make sure to give their albums a like on the mentioned platforms or better; head over their pages to buy their product. If you are willing to wait it out, I'm sure you can buy the physical records at their gigs. Nothing better than holding a copy and meanwhile promoting the band, isn't it?!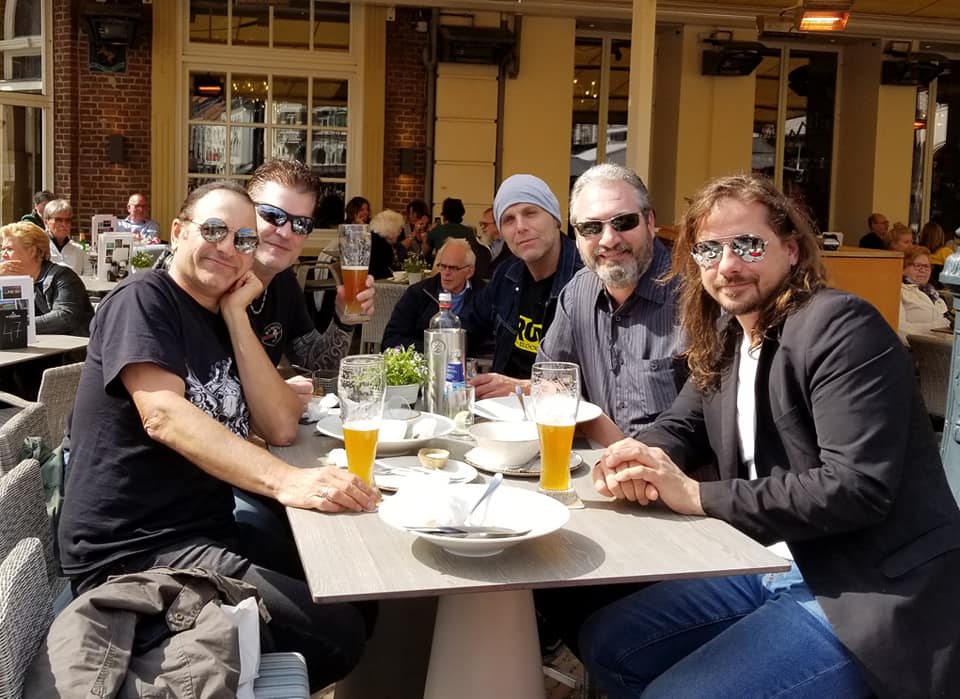 All photos provided by Gene Potts