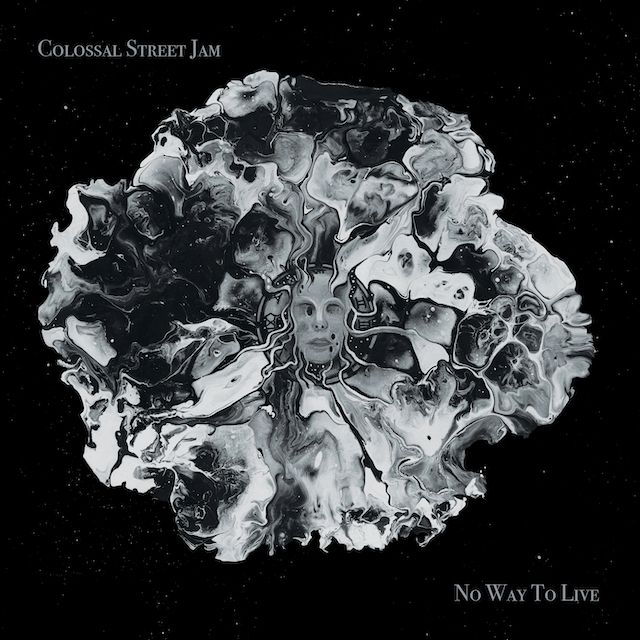 Review | Colossal Street Jam – No Way to Live
Independent Release
Colossal Street Jam has established a name with their album `Living Free', garnering global attention. The album blends classic rock ingredients and contemporary structures with wonderful guitar and vocal interplay. Rock solid grooving tunes that landed them fame in Europe as a live act roaming the stages. While in Australia they managed to pick up the award for 'Indie Album of the Year'. Also seeing the album positioned on the country's indie charts for well over 6 months.
`No Way to Live' is their new record and it enhances the band's sound and leaps forward. Richer song structures and layered texture crafted around great melodies and hooks, drawing together the most wonderful ingredients. Musical craftmanship that baffles, and songs that nest while growing over time also. `No Way to Live' is an album that needs to be heard, by a band on fire!
DEEP PURPLE AND GRAND FUNK
Almost metallic is the opening and recurring riff Sal Marra lays out to craft and intense soulful rocker on. The song oozes comfort and packs great swing amidst its powerful instrumental discharge. Eric Kafka's Hammond takes position and pumps up the classic contemporary rock vibe. Purple comes to mind with some Grand Funk around the edges. Overall, however, the rock potion presented is brewing with Colossal Street Jam's uniqueness. It is all served up with jaw dropping interplay.
Southern Rockin' and groovin' onwards, the band unloads memorable hooks and choruses. Powerhouse rockers are dominating the rock palate that is rich in tone. Heavy and gritty, ,,Big Trouble" powers up to fire on the classic bar 'n grill engines. Packed with Hammond tremors, the song is constructed around a swinging backbeat and throbbing bass that bounce of the Southern guitar licks. Great interplay, with wonderful guitar melodies injected, the song displays Gene Potts' versatile vocal delivery. Welling with soul and touching notes, he powers up and delves into his raw raspy register to dose the song's swagger.
A HOMAGE TO ROCK 'N ROLL
Extending the vibe, Colossal Street Jam push forward with the storming ,,Nothing Like It", the homage to rock 'n roll. Scorching guitar and organ interaction, with loads of contemporary sway, the song unloads wonderful melodies and a nesting chorus. Rousing like a bombastic stadium rocker, this song will make the Black Crowes jealous. The vocal layers are well matched and Sal Marra unleashes one of his trademark slide solos. Crank it up loud! Going for more stadium appeal CSJ unfolds the rousing ,,Hey!" and cooks up a jam-packed energy that revives Deep Purple most storming live performances. Guitars and organ play into the spotlight with Dave Halpern's hard hitting drums and colorful fills add to Tony Flora's bass growls, together laying down a roaring groove.
,,Dancing in Place" is also crafted around a sturdy groove that is gelling with the vocal lines and chorus perfectly. The bass line is a compulsion of notes throbbing alongside the songs strut. Touching deep are the vocals that really bring the right poise to the lyrics.
EXPANDING THE MUSICAL HORIZON
When the band expands their musical horizon further, they make their sizzling cocktail even more tasteful, like on the great ,,Seconds". Almost as if John Entwistle returned from the Heaven's to take on bass duties and Townsend propelling his arms to kick the chords into action. The song wells with The Who's power, but also brings a Uriah Heep touch and progressive elements to the front. The propulsion however is magnificent. Potts' raw voice adds to the steam and thunder of the power contained. His moan towards the end even invokes a Bowie vibe that borders with Ziggy's psychedelic period, without pushing it to the front.
More soulful swings ,,Look it Here", with its brass section recorded by Dutch Mad Men Horns of Grevenbricht and pumping organ. Impressive texture and rocking appeal with wonderful vocal interaction between Gene rasping his pipes powerful, and the background singers' lead Desiree Spinks who take point frequently.
Confidence is at a high for certain here. So much soul, so much power… so Colossal! Tapping an entirely different vein, they swing ,,Before I Sleep again" to the front. The song is a cheerful bliss packed laud to every day's morning. Piano rain notes and the song swings over its great bass licks and jazz rocking drum interplay. The vocals are perfectly adding to the atmosphere.
A REPRISE
The short instrumental ,,Morning Light" blends a Bowie-esque ,,Major Tom" subtlety with Pink Floyd vibes that elude in the Gilmourian guitar melodies. This exquisite tone is maintained on the glorious ,,My Fight, alone", that sees stretched notes underneath the wonderful lyrics and vocal delivery of Potts. There's some agony lingering underneath, reflecting on 'his war within'. Beatles' close harmony vocal sections add to the deep appeal with a violin (by Lorenza Ponce of Sheryl Crow fame) adding to it. Uriah Heep blinks an eye when they intensify the vocal harmonies weld onto the organ's organic classic tone.
Crisp alluding harmonies are also found on the album's 'reprise' of their 2017 ballad ,,Songbird", that meanders around intricate string arrangements boasted by a lush acoustic guitar. A recurring violin embellishes the song's laidback mood and gives it a touch of Kansas that also shines through on the structure and texture of string layers. Potts' displays his touching soulful and emotive range, little rough 'round the edges, with wonderful power hauls from deep below. ,,Dancing in Place" is loaded with bluesy slide guitars and packs a great swing.
COLOSSAL STREET JAM DELIVERED
Colossal Street Jam rocks out in a way the 70s have rooted in our collective musical memory. Great intensity and musical marksmanship that rouses and scatters with bombast and appeal. The hooks are gigantic, the choruses memorable and nesting, the riffs and organ swirls warm and full of wonder. Atop Potts has the ability to lay down intrinsic appealing vocal melodies with powerful phrasing and dosing the exact amount of grit and gut. The backbone of the songs is astounding, with Halpern's hammering power and rich fills underneath Flora's dominant pulsing bass. This powerful foundation is exactly what is needed to orbit the songs into the stratosphere.
Great, GREAT album!!!
Release date: 10 February 2023