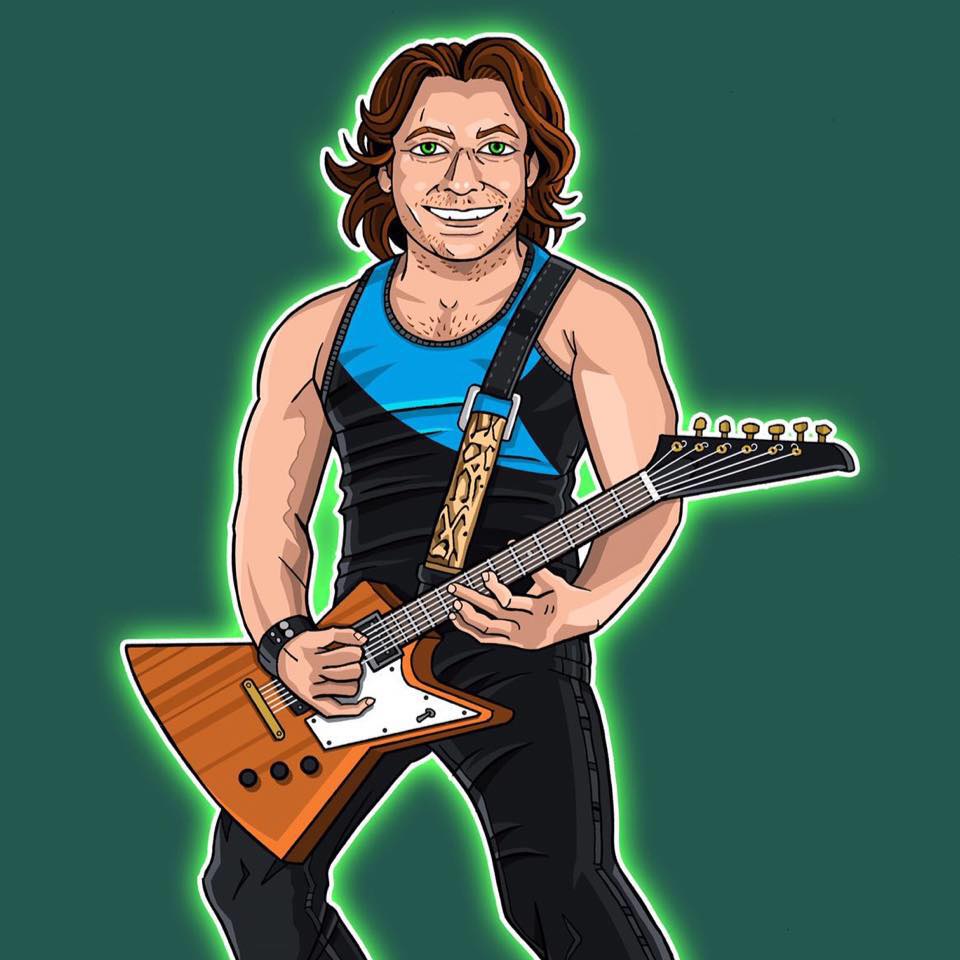 MAGIC O METAL
The Magic Of Metal
Being a true metal head and a passionate musician, but also being a teacher and a dad, Dutch guitarist, singer and songwriter Sander Gommans [After Forever, HDK, Trillium] feels it is important to stimulate kids to use their own imagination and to be creative. Thinking how awesome it would be to take the young generation on an adventure to discover the world of heavy metal music, that has its cool heroes and exciting villains, and become metal-heroes themselves? In 2015 Sander joined forces with his friend and illustrator Scott Wenmakers, connected with Menno Kappen [formerly of Roadrunners Records] along the way, and started their mission to create the interactive project Magic O Metal.
After a successful crowd funding in 2019 to realise the album `Enter The Metal Realm', featuring 12 tracks and well-known musicians, an illustrated book, some merchandise and a special guitar, the album is now also officially released [28 February 2020]. Magic O Metal accomplished its first mission and is now ready for the next step to build a world of its own, with new characters, new missions and new music. HeadBangers LifeStyle's Liselotte `Lilo' Hegt contacted Sander and asked him about the experience of this great initiative so far and the near future plans.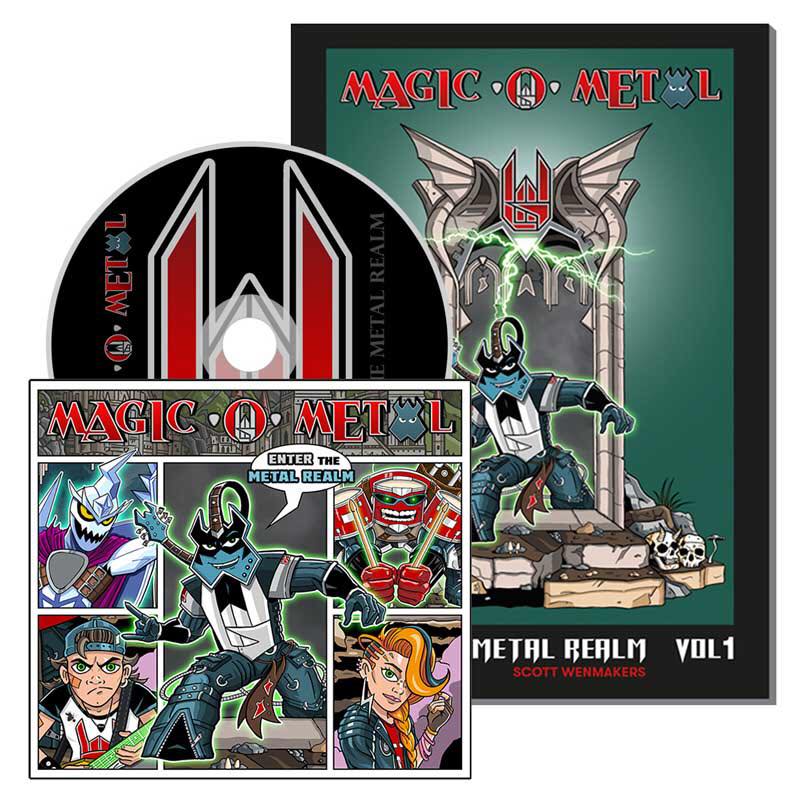 What steps have you and your team taken so far with Magic O Metal?
,,We decided to focus on the Dutch market first. MoM is a very broad product and it would be impossible to run this logistically with only 3 people in multiple countries. We've released a book, an album, an audiobook, a line of guitars, an online platform with missions for all ages, lyric video's, an interactive Facebook page and we're thankful for all the great connections we've gotten so far, like HBLS [smiling]. We're working on new products as we speak; involving games, education, music and story related material. We're also happy to say we've find some very inspiring people like Paul de Zeeuw (guitar teacher) and Rick Veghel (D&D expert) to give MoM an extra dimension on several new levels.''

,,It's not about business, it's about passion.''-Sander Gommans

What was the initial goal of MoM, did you accomplish that and how did you do that?
,,The initial goal was to bring Metal back to a younger generation and partially resurrecting the eighties [smiling]. Next to that we wanted to inspire musicians and artists to create, be productive and believe in themselves. We knew that, releasing this in The Netherlands and Belgium, it would be a slow process and a small market. However, given the fact that it has only been a few months since the official release, it's fantastic to see the results already! We're creating new songs with kids and grown ups, bands are collaborating and we've implemented MoM in the Dutch High School system, which has lead to cool results. We've found out that MoM is just as interesting to both kids as amateur and professional musicians, as well as artists with autism. It shows that the world of MoM makes it possible for lots of different people to connect and that is the biggest sign for us that what we're doing seems to be working!''

What have been the first and most important reactions, also from the music scene, you received with MoM and in what way did that inspire and motivate you?
,,In the music scene, it's all about connections. People help each other because they need each other. This is where MoM has different results since the start. We notice that this time, people go the extra mile supporting MoM. It's not about business, it's about passion and that is unique to me and an extremely important sign that we're creating something special. It's always easy to share and promote music or projects that are already established since it'll bring a lot of views and reactions. With MoM we notice that brands like you guys, musicians etc., stick to promoting MoM, even when it doesn't immediately lead to lots of attention. It was great to see lots of professional musicians recording inspirational videos for MoM that we'll be sharing in the future. For me, that's the highlight and that's what you need to see: real passion and belief. I recognize that from the early After Forever days, you need authentic enthusiasm to create a buzz and that's absolutely present. We have calculated that we definitely need 4 to 5 years before MoM has gained some recognition on the Dutch and Belgian market and I feel proud that we have already established a following that supports, creates and inspires.''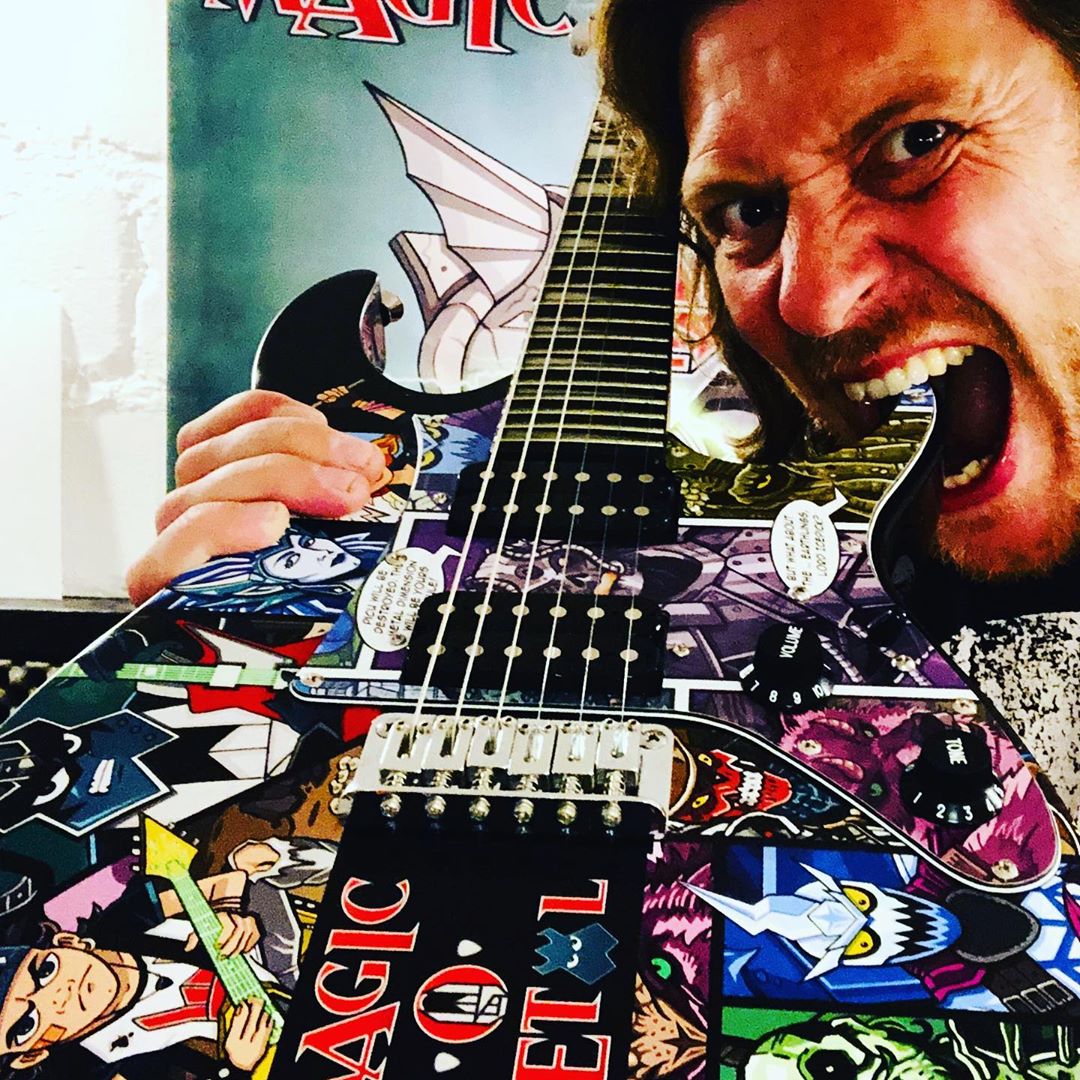 Overall, how do you look back on the first period of MoM?
,,For me, the first period was 2015, when my first daughter Lana was born, till the release in 2019. Looking back, it was the most pure creative period, where Scott, Menno and I created everything that was released in 2019. It was great because no one had any expectations nor knew about the project, but also frustrating just because of that reason. We had to discipline ourselves to not release things to soon, to wait till we had something that would be convincing on all levels. It was a great time for me. I love setting up a project, finding a team that works and create stories, music, etc. That's why this period is so much fun to look back to. When it comes to releasing a product, that's where I can sometimes loose interest. I'm happy to be able to work together with Menno on that department and I'm grateful for all the support we're getting.''

What amazed you the most in a positive way?
,,That MoM didn't appeal just to kids, but also to artists that have been active in the scene for a long time. This has been a rather unforeseen development and has made our possibilities so much more interesting.''

Have you seen new initiatives blooming because of MoM?
,,Absolutely. At this point, several bands are writing MoM songs for a next album, we're working with new teams on new products, upcoming songs like ,,The Thrasher'' and ,,The Mandrake'' have been written by a collaboration of kids, amateur musicians and professional musicians. We've received lots of drawings of new characters, check our designs missions, and Scott is working on the characters based on those designs. Unfortunately, the live element could have brought many enthusiasts together, but due to the Covid-19 situation we couldn't finish those plans. That's something that'll have to wait a bit.''

,,I think parents could play a bigger role to get kids to create.''-Sander Gommans

Which character(s) of MoM became most popular among kids?
,,From what I hear and read, The Metal Twins are the favourites. However, my daughter Lana loves villains and therefor IcePick makes the biggest impression.''

Do you feel there is still new music, passion and creativity among the young generation and what proves that?
,,Absolutely. As I mentioned, we're working with the new generation on music and it's great! However, to be totally honest, I think parents could play a bigger role to get kids to create. I still notice that they tend to give up too soon on inspiring and motivating their kids to practice and create. Hopefully, the results of MoM will inspire them even more to do this.''





What are the current (online) activities (missions) organized by MoM to challenge kids, and their parents and to keep the history of metal music "alive"?
,,We have created Missions and challenges that invite people of all ages to draw, make music, write stories and music and participate in a metal quiz. The results could be part of new MoM content, so that there's a real reward for all the hard work. Next to that, we've setup a group of professionals that give advice and inspire. All for free, everybody can participate.
Check the mission page on magicometal.nl and start your journey [smiling].''

With COVID-19 unfortunately a pause button has been pushed. How did this affect MoM's original plans? And have you come up with new, alternative plans as well because of this?
,,Well, as mentioned, of course the live plan has been cancelled. But MoM is unique, we are not dependent on this virus. Our missions and activities take place in the so-called Metal Dimension, we created a world and a way to connect to people that doesn't necessarily need to bring people physically together. In that respect, MoM already gives more possibilities than most other musical projects in these dark times, which I think is positive for the future where we can hopefully also focus on the live aspect.''

MoM is a project in Dutch language and focus on the Dutch and Belgium market. Are there plans to release it in English and focus on an international market as well?
,,Yes, but we have to be patient. These days, there's too much online information and people lose interest fast. We only have one chance, we have to test our product, adept and make it the best possible. Only then we can look for optimal partners to explore foreign territories. And the great thing is, that this is not entirely up to us. It's also up to the participants of this project, that have already shown how much cooler they can make MoM by creating with us!''

,,Most of the Magic can be found in making mistakes, in dreaming big without already being warned about everything that can go wrong.''-Sander Gommans

What is your advise to parents?
,,Don't give up, plant the seed and be patient. Kids often don't immediately create, they need time and sometimes a little reminder to practice whatever their passion might become. Don't push your dreams for them to pursue further, but sharing your passion is never wrong. For me, the most important thing is to give them the chance to use their imagination. Give them the tools, like MoM, but also let them figure out stuff on their own, without an online environment. Most of the Magic can be found in making mistakes, in dreaming big without already being warned about everything that can go wrong. I hope MoM can be a guide as well as a bringer of a mysterious path that kids have to explore themselves.''





Being a musician yourself, how do you see the future of live music in a social distancing society?
,,To be honest, I think we might not really be able to comprehend what this could mean. Even though I'm a musician and my passion is music, my thoughts are not about shows. At this point, I'm not even sure how the school system should work, how elderly people can continue having a social life, how new romantic relationships should work…how people can feel at ease without possibly any form of physical contact. All kinds of scenarios are possible, but since it affects people on so many levels, I'm almost ashamed to say I can't even focus to think about shows at this point. No matter how important music is to me, I think I'm only ready to think about how they should take place, when all other crucial human problems have been solved.''

,,For me, metal gave me the Magic, the fantasy themes and worlds of monsters.''-Sander Gommans

Can you explain to children why you love metal music and how it has affected your choices in life?
,,Yes, but in that respect, I'd like to see metal as 'Magic'. For me, it's great when kids listen to metal again and I'm sure it'll get some new respect because of it. But to kids, I'll put more focus on the energy any kind of song gives you. What is it about, what pictures do you see, what do you hear, do you think you can be a part of this song by playing an instrument, song, draw, write, create something unique? For me, metal gave me the Magic, the fantasy themes and worlds of monsters, the exciting musical themes are a treasure for the human creative mind to explore its own territories. But if a child unlocks those creative features by being inspired to, my most hated musical style, Brit Pop, I'm still happy that music offered a new exciting path that bring positive energy and hopefully new insights.''

Who are your biggest all-time favourite metal heroes?
,,Jeff Waters of Annihilator, Glenn Tipton and KK Downing of Judas Priest, James Hetfield of Metallica and Gary Moore. But basically everybody that is willing to invest time to become a more skilled artist in general, without giving a f*ck about what anybody else says. Because that attitude is absolutely metal to me.''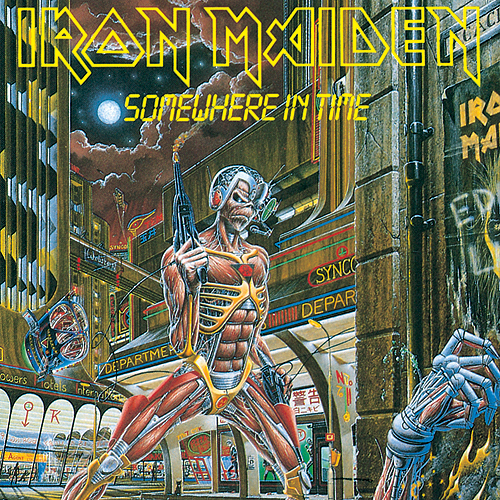 Which album cover(s) made the most impression on you when you were a kid?
,,Somewhere In Time'' of Iron Maiden. That cover and the booklet was and still is pure magic to me.''

Why did you choose to play guitar at the time and what do you like about it so much?
,,Since I was around 8 years old, I've been listening to hard rock and metal. Obviously, guitars have a big role in that style. When I was sixteen, I was doing an art course and I couldn't take my eyes off a classical guitar that was standing in a corner. I asked if I could borrow it for a day, and starting that day, the guitar determined the rest of my life.''

What is your motto as a musician and music teacher?
,,Practice. It's as easy as that. You have to do it yourself. But while doing that, train your ears as well. Listen to your favourite songs and play them by ear. You'll play them wrong a lot of the times, but you'll create an own style. And that style, with all its mistakes, might just be the thing that makes you a different musician than all the others out there. When you smoothen your technique while still being able to keep that unique identity, you might be on your way to something great [smiling].''

,,I hope that we have developed a start to inspire people worldwide.''-Sander Gommans

Do you still have dreams you want to pursue?
,,I was talking to Amanda, my wife, about that yesterday. And the weird thing is the answer is no. I feel I've done or started everything based on a dream. And to be honest, I don't know if I'm happy or sad about that.''

How would you like to see MoM in 5 years?
,,I hope we established a following in The Netherlands and Belgium that has helped out to expand The Metal Dimension, giving shape to new music, art and stories. I hope MoM has become a vital part of music education in general. Next to that, I hope that we have developed a start to inspire people worldwide, using artists in those specific countries to carry the MoM torch on. A business can only exist if it brings in some money. In that respect, I hope MoM can also lead to financial success.
But I'm also a teacher and I know one of the biggest rewards for me personally, is to hear from a student years after I've been their teacher. And hear about their story. Five years from now, I really hope to hear some awesome new Metal musicians and artists that started out checking one of our missions. That would be a true treasure!''
About
Musicians from our world embark on an adventure with magical creatures from The Metal Dimension, a world where fantasy becomes reality. There is a passion that all our heroes share: METAL!
Genre
Metal
Website
https://www.magicometal.nl/
Social
Related links
Tags