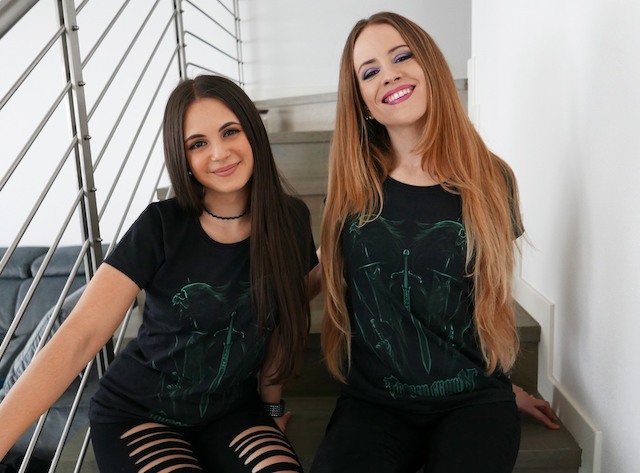 Interview | Beauty & Lifestyle with Frozen Crown
Guitarist Fabiola and Singer Giada
Melodic Power Metal
Frozen Crown is a young metal band from Milan, Italy that has become quite popular since their formation in 2017. In 2018 the five-piece released their debut `The Fallen King' and a year later the second album `Crowned In Frost' was unleashed. Their fierce blend of symphonic, classic, power, speed and heavy metal components and the enthusiastic energy the band radiates seemed the key for the very positive reception of both albums. Multiple video singles that were released ensured high viewing figures on YouTube and it all led to various live shows on European soil. From European Festivals like Metalfest Czech Republic and Sabaton Open Air, till support road trips with well-known acts such as Elvenking, Sabaton and DragonForce.
Despite their upcoming success Frozen Crown sadly faced a drastic line-up change last year. Founder, guitarist, vocalist, keyboard player Federico Mondelli and lead singer Giada "Jade" Etro saw the rhythm section and second guitarist leave to focus on personal projects. Fortunately it didn't take them long to get back in the saddle with new bandmates and the recent release of the third album `Winterbane'.
Since Frozen Crown is a band with two lovely female musicians, HeadBangers LifeStyle didn't hesitate to invite front lady Giada "Jade" Etro and brand new guitarist Fabiola "Sheena" Bellomo to not only talk about music, but also about beauty, fashion and lifestyle.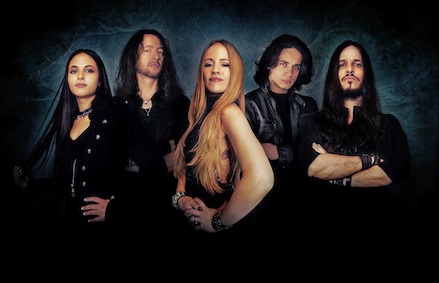 BEAUTY & FASHION
How do you like to present yourself as an artist on stage, in music videos and on promo photos?
G: ,,I would describe my style as something that belongs to metal but not too modern nor too classic. Also not too strictly related to just one style [chains and studs, Viking-inspired outfits, skirts and corsets etc.] but I love to pick up some details from different inspirations in relation to every specific video I'm shooting. On stage I tend to choose something a little bit more versatile.''
F: ,,I'll describe my style as something not too focused on the image, but something sober that doesn't steal the attention from my performance. And it's also the style I love to have in my everyday life.''
How much of a make-up "junkie" are you and what do you consider as your signature make-up look?
G: ,,I'm a great make-up junkie! I love to try different products from different brands. In general I use something simple for the lips, like a gloss or a nude lipstick, and darker colours for the eyes, and a lot of eyeliner!''
F: ,,I'm a big make-up lover too! I usually wear warm colours for the eyes, with a line of black eyeliner which I honestly couldn't live without. I love nude colours for my lips, especially for videos or photos, but I also wear darker lipsticks when I play live.''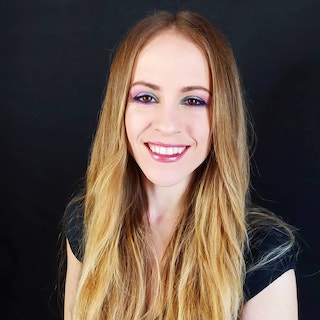 What are your favourite make-up brands and products?
G: ,,The brands I use the most are M.A.C., Urban Decay and Neve Cosmetics, an Italian brand which is also vegan and cruelty free. Actually, you can see their eyeshadow "Veleno" which is a green and brown duo chrome, in a lot of videos and pictures of Frozen Crown. It's, definitely my favourite!''
F: ,,I use a lot of products from Kiko Milano, like the nude lipstick you can see in both our videos ,,Far Beyond'' and ,,Embrace The Night''. But I also love the liquid lipsticks from We MakeUp, another Italian brand vegan and cruelty free. I usually wear eye shadow from Revolution, but my favourite product is my NYX Epic Ink Eye Liner!''
Do you have a specific hair routine?
G: ,,I used to buy expensive shampoos and stuff, but it didn't have satisfying results. So now I buy common stuff and sometimes go to the hairdresser saloon for some specific treatments. I'm not bleaching my hair anymore as I used to do back in the days. Maybe that's why my hair looks better now. I straighten my hair just a bit, not too much, after drying it.''
F: ,,I don't use a lot of products, just a shampoo and a conditioner customized for my own hair and goals. I buy it from Function of Beauty, a brand of personalized products. I've also never dyed my hair and I don't use the straightener. What you see it's all natural!''
What are your hair and skincare tricks you use when you are on tour?
G: ,,Nothing special actually. The usual steps for the hair and a lot of hydration for the skin and purifying creams. And I never go to bed with make-up on.''
F: ,,I've never been on tour so far, but I guess my main goal would be to keep myself hydrated and try to get enough sleep.''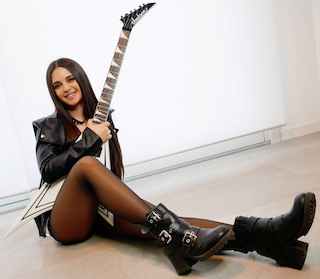 What do we mainly find in your wardrobe and where do you spend most money on?
G: ,,You can find a lot of dresses, leggings, jackets, boots in there and it's almost total black. Also necklaces, bracelets, belts… I'm actually not a fan of purses and bags but I spend my money on the rest!''
F: ,,Basically all my money goes to sweaters, skinny jeans, crop tops and shoes! Both sneakers and high heels. That's what you can find in my wardrobe.''
Where do you buy most of your clothes?
G: ,,Mainly on "rock/metal" online stores, but sometimes I can find something cool in regular fashion shops.''
F: ,,I usually buy in physical stores, because I like to try clothes on before buying them. I mostly buy from basic/modern style stores, such as Tally Weijl.''
Who do you consider a true style icon?
G: ,,Taylor Momsen!''
F: ,,I really admire Ariana Grande and Vanessa Hudgens for their fashion- and lifestyle.''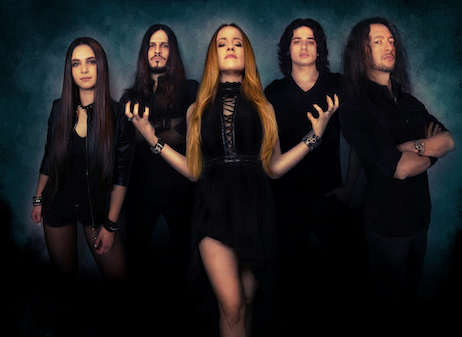 SPORTS & LIFESTYLE
What do you do to keep fit and healthy, also mentally? And is it easy to keep up with that when you are touring?
G: ,,I try to be constant with stretching and some Pilates exercises. From the mental side I try to have enough time for myself to relax, to read a book etc. On tour I can usually find some time for these activities, not every day maybe but enough.''
F: ,,I try to have mostly clean and balanced meals. Also every day I try to find some time to workout, alternating HIIT workouts with some cardio, as a light walk or some bike exercise while watching a tv show. That also helps me mentally, because it gives me some time alone. I always need to recharge after spending time with others. So being alone helps me to keep myself mentally stable.''
What do we mainly find in your refrigerator?
G: ,,Vegetables and icicles. Sometimes ice-cream too.''
F: ,,Veggies for sure. And also a lot of plant-based meals. I'm not really a meat eater, because of my ambientalist side, but I like to have fish sometimes. I also try to stay away from junk food.''
What do you do to contribute to a cleaner and healthier planet?
G: ,,I'm very precise with the waste sorting and I try to travel by train instead of by car when possible.''
F: ,,I pay a lot of attention to what I do in my everyday life. I try to choose food and products with the least packaging, which must be recycable. Also, I always close the water tap while brushing my teeth or washing my hands. And I also made some donations to help cleaning the oceans. This is honestly a topic very close to my heart.''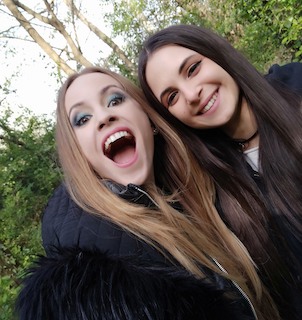 What does your perfect day off look like?
G: ,,Go visiting something new. I really like to relax and regenerate when doing new experiences, seeing new places, trying new dishes.''
F: ,,Being by myself for sure, haha! Jokes apart, I really love visiting new cities, or go hiking. Shopping would also be perfect!''
What are your binge-watch tips?
G: ,,I'm not the right person for this kind of advices because I fall asleep after 20 minutes whatever I'm watching, haha! If you mean a show, I definitely say "Orange is the new black"!''
F: ,,Have something to drink, something to eat and someone to comment the shows with. Also don't forget to stretch every now and then.''
How do you use your personal Instagram account and is it a full 100% realistic reflection of you?
G: ,,I use it to support my band activities mainly. And yes, I always want to share things that reflect myself. I don't want to look like something that I'm not.''
F: ,,My band and personal activities are the main things you can find on my account. 100% me, all that cuteness is true!''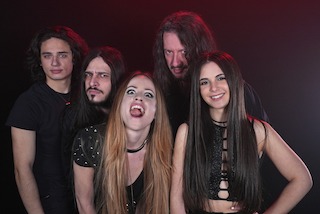 FROZEN CROWN & BAND LIFE
What or who sparked you to become a singer/musician and how old were you?
G: ,,I always sang even when I was a child at school. Then when I was around 13 years old I fell in love with Metallica. Since then I decided I wanted to become a Rockstar.''
F: ,,I've never thought about being a musician until I discovered Led Zeppelin. Jimmy Page is my main inspiration for sure. I was 13 as well, although I started playing at 14.''
Why do you feel connected to metal music and is it a lifestyle to you?
G: ,,Yes I do. Aside from the music itself that I always loved, I found the metal environment a "safe place". I always loved open spaces and concerts and never loved disco clubs.''
F: ,,As for Giada, this environment is a safe place for me too. I remember the first time I went to Metal Days, my first festival ever. I felt so good just by being there, surrounded by people who loved the same thing as me: metal music. I've never felt so comfortable in all my life. Metal isn't just music. Metal is a true lifestyle.''
What kind of a band mate are you?
G: ,,I think I am a good mate. I never want to create problems and try to solve them if they come up from somewhere. I love to have fun, even if I'm not a hard-party girl, I'm always the first to go to sleep, haha!''
F: ,,I'm the one who loves to help, to do things and also boring stuff for others. I like to have all the work done instead of wasting time. But I also love to party and chatting a lot about random stuff.''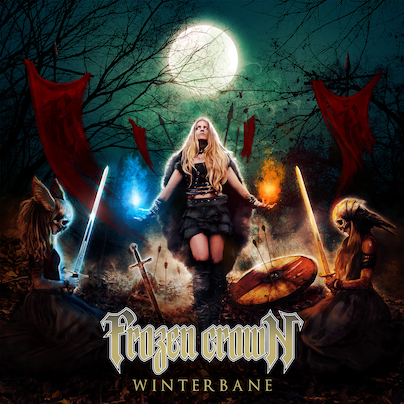 What does it take to be in a band like Frozen Crown?
G: ,,A lot of activities aside concerts. We are very active on the social networks and we love to create different kind of contents to stay in touch with our fans. Especially during these times.''
F: ,,I think passion is the key. There are a lot of things to do aside from playing, as Giada said. And I love doing every single one of them.''
What makes Frozen Crown different from other bands in the same genre?
G&F: ,,We are really in touch with our fans. We are hard workers. We like to take things seriously, even if we don't want to take ourselves too seriously.''
Why should people check the new album `Winterbane'?
G&F: ,,Because we have put all of ourselves into this album. We made a step forward with the new line up. It's more dynamic and mature.''
Where would you like to see Frozen Crown in 5 years?
G: ,,I would like to play at all the summer festivals and tour in every country of the world.''
F: ,,That seems like a pretty awesome goal! That works for me too. Also, I hope this line up will be the same, as I love these guys so much. And that we'll still be the same tight-knit band we are now.''

All photos taken from Frozen Crown Facebook, Giada's Facebook and Fabiola's Facebook