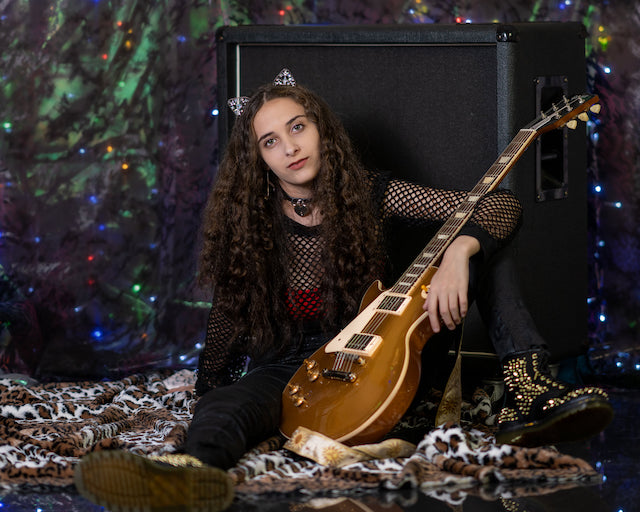 Interview | Teenager Helena Harris rocks the 80s
Helena Harris is not just an average 14-year-old teenager from Los Angeles. Discovering the magic of (hard) rock music already at a very young age, Helena loves to sing and shred on her guitar like the big hair musicians did in the 80s. The era of stadium rock when bands like Mötley Crüe, Def Leppard, Dokken, Lita Ford, Van Halen but also Metallica were top of the bill. And especially female rock musicians are rotating nonstop in her devices, because they give her hope to be as successful as well one day.
So far the story of Helena sounds good, right? Well, the extremely sad part is, that Helena had almost given up on her favourite music. Her passion, her ultimate joy in life. Why? Because she got badly bullied for it in school. Bullied to the bone for being different in the eyes of others, while Helena was just simply being her true self doing what she loved to do. Helena had the courage to make a personal video about it for her YouTube channel (WATCH HERE) but in the end it was the guitar that started a real new chapter in Helena's life. Not only to be able to have fun again with the type of music that she loves so much, but also to be able to express her feelings and what she has been going through. It all happened with the tremendous support of her loving parents, followed by a group of well-known, supportive rock musicians.
Helena Harris rocks again and she even recently released her debut single ,,Love Is Your Weakness''. It is a dream come true for her and a step closer to a happily ever after…. 
The young musician is happy to answer a few questions to give us more insight in her journey.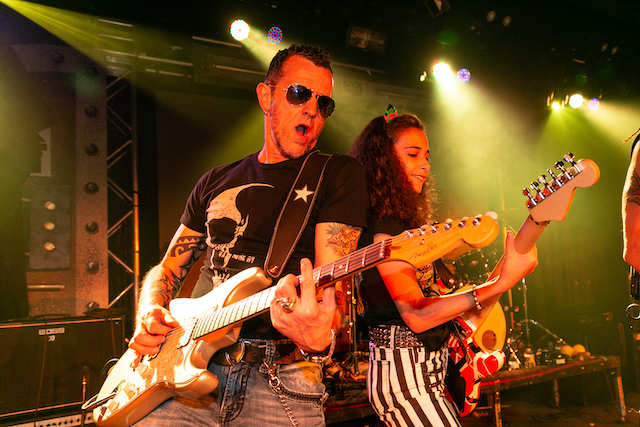 THE MAGIC OF ROCK 'N ROLL
What is for you the magic of rock 'n roll music and especially rock music from the 80s? What was the first song that made you fell in love with this style of music?
,,Music from the 80s was music that made you want to rock your head to it and pretend to play an air guitar. It had a rhythm that was so easy to follow along with. The musicians were awesome entertainers. The first song I fell in love with was Metallica's ,,Enter Sandman''. I've seen videos of me at 3 years old rocking out in my car seat with a princess folder in my hand that I pretended was a guitar while I sung along.''
,,Playing guitar also is a great way to escape''


-Helena Harris
How does music help you in life?
,,Music is a way to express myself. I write songs about what is bothering me at the time. It helps me get my feelings out there and not keep it bottled up inside. Listening to music is also a great way to escape from things that bother me. I put on my headphones and just start rocking out and I forget everything around me. Playing guitar also is a great way to escape.''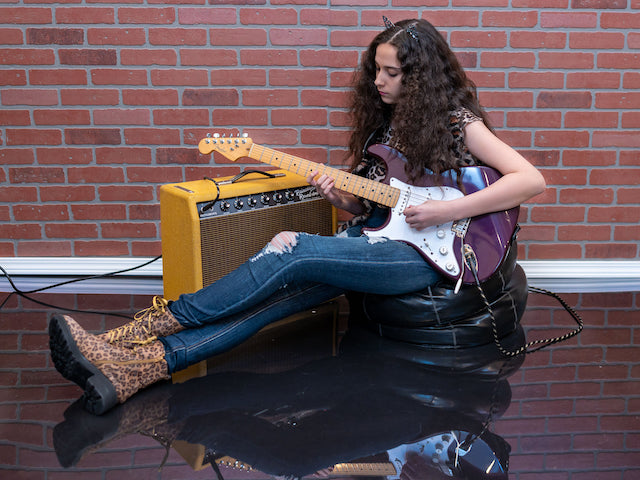 Why did you choose to play the guitar and not drums or bass for instance?
,,I didn't choose guitar, it kind of chose me. I was doing a little singing and I stopped because of kids at school were teasing me. My little brother was taking lessons and one day while waiting for him, one of the instructors came up and asked my parents if he could give me a free guitar lesson since he had time. My dad responded that I was a singer, not interested in guitar. I quickly interrupted and told them I want to try the guitar. That 30-minute lesson was the start of my new love for the guitar!''
WOMEN IN ROCK
Who are your guitar heroes and other musical idols?
,,My biggest idols are the women in rock. There just isn't a whole lot of women who went into the rock scene. I just love watching women on stage shredding which gives me hope that I can be successful someday. Lita Ford is one of the biggest influences because when she went into rock, it was ruled by men and her band The Runaways were told over and over that there was no place for them in the industry. I read her book too, or I should say most of her book because my dad took a black marker and crossed out things he thought wasn't appropriate for me to read yet. Lita talks so much about how she was given such a hard time for being a woman in the rock business, but she stuck to it.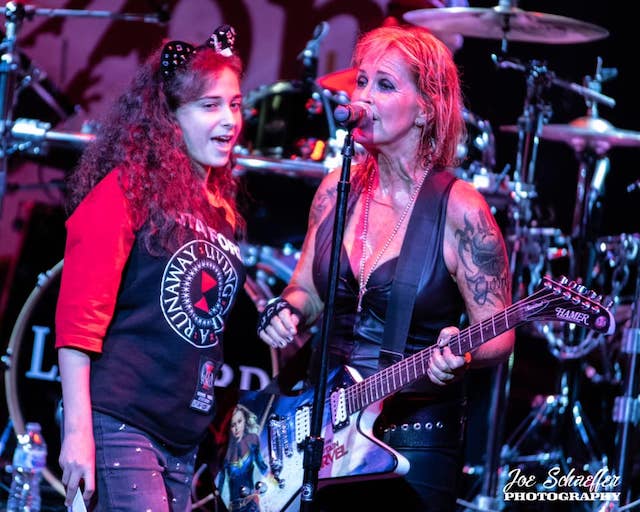 Then there is Lzzy Hale of Halestorm! Wow! She is incredible. Her voice, her music, her stage presence, Lzzy is who I strive to be like someday. I have been lucky enough to meet both my idols Lzzy and Lita who are incredible people and so supportive of young artists. Then of course there is the obvious idols, Eddie Van Halen, which I am so sad I never got to see him live. There will never be another Eddie! I love Guns N' Roses and Slash is another huge idol to me.''
,,Little over a year ago I told everyone I really want to be a Rockstar.''

-Helena Harris
You also sing while playing guitar. How much time and effort do you put into music every week, like taking lessons and practice? And what is your ultimate goal as a starting young musician?
,,At first not much. I have been playing guitar for almost 3 years now and got back into singing about 2 years ago. At first it was 1 hour lesson a week and then practice 30 minutes a day. Little over a year ago I told everyone I really want to be a Rockstar. With the pandemic going on, everyone seemed to have some more time, so we took my lessons to the next level. My guitar lessons are now at 90 minutes a day 4 to 5 times a week. Vocals is 2 one-hour lessons a week. And I also take song writing lessons three times a week for 1 hour a day."
I also did a short series of lessons with Marq Torien of the Bulletboys during the downtime of the pandemic. So I was able learn from Marq about song writing, performance and about the industry in general. I practice about 2 hours a day. I also carry a notebook everywhere I go so I can write down song lyric ideas that come to mind along with recording melody ideas into my phone. Music is really everything to me right now!''
LEFTHANDED AND DYSLEXIA
What is your tip to other kids who want to learn to play guitar, or another instrument or want to sing?
,,It is very important to find your way of learning. I started my lessons through a chain music store which had a defined method of teaching which was watch the instructor once, here is a chord chart, you try, and now go home and practice on your own. It was challenging for me because I have dyslexia and ADHD. I had a hard time focusing on chord charts and staying committed so my progress was painfully slow. I was close to quitting but I really wanted to learn. That is when we met Rick Steier of Kingdom Come and Warrant who became my guitar teacher. Again, it started with the typical way, but he quickly realized my challenges and he adapted his teachings to my way of learning."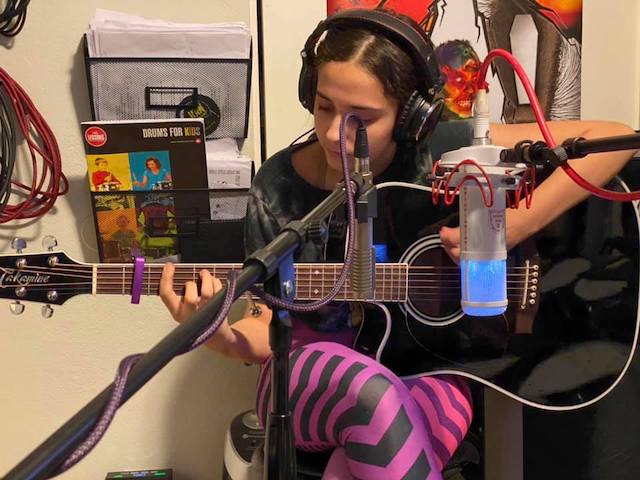 ,,My biggest success in learning was copying the teacher. Being a lefty and everyone I was learning from was a righty, it was like looking in a mirror so I could easily mimic their playing. The visual processing challenge along with dyslexia made chord charts difficult so we worked on identifying chords by listening. I quickly learned how to play songs by listening to it since audible learning is my strength which is probably why I have such a passion for music. By the way going back to the lefty topic, funny story on this. I have a friend who is a lefty too. He came over one day so we could play guitar together. We couldn't learn from each other since he was so used to copying right-handed guitarists too like me.''
ROCKIN' WITH THE STARS
Do you feel it is important that parents should support and motivate their children to play an instrument or sing? How is it for you to be able to share this passion for music with your parents and getting their support?
,,The support and motivation of my parents has been one of the keys to my growth. People ask me how to motivate their children and I would have to say is know the difference between motivation and pushing. If parents push their kids to learn and practice, it becomes a chore. Music should be a passion, not a chore. I know my parents are so proud of me, especially since I found something that I love. We talk music all the time and go to concerts together. Is it weird to have a playlist that is similar to your parents? I hear so many of my friends say they can't stand their parents' music, but I love it.''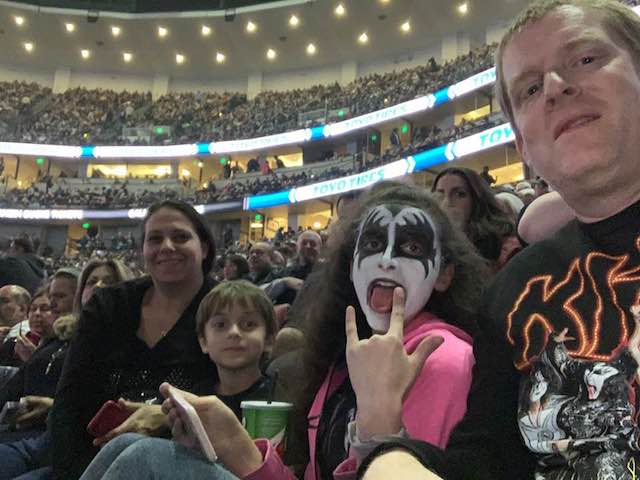 You even got the chance to join the famous Fantasy Rock Camp when you were 12. Can you tell us more about this experience and how did it help you grow?
,,Fantasy Rock Camp is awesome! I know most people go to this to live a dream to have the opportunity to play with their favourite artists. It inspired my dreams. It was great to play with such major artists like Joe Perry of Aerosmith, Vince Neil of Mötley Crüe, Gary Hoey, and Cheap Trick. This was another one of those experiences making me realize I want to be a musician. The counsellors are all working musicians, so I formed friendships with many of them who have helped inspired me and guide me. They have all supported me on my journey into this music world.''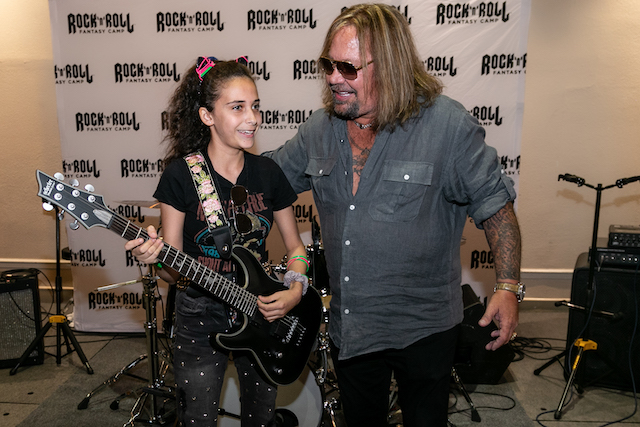 BULLIED AT SCHOOL
In 2019 you published a personal video on your YT channel, called `Bullied At School – The Antidote is Rock And Roll' in which you talk about how you love rock 'n roll music since a very young age, but how you got bullied for it, and how you try to coop with the consequences of that.
Was it difficult for you to share this story in the first place and what has changed for you since this video is out in the world?
,,It was a tough time for me. It started in middle school where I was getting picked on for everything because I was different, I was told. Kids made fun of my singing constantly, the bands I listened to, the way I dressed, and anything else they could. I was being physically, verbally, sexually, and cyber-bullied. My parents spent a lot of time in the office meeting with my counsellor and principal, getting nowhere. A counsellor suggested to my parents that I should try to fit in better. Even went as far as saying it is amazing what good morale values I have and how innocent I am with what I am into. My dad didn't know what she meant by the statement which is when she explained the music, the concerts I go to, and the guitar playing. It seemed I wasn't just a fan of the 80s anymore, but I was living the 80s with the stigmata of my music."
,,I was getting picked on for everything because I was different.''

-Helena Harris
,,My parents took it to the district, but they ignored it and refused to let me change schools. That is when a friend of the family who makes YouTube videos suggested I tell my story. I was scared but he explained telling my story might help for people at the school district to take notice. While filming the video, I had a breakdown where I was crying. That part never made the video, but it was sent to the school district who made the decision to change my school immediately.''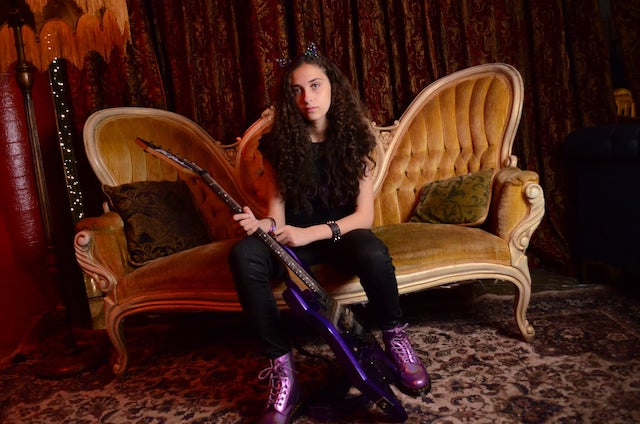 PLAYING COVERS AND WRITING A SONG
You released several videos playing cool covers of Mötley Crüe, Queensrÿche, Faster Pussycat, Bryan Adams, AC/DC and Bon Jovi. Do these songs have a special meaning to you?
,,It really came down to these being great songs that I love to listen to. They all have catchy melodies and are fun to sing. If you are a musician or not, these are songs you want to sing along, tap your foot and rock your head to. ,,House of Pain'' by Faster Pussycat was the first solo I learned. After that, I wanted to learn more solos such as solos by Angus Young which is when I went on to learn ,,Highway to Hell''. ,,Kickstart My Heart'' is just a fun song to play, and it rocks! I think that is my all-time favourite Mötley Crüe song.''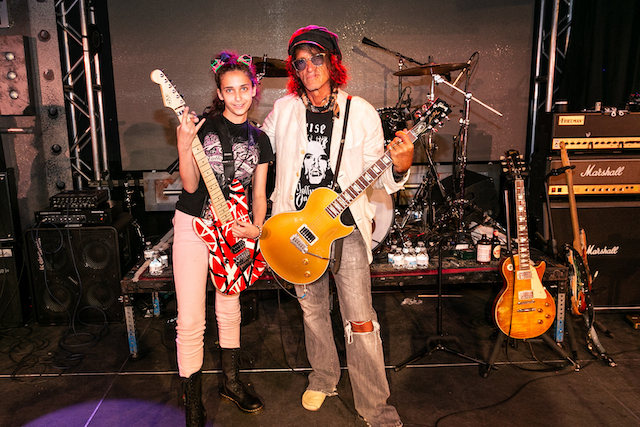 Recently you released your debut single ,,Love Is Your Weakness''. First of all, how is it to have your own song released?
,,It still feels like a dream. Never thought I would have my own song and even more exciting to hear indie radio stations playing it. The Monday after it was released, I got word that 97underground out of Baltimore added it to their playlist. I looked at the playlist and saw bands that I love on it, like Halestorm, LA Guns, Tesla, and many more. I was blown away to have my song played alongside them. Then the following week, their charts came out and I made the top 10. I screamed with so much joy to be on a chart with so many of my idols. I just keep thinking I am going to wake up and it was a dream.''
,,,,Love is Your Weakness'' came about a friendship that fell apart over a boy.''

-Helena Harris
With who did you write this song (how did it all started) and what is it about?
,,I have been carrying a notebook for almost a year now just writing down ideas and lyrics for songs. I record melodies on my phone. All this has been kept close to me and not shared since I lack the confidence in myself. ,,Love is Your Weakness'' came about a friendship that fell apart over a boy. There is a boy at school that liked me, but I wasn't interested so he went after my friend. While he was dating her, he started dating another girl too. I tried to tell her, but she thought I was lying because he told her that I was wanting to be with him. It was all lies and she gave up a friendship over something she thought was love. One day I got the courage to share my idea with my guitar teacher, Rick Steier, and I sung him the chorus melody. From there he helped me to lay down some chords and it grew into a song. Didn't think it was going anywhere, just something for fun.''
THE ALL-STAR BAND
Who do you have to thank for that the famous musicians Les Warner (The Cult), Rudy Sarzo (Ozzy, Quiet Riot), Rick Steier (Kingdom Come, Warrant) and producer Mike Plotnikoff (Van Halen, Aerosmith, KISS), helped you to record your song?
,,We recorded a demo at home to see what we had. Rick and I played guitars first. Then Rick played a quick bass track on it and I sung the vocals on our little demo. We started throwing some drummer names around. I met Les at Fantasy Rock Camp and I said I wanted Les. Les played on the `Electric' album for the Cult, my favourite album by them. His drum beat in my opinion made that album, he is an incredible drummer. My dad and I reached out to Les and played him our demo. Les liked it and said he had ideas right away on the drums. He lives in Las Vegas and we are in Los Angeles, so he recorded the drums at his home and sent it to us to add to our demo."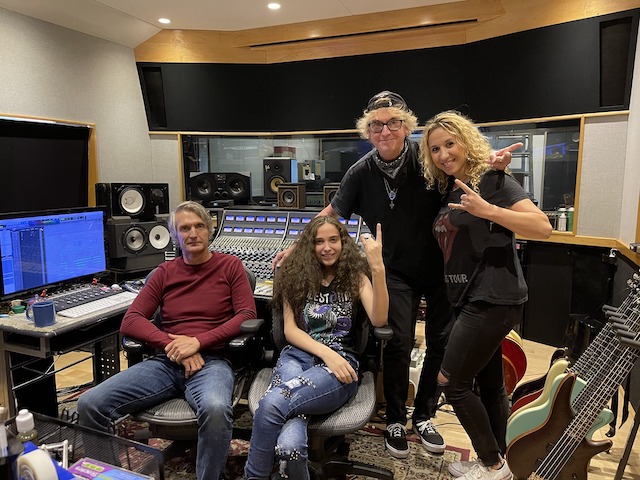 ,,This demo was really starting to sound good now, but Rick said to me we need a good bass player. I immediately said Rudy Sarzo. My dad said dream on! No way you are getting the legendary Rudy Sarzo. Our friend James Kottak made the call and forwarded the demo to Rudy. Around 11:00 pm that night, we get a call saying Rudy likes the song and will do the bass track. I must of woke the neighbourhood with how loud I screamed. Les suggested that with all the amazing players on a great song that we really need a producer to put the finishing touches on it. I love all the classic 80s band, but I wanted a modern twist on the song.
I am huge fan of Halestorm so I said I want the producer for Halestorm. My dad again said keep dreaming and I wasn't sure how we were going to pull this one off. Then that evening at my vocal lesson with Electra Barakos, who was on the Voice in Greece and is a recording artist herself, I told her about everything going on. It turns out Electra knows Mike Plotnikoff and reached out to him. My family and I go to dinner after vocal lessons and my dad's cell phone rings, and he says he doesn't recognize the number. I tell him to answer it because it is probably the producer which you can see his look like keep dreaming. He answers and it is Mike Plotnikoff and he steps outside to take the call. He comes back in and says Mike is going to produce the song. Yes, I screamed loudly again! I couldn't believe how this all came together and so fast.''
WORKING IN A STUDIO
How did you experience the complete process of writing and recording in a studio and also making a video clip for it?
,,It was a two-day event. When we arrived at the studio, I turned to my dad and said please pinch me because I need to make sure I am not dreaming. Mike had us run through the song a couple times as a band since this was the first time we played together, even Les flew in for this. Mike was so great, he listened to my vision and made very subtle changes to help bring this vision out. The drums were laid down first. We went on to rhythm guitars which Rick and I did. Rudy then did bass. The interesting this is Mike explained rock is supposed to be a little messy. Playing with guys who were 40-year veterans of the rock industry, they were so tight that we had to figure out ways to loosen it up a little."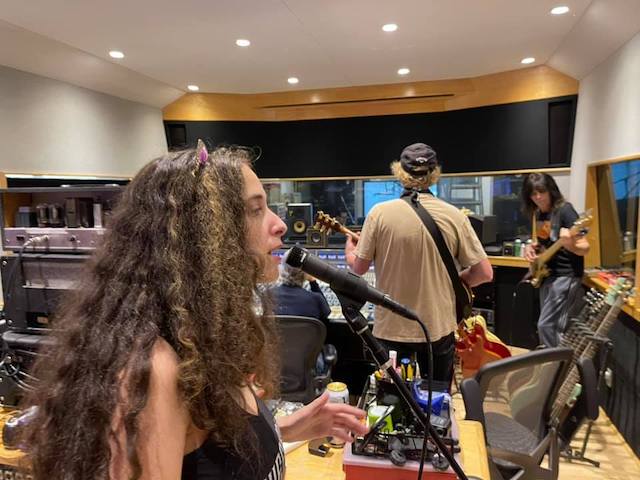 ,,The next day we went back to do vocals and the lead guitar. As we were driving there, I got scared and started crying. I was about to go in and do vocals on a track that these amazing musicians just worked on. I felt so out of my league. My dad gave me a little pep talk and when we arrived, I dried my tears and went in to do my part. My vocal coach sat outside the booth while I did the vocals. I have to say I was surprised at what I was able to do when feeling like it was time to step it up. The vocals turned out amazing to me and I was so proud. Then the lead guitar part came, and I sat down waiting for Rick to do the solo. Everyone looked at me and said it was my song, I'm doing the solo. The nervousness hit again but I did it. We played around with some other guitar effects too throughout the song that was so much fun. It was such an incredible experience and having this amazing team there to help support me, I couldn't ask for anything better.''
THE YEAR 1984
Can you tell us more about the EP that is announced and will it be recorded with the same team?
,,The EP is still a little way out since I am in high school and school comes first. I am writing songs and bouncing them off Rick. This first song turned out so great, that I feel like the bar has been set high now. I'm taking my time to really make sure I hit that level again. When it comes to who will be recording the next songs, I'm not sure. They have all told me they enjoyed the experience as much as I did and would love to come back to do more songs. Loved working with everyone so definitely will need to think about this a lot more in the future.''
,,To see Eddie Van Halen perform that year would have been a memory of a lifetime.''

-Helena Harris
What else do you do besides be very busy with music? Do you have other interests and passions?
,,Is there any time left for anything else besides school and music? I love to travel. We have had a goal to go to every Disney in the world. We have been to the one here in California, Florida, Tokyo, Shanghai, and Hong Kong. I hope to get to the one in Paris when this pandemic is over. Also, I like spending spend time with my family. As I mentioned before my little brother is a drummer so we like to pretend like we are a band which we may be someday. My cats are also my love which is obvious by my cat ears I wear everywhere! I have two Balinese cats Rock-it and Harmony.''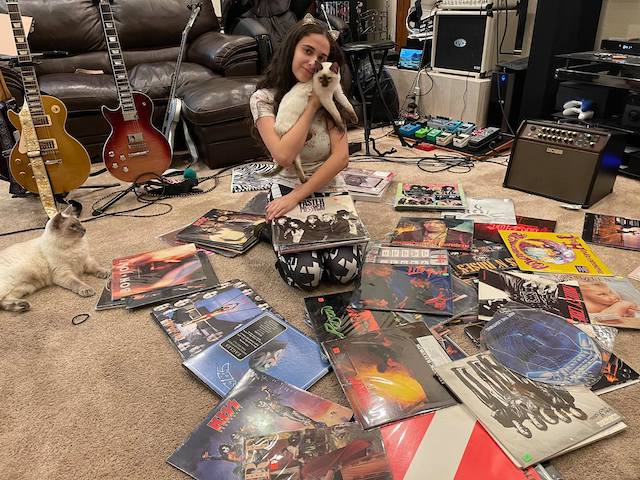 If you could only time travel once in your life and spend a limited amount of time in the past, where would you like to travel, who would you like to meet at a certain moment or which concert would you not want to miss?
,,1984! Mötley Crüe released `Shout at the Devil' the year before and would have been on tour then. Van Halen was on top of the charts with their album `1984'. To see Eddie Van Halen perform that year would have been a memory of a lifetime. That was also the year of Dokken's `Tooth and Nail' and Ratt's `Out of the Cellar'. It would be great to see Warren De Martini and George Lynch then. Don Dokken sounded amazing then too! I could have spent a long time in 1984!''
About
Musicians from our world embark on an adventure with magical creatures from The Metal Dimension, a world where fantasy becomes reality. There is a passion that all our heroes share: METAL!
Genre
Metal
Website
https://www.magicometal.nl/
Social
Tags