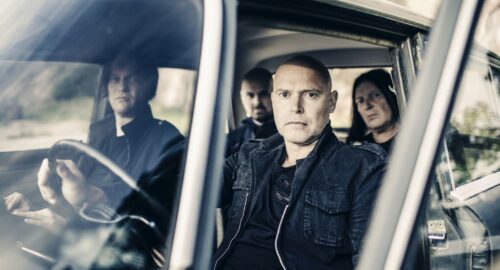 News | Conception release new single 'A Virtual Lovestory (Live)'
+++OFFICIAL PRESS RELEASE BY CONCEPTION SOUND FACTORY+++
CONCEPTION RELEASE NEW SINGLE 'A VIRTUAL LOVESTORY (LIVE)'
Norwegian hard rockers Conception release brand new single 'A Virtual Lovestory (live)' on December 10th. It is a live recording of the classic from their 1997 album `Flow', recorded at their hometown gig in Gjøvik back in 2019, marking the very first time any version of this song has been made available on digital platforms. It also features on the forthcoming "State of Deception – deluxe edition" album, available for pre-sale in the current crowdfunding campaign.
ARTIFICIAL INTELLIGENCE
Vocalist Roy Khan explained "The lyrics were inspired by an article I read about AI back in the 90s. I found it fascinating, frightening and somewhat sad at the same time, and yet it went on to become more relevant than I could ever have imagined. The internet is a fantastically paradoxical thing that both connects and separates…"
As guitarist Tore Østby relays, it was an obvious selection to record and release: "Personally, it's one of my favorite tracks from the `Flow' album, with groove, atmosphere, and challenging harmonies. It's always a thrill to perform live, so one we just had to share."
CROWDFUNDING
Meanwhile, Conception's extraordinary bond with their fans is exemplified by the inclusion within the crowdfunding campaign of the chance to spend a weekend with the band in March, and the opportunity to explore the spectacular Norwegian fjords and mountains with the band for a weekend in August. Regularly updated, the campaign also includes a raft of new items, such as a cassette replica of their previously commercially unreleased 1992 demo; the very tracks that saw the band sign their original record deal!
The forthcoming deluxe edition of "State of Deception" includes not just the original album content, but also a series of new live and studio recordings, previously unreleased songs and instrumental versions of the original album,and is due in early 2022.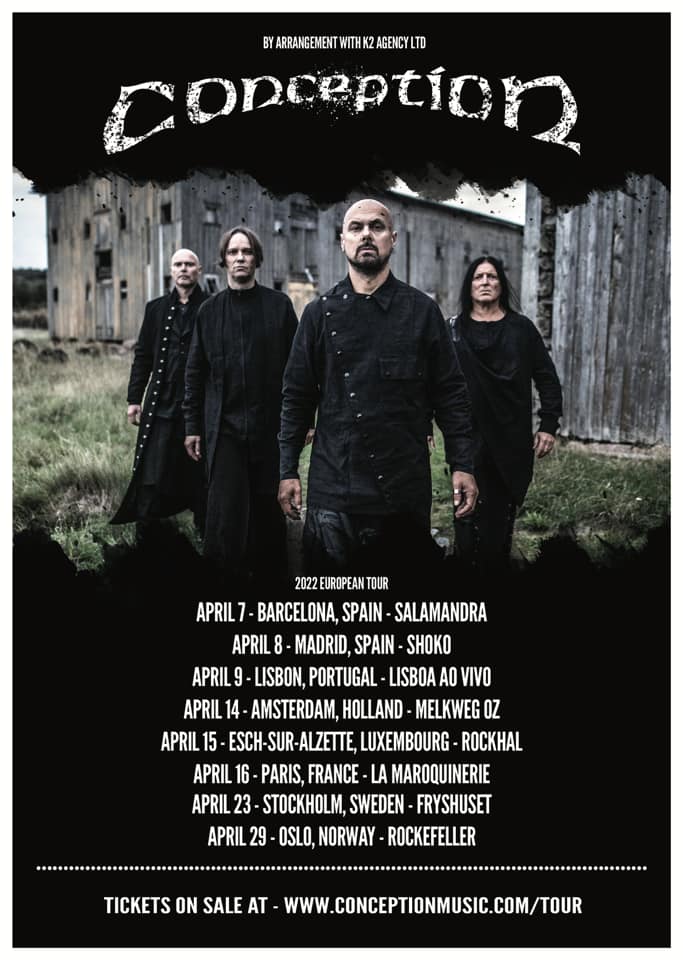 Conception are preparing for their upcoming 2022 headline tour:
MARCH 19 – GJØVIK, NORWAY ; FRISCENA
MARCH 27 – ANTWERP, BELGIUM ; THUNDER MUSIC FESTIVAL
APRIL 7 – BARCELONA, SPAIN ; SALAMANDRA
APRIL 8 – MADRID, SPAIN ; SHOKO
APRIL 9 – LISBON, PORTUGAL ; LISBOA AO VIVO
APRIL 14 – AMSTERDAM, HOLLAND ; MELKWEG OZ
APRIL 15 – ESCH-SUR-ALZETTE, LUXEMBOURG ; ROCKHAL
APRIL 16 – PARIS, FRANCE ; LA MAROQUINERIE
APRIL 23 – STOCKHOLM, SWEDEN ; FRYSHUSET
APRIL 29 – OSLO, NORWAY ; ROCKEFELLER

JUNE 3/4 – US, ATLANTA ; PROGPOWER XXI FESTIVAL