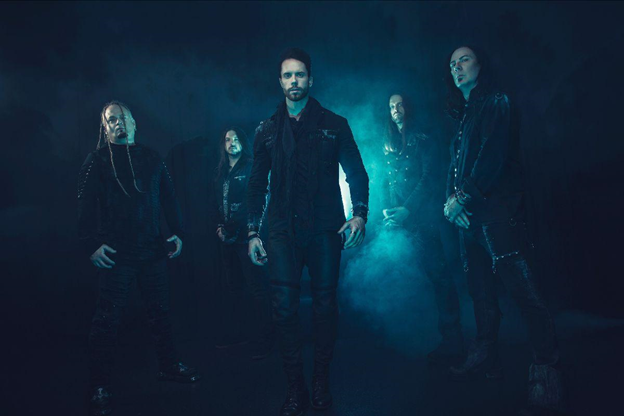 News | Kamelot Released Third Single
,,Eventide''
+++OFFICIAL PRESS RELEASE BY NAPALM RECORDS+++
Modern Symphonic Metal icons Kamelot releases massive third single ,,Eventide" from new album `The Awakening', out now! The band is on tour in Europe now!!!
The wait is over! Last Friday, March 17, modern heavy symphonic metal leaders Kamelot finally unveiled their most introspective, uplifting, vital release to date – their first full-length in five years, The Awakening. The album enters the Kamelot legacy as their most massive and diverse offering yet – mixing symphonic, gothic, melodic, progressive and power metal styles while yielding some of the heaviest tracks in the band's history.
Arriving on the heels of widely-lauded debut single, "One More Flag in the Ground" and operatic anthem "Opus of the Night (Ghost Requiem)" (featuring Grammy nominated, soundtrack-featured cellist Tina Guo), Kamelot have revealed the new album's third single – the massive "Eventide". The track is a modernized banger of epic proportions, featuring the band's lauded trademark soundscapes and exploring heartfelt themes of lifelong companionship, unwavering loyalty and lasting memories.
KAMELOT VOCALIST TOMMY KAREVIK OFFERS:
"'Eventide' is a celebration of lifelong companionship and unwavering loyalty. A calming voice from the side of the bed in the greatest time of need, sharing beautiful memories as one heart is slowing down and their time together is coming to an end."
WATCH THE VIDEO HERE:
Having reigned supreme with the release of internationally top-charting melodic metal pinnacles such as The Fourth Legacy (1999), The Black Halo (2005), Silverthorn (2012), Haven (2015, #1 US Hard Rock Albums), and most recently 2018's acclaimed The Shadow Theory (#2 US Hard Music Albums), Kamelot's intense brand of ultramodern gothic and symphonic theatricality is amplified further and with more emotionality than ever on The Awakening.
The Awakening embraces enlivening themes that every listener can relate to. Inspiring, engaging lyrics of determination, strength, overcoming personal battles and growth are abound on The Awakening, provoked by extreme societal shifts and the overwhelming realization that we have such a brief time to be true to ourselves and live life to its fullest.
Showcasing the incomparable, stage-seasoned vocal acrobatics of Tommy Karevik and increasingly airtight, renowned technical teamwork of guitarist Thomas Youngblood, drummer Alex Landenburg, keyboardist Oliver Palotai and bassist Sean Tibbetts, Kamelot's score-like 13th studio album is accented by guest contributions from the likes of Melissa Bonny (Ad Infinitum) and renowned instrumentalists like violinist Florian Janoske and aforementioned cellist Tina Guo.
KAMELOT GUITARIST THOMAS YOUNGBLOOD SAYS:
"With The Awakening, we have one of our most diverse albums in years. We've fused elements from progressive, power and gothic metal to symphonic and melodic metal on this one. Working with incredible guest artists from around the music industry and having producer Sascha Paeth and Jacob Hansen mixing gave us another step up on overall sound. This album offers everything to Kamelot fans and also reaches beyond borders to new metal and hard rock legions."
Order The Awakening HERE: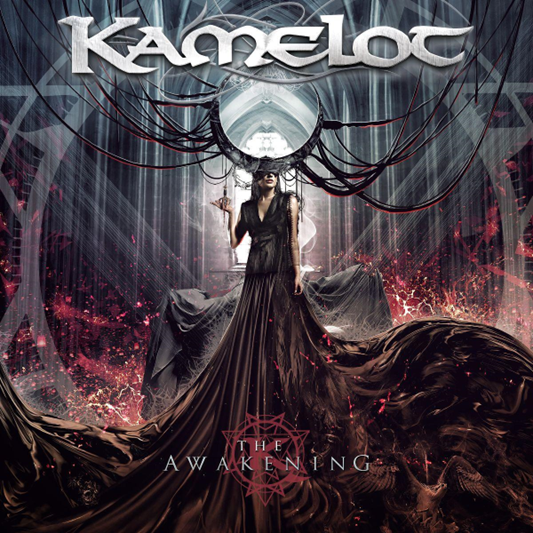 Tracks honoring Kamelot trademarks like cinematic "The Great Divide" and darkly hopeful eternal farewell to a loved one, "Eventide", prove that while The Awakening stays true to the aural foundations fans have embraced for decades, equally-addictive outputs like "One More Flag in the Ground" – a radio-ready anthem about overcoming seemingly unbeatable illness and the mental challenges we all face, featuring additional vocal layers from JUNO Award winning musician and producer Brian Howes – showcase a band devoid of sonic stagnancy. Profound compositions are plentiful, like stage-ready, operatic "Opus of the Night (Ghost Requiem)", which features a hair-raising dual solo from guitarist Thomas Youngblood and guest cellist Tina Guo, as well as epic, synth-laden "New Babylon", elevated by the dynamic vocal attack of frontman Tommy Karevik and Ad Infinitum's Melissa Bonny.
Further balancing darkness with light, grooving, heartfelt "NightSky" and ode to conquering one's adversities "My Pantheon (Forevermore)" boast some of the album's heaviest moments and most complex guitar solos, while pensive hymns such as Celtic-infused "Midsummer's Eve" and ebbing-and-flowing hymn of cherished memories "Willow" provide necessary balance to an album fittingly primed for spectacular performances to come.
The Awakening features crystal clear modern production helmed by the band and longtime producer Sascha Paeth, plus mixing and mastering by Jacob Hansen of Hansen Studios.
THE AWAKENING TRACKLISTING
1. Overture (Intro)
2. The Great Divide
3. Eventide
4. One More Flag in the Ground
5. Opus of the Night (Ghost Requiem)
6. Midsummer's Eve
7. Bloodmoon
8. NightSky
9. The Looking Glass
10. New Babylon
11. Willow
12. My Pantheon (Forevermore)
13. Ephemera (Outro)
KAMELOT NOW ON TOUR IN EUROPE
Kamelot Awaken The World Tour Europe – Part 1:
w/ special guests Myrath, Eleine, League of Distortion
Mar 17, 2023 – Cologne, DE / Essigfabrik
Mar 18, 2023 – Den Bosch, NL / Mainstage
Mar 19, 2023 – Brussels, BE / La Madeleine
Mar 21, 2023 – Hamburg, DE / Gruenspan
Mar 22, 2023 – Roskilde, DK / Gimle
Mar 24, 2023 – Oslo, NO / Sentrum Scene
Mar 25, 2023 – Gothenburg, SE / Trädgårn
Mar 26, 2023 – Stockholm, SE / Berns
Mar 29, 2023 – Helsinki, FI / Vanha Ylioppilastalo
Mar 31, 2023 – Tampere, FI / Pakkahuone
Apr 1, 2023 – Oulu, FI / Tapahtumakeskus Tullisali
Apr 3, 2023 – Tallinn, EE / Helitehas
Apr 4, 2023 – Rīga, LV / Melnā Piektdiena
Apr 6, 2023 – Warsaw, PL / Progresja
Apr 7, 2023 – Prague, CZ / Meet Factory
Apr 8, 2023 – Budapest, HU / Barba Negra
Spring/Summer Festivals:
May 4, 2023 – Karmøygeddon Metal Festival, NO – Headlining
Sep 8, 2023 – ProgPower USA XXII, USA – Headlining
Credit header photo: Nat Enemede
About
Kamelot is an International modern symphonic metal band formed by American guitarist Thomas Youngblood in 1987. The band has a extensive discography, a great live reputation and worked with many guest musicians over the years.
Genre
Modern symphonic metal
Website
https://kamelot.com/
Social
Related links
Tags