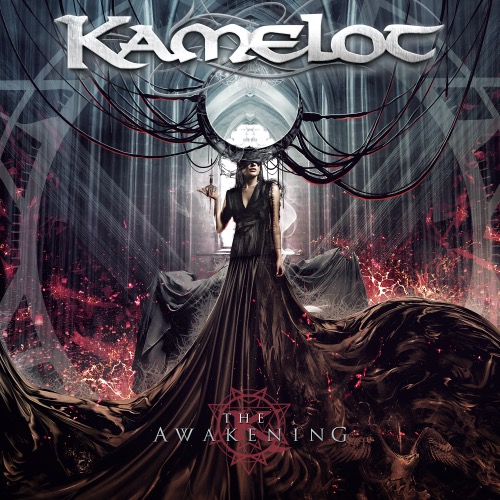 Review | Kamelot – The Awakening
Napalm Records
Guitarist Thomas Youngblood founded power metal band Kamelot in 1987 and the band released their debut called 'Eternity' in 1995. Ever since that release I have been a fan and admirer of the excellent music of Kamelot. I have all their records – with already three different singers in the fold (Mark Vanderbilt, Roy Khan and Tommy Karevik) –  in my rock collection, just checked it by the way. My all-time Kamelot favourites so far being: 'Siege Perilous' (1998), 'Epica' (2003), 'Ghost Opera' (2007) and 'Silverthorn'(2012).  
THIRTEEN NEW TRACKS
`The Shadow Theory' was Kamelot's last album, released in 2018, so the band has been working on this new album called 'The Awakening' for five years and it has become one of the most diverse Kamelot album in years. The thirteen new tracks on 'The Awakening' are a beautiful mix of symphonic, progressive, power, gothic and melodic metal indeed and there are actually no weak spots, as the songs are really an ebb and flow of inspired creativity.
Take for example the first awesome single from the album called ,,One More Flag In The Ground", which is a 100% pure huge anthem-like bombastic, symphonic metal track featuring all those fantastic Kamelot characteristics such as the huge vocals of Karevik, the heavy melodic guitar riffs, hooks and melodies of Youngblood and the technical rhythm teamwork of bass player Sean Tibbetts and the new drummer Alex Landenburg. Opening track ,,Overture" is a short but remarkably effective and beautiful symphonic instrumental which is followed by the bombastic ,,The Great Divide", a track full of variation and seamless and sophisticated musical performances by all members of the band. ,,New Babylon", packed with soaring synthesizers walls from Palotai, features guest singers Simone Simons (Epica) and Melissa Bonny, the Swiss metal singer from Ad Infinitum, making this a vocal highlight of the album!
GHOST OPERA
All the tracks on 'The Awakening' clock in between the one and the five minute mark, with one exception, namely ,,Opus Of The Night (Ghost Requiem)", the second single and part two of ,,Ghost Opera", which almost lasts six minutes. That track also belongs to my favourites on the album and that is mainly due to the breath-taking instrumental duel between guitar picker Youngblood and cellist guest musician Tina Guo.
,,My Pantheon (Forevermore)" is another highlight and features the heaviest and most intriguing guitar solo of the entire album, while ,,Midsummer's Eve" is an emotional ballad with extraordinary vocals from Karevik and beautiful Celtic-like melodies played by the Grammy nominated cellist Tina Guo. ,,Willow" is also a rather quiet song, ballad/hymn-like indeed, again very atmospheric, and orchestral, packed with impressive melodies.
KAMELOT CONCLUSION
The production of Kamelot's thirteenth studio album, of course is again awesome, as Sascha Paeth really did an formidable job as usual, while Jacob Hansen did the mastering of 'The Awakening'. So, after a five-year hiatus, Kamelot did it again, as 'The Awakening' is really a very melodic album with absolutely no fillers and a couple of the best songs that Youngblood and Co. ever recorded; so highly recommended; play it LOUD and enjoy. 
See you all in Den Bosch March 18.
Release date: 14 March 2023
About
Kamelot is an International modern symphonic metal band formed by American guitarist Thomas Youngblood in 1987. The band has a extensive discography, a great live reputation and worked with many guest musicians over the years.
Genre
Modern symphonic metal
Website
https://kamelot.com/
Social
Tags