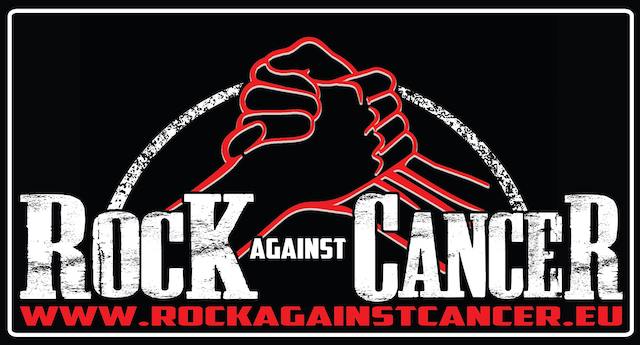 News | Rock against Cancer presents a Robby Valentine show
in the Flexiforum - Kerkrade [NL]
Rock against Cancer is the brandnew initiative to raise funds to support cancer research. [RaC is part of kankeronderzoekfonds limburg]
THE NUMBERS
Worldwide 1 in 5 men and 1 in 6 women will be diagnosed with cancer during their life. Eventually one out of eight men and one out of eleven women diagnosed will lose their life to this illness. Dazzling statistics that call for immediate action.
With research intensifying and more and more insight attained, treatment methods increase actual chances for survival. Now Rock against Cancer steps up to support medics and researchers to faster find a solution.
HOW?
The worldwide rock and metal community is a closely connected army of music enthusiasts and fans. We rock as one and we roll as one! Numerous of our most beloved and iconic musicians have passed over the years, falling prey to the illness. It shatters our hearts, every time again, yet unites us in our grief.
In the future we want to extend our reach and build towards a community open to be joined by fans and musicians worldwide. By doing so, it is our goal to unite and as a collective organize activities and fundraisers. Think: a 'Meet & Greet' at your favorite concert, obtaining signed collectibles and memorabilia, branded merchandise, and organizing events and festivals to raise funds and draw attention for our cause. These are mere examples of the possibilities.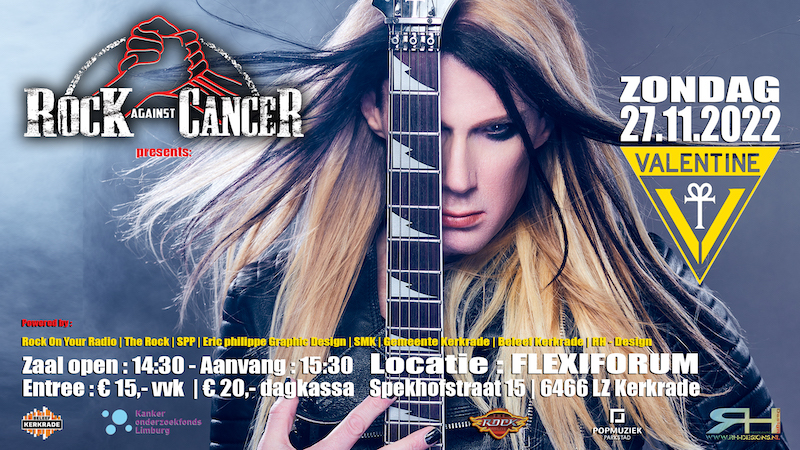 ROBBIE VALENTINE
The show of Robby Valentine on November 27th is the first event to which the foundation and a rock group jointly connect their names to.
For each sold ticket, € 2.50 goes straight to Rock against Cancer!
Robby Valentine scored a huge hit with his debut single ,,Over And Over Again'' in the early 1990s. The self-titled debut album earned him a Silver Harp and success in Japan. The last two albums `Bizarro World' and `The Alliance' put the multi-instrumentalist back on the map. The albums earned him a deal with the Japanese label King Records and various shows at home and abroad.
Valentine's music is hard to put in one box, but a theme that comes up a lot is a call to stand for who you are and not to deny this for anyone or anything. He's been the epitome of staying true to who you've been throughout his career anyway.
With his love for artists such as David Bowie, Freddie Mercury and John Waite, he was born as an artist of the Glam era: where artists looked like artists: men with makeup and long hair, this is still what he stands for.
When the intention was to release`The Alliance' on vinyl, Covid abruptly cancelled the planned tour. However, the lockdown robbed Valentine not only of his tour, but also of most of his vision. Due to the lack of medical care, he has lost 97% of his sight. But as he sang on his latest album The Alliance: "We'll go on to the bitter end!", and he lives up to his own words.
Live there is almost nothing to notice of the loss of vision. The advantage of all the lockdowns has been that Valentine has been able to rehabilitate in peace and experience the music live, is therefore still an experience: Assisted by his great band and two extravagant female backing vocalists, both the older and the newer work done right.
MORE INFO
Sunday 27 November 2022
Venue open: 14:30 o'clock
Start: 15:30 o'clock
Flexiforum
Spekhofstraat 15
6466 LZ Kerkrade
Entrance:
€ 15,00 (pre-sale )
€ 20,00 (day checkout)
(excl. fee)
For each sold ticket, € 2.50 goes straight to Rock against Cancer!
More info on the show? Click HERE
Powered by: SPP, SMK, Gemeente Kerkrade, RH – Design, Eric Philippe Graphic Design, Rock On Your Radio & The Rock Online.