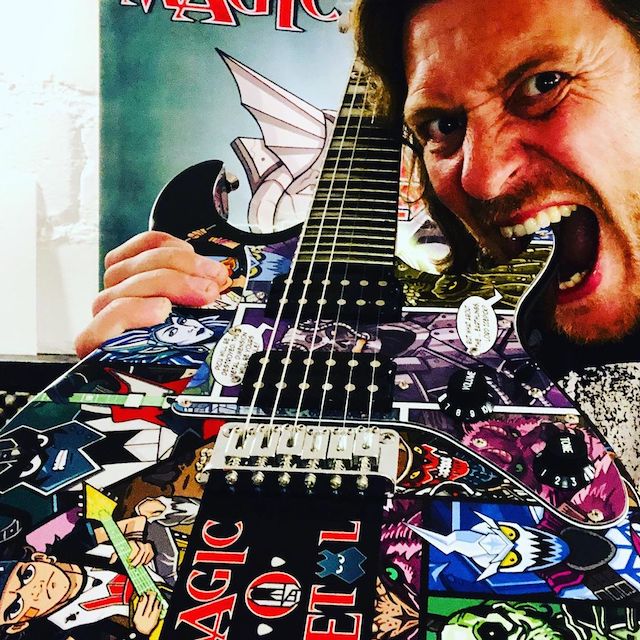 News | Sander Gommans (After Forever) releases new track with HDK
And kicks off new concept
+++Official Press Release by Graviton Music Services+++
Sander Gommans (After Forever) releases new track ,,Borderland" with HDK. Kicks off new concept Serenades of the Netherworld for artists to collaborate.
This song has chosen its own destiny in support of all the brave people who are determined to defend the future of our children.
Borderland initially had a different title, but with the exact same lyrics. It was written at a time in which we could not yet imagine nor have any notion of what was about to happen. While working on the last details of the video for this track, it struck us how relevant this song had become in the light of what happened. This song has now chosen its own destiny in support of all the incredibly brave people who are now determined to defend themselves, others, and foremost the future of their but also our children.
Borderland was and will still be the first song of a new concept Serenades of The Netherworld by Magic O Metal. It is also the first in a series of new tracks by HDK, where Sander Gommans collaborates with different musicians. The concept was born from the idea to give a voice to the many talents who wish to carry or pass on the torch of the metal music genre, regardless of whether one is new at the scene or considered to be a veteran. Sander Gommans explains: "We invite bands and/or solo artists to contribute music to this concept, but most of all we encourage everyone to create new things 'metal' through all sorts of musical collaborations. This is where Serenades of The Netherworldcan make a difference in creating and releasing music in new and different ways."
WATCH VIDEO FOR BORDERLAND HERE:
A TRIBUTE
We now start the journey of Serenades of The Netherworld with Borderland as an unplanned tribute to the brave souls fighting for what they believe in. This track is in support of the people and the refugees from Ukraine. We kindly ask everyone not just to watch this video, but to come to the aid of these people, especially the children, who became involuntary victims.
You can also listen to Borderland on Spotify HERE
You can also listen to Borderland on Apple music HERE
You can also listen to Borderland On Deezer HERE
The following people have contributed to Borderland by HDK:
Music, lyrics, production & mix: Sander Gommans at Eternia Studios
Vocals: Sander Gommans and Monica Janssen – X-Tinxion and Downcast Collision
Drums: Joeri Warmerdam – Phantom Elite
(Solo)guitars and bass guitar: Sander Gommans
Guest guitar solo's: Frank Schiphorst – Mayan
About
Musicians from our world embark on an adventure with magical creatures from The Metal Dimension, a world where fantasy becomes reality. There is a passion that all our heroes share: METAL!
Genre
Metal
Website
https://www.magicometal.nl/
Social
Tags