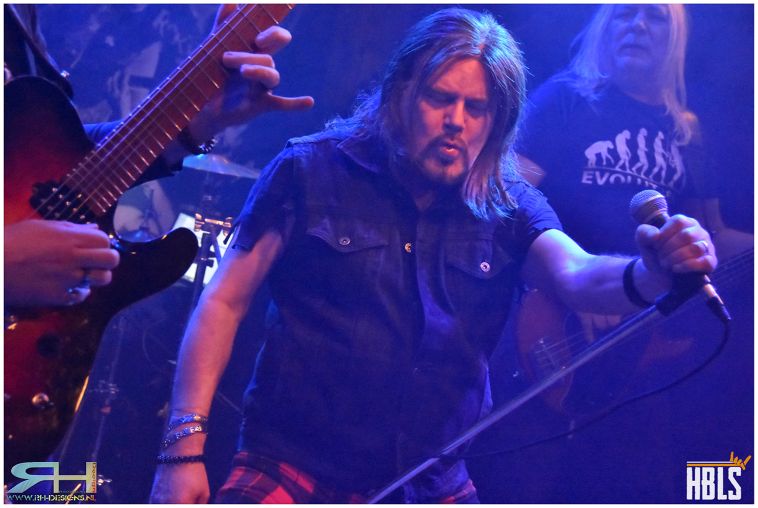 Live | Doogie White – Café De Meister – Geleen [NL]
9 March 2023
Sometimes there are events that you simply cannot skip. Like Doogie White, who is currently on the road with a best of set of his music career. And the venue is literally a stone's throw away from my home base. I first saw this friendly, open-hearted Scot in 1995 with Ritchie Blackmore's Rainbow live in Vosselaar, Belgium. The following years I was able to see him at work a few more times, including performances with his band Cornerstone and last year as the singer of Alcatrazz.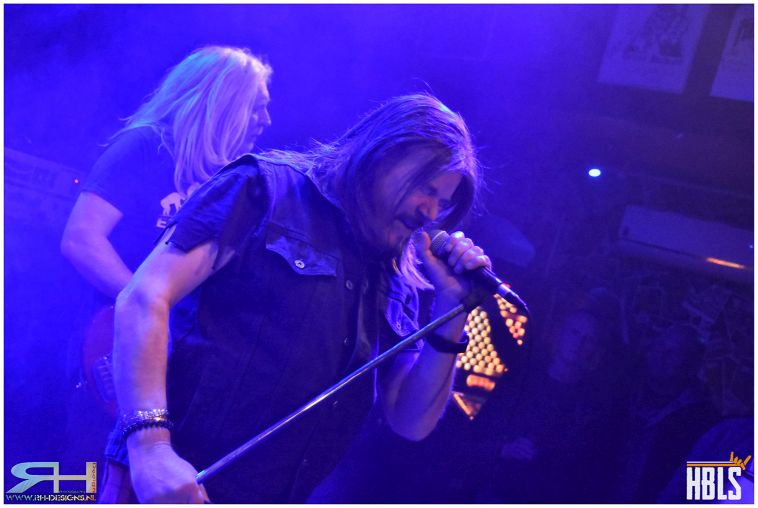 SOLO ARTIST
So now Doogie White is on the road as a solo artist with Italians Emiliano Tessitore [guitar], Francesco Caporaletti [bass] and Alessio Palizzi [drums] as backing band. A solo trip where he goes through his music catalog, with songs from bands he is or was part of. And yes, tonight we got to witness great performances of songs from Tank, Michael Schenker's Temple Of Rock, Demon's Eye, Empire, Cornerstone and of course Rainbow.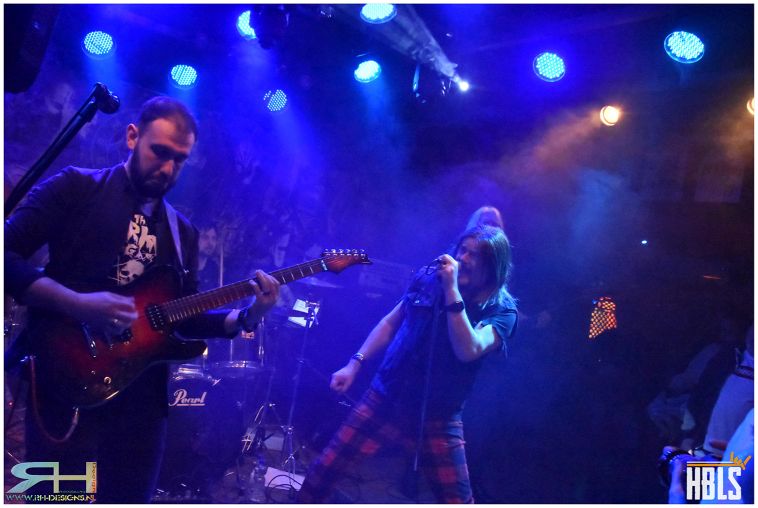 ON A ROLL
After the intro/,, Road To Glory'', it was a party right away with ,,Too Late For Tears'' [Rainbow], which was followed by ,,Judgement Day'' [Tank]. The sound was on point, and Doogie was definitely on a roll tonight. The band turns out to be of a very, very high level. A great catch as far as I'm concerned, because today we can enjoy amazing performances of classics from Doogie's career, performed on a finger licking level!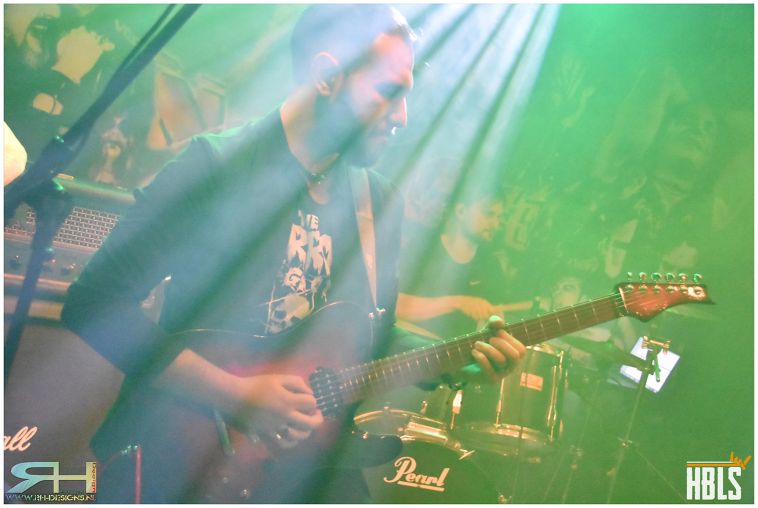 GOOSEBUMPS
As the third song we get a song written with Michael Schenker, following the death of Ronnie James Dio. ,,Before The Devil Knows Your Dead'' certainly provides the first goosebumps of the evening.
,,Manic Messiah'' [Empire], ,,Cold Hearted Woman'' [Rainbow] and ,,Feast Of The Devil'' [Tank] all turn out to be great songs and the audience is having a great time.

Next highlight of the evening is the exceptional song ,,Wounded Land'' [Cornerstone], of the still amazing 2002 debut album `Human Stain'. When you are not familiar with this album, just take the time to take a listen to it. It remains one of those albums that you can fall in love with over and over again. Right after that it was time for a great rendition of the Rainbow classic ,,Ariel''. That song also turns out to be good for goosebumps too.
GEMS BY DOOGIE WHITE
The atmosphere is good, the drinks are cold, people are having a great time, the band plays amazingly and is having a blast. What more could you wish for on a Thursday evening!? ,,Lord Of The Lost And Lonely'' [Michael Schenker's Temple Of Rock], ,,Great Expectations'' [Tank] and ,,Five Knuckle Shuffle'' [Demon's Eye] are the next gems on the set list.
Since Doogie thinks it's a bit retarded to do the whole 'we walk off the stage like rock stars and the audience calls for an encore game', the band decides to just start the encores right away.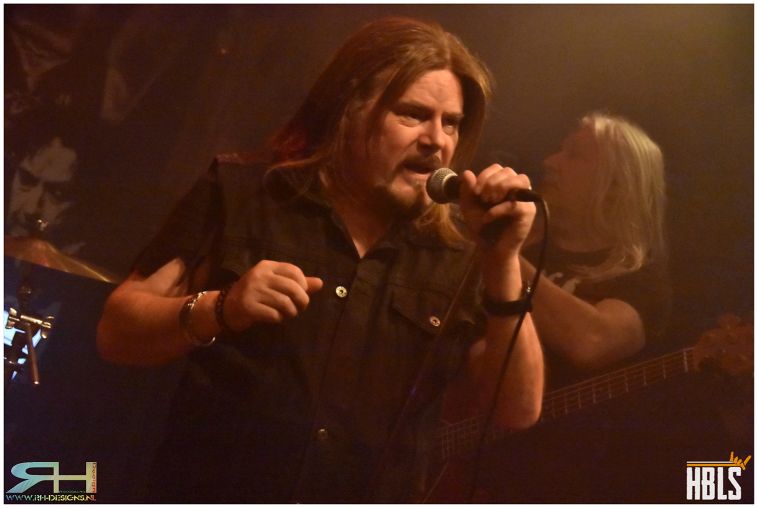 CHARITY
First up is ,,Black Masquerade'' [Rainbow] followed by ,,Temple Of The King'' [Rainbow] as their last song of the night. And what a conclusion that turns out to be. In the quiet middle part of this song, a visibly affected Doogie calls attention to some musical greats such as Dan McCafferty, Cozy Powell and Ronnie James Dio, who are unfortunately no longer with us, but also to the ones we love. Apparently before the concert we had hit a nerve with Doogie, when we asked him to pose for a picture with our charity flag. Out of the blue he asked the audience to make a donation in a jar on the bar, for the benefit of our Rock Against Cancer charity. An unexpected, but certainly welcome move from him, which made me walk around with an even bigger smile for the rest of the evening.
I was certainly not the only one who could turn home with a great feeling, judging by the smiling folks in the audience. Right after the show Doogie White and the band blended in the audience for a chat, pictures and autographs. An evening that will go down in my book as 'absolutely unforgettable'!! Just like that one time in 1995 Vosselaar when I went to Ritchie Blackmore's Rainbow, with Doogie White on vocals. Simply stunning!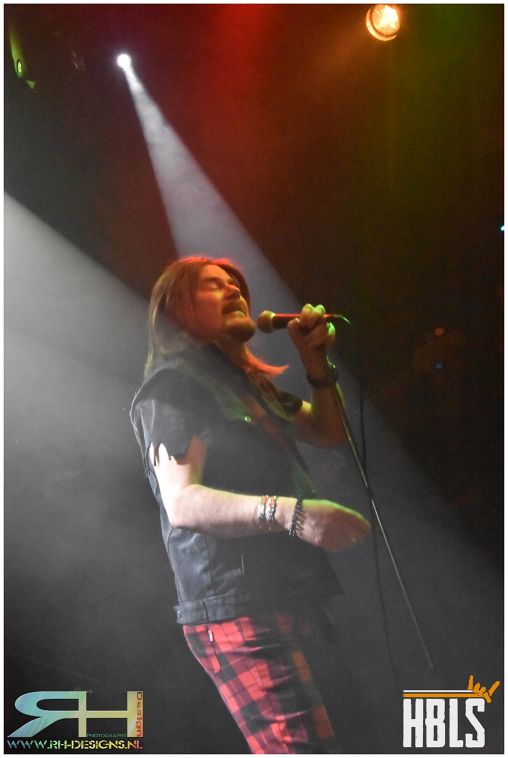 All photos by Raymond Helebrand