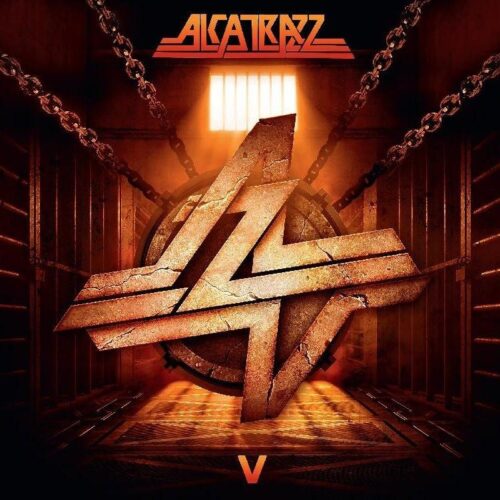 Review | Alcatrazz-V
Silver Lining Music
With the release of their new album 'V' Alcatrazz are starting a new phase in their career. A different chapter, one that in the year 2020 when they released their comeback-album 'Born Innocent' did not seem to be on the horizon at all…
MALMSTEEN/VAI
Veteran vocalist Graham Bonnet was the man that started the band close to four decades ago. The former Rainbow and MSG man recruited bass player Gary Shea, drummer Jan Uvena and keyboardist Jimmy Waldo. As guitarist a young Swedish hotshot listening to the name of Yngwie Malmsteen entered the ranks and put his stamp on the first quite stunning album 'No Parole From Rock & Roll'. Malmsteen is quite a dominant force and he soon clashes with Bonnet and the others. After the live-album 'Live Sentence' it is exit Malmsteen and enter another guitar god Steve Vai. With Vai the band releases an incredible album in the form of 'Disturbing The Peace', seen as a milestone in hard rock and metal.
Unfortunately for Alcatrazz there are business problems and when Vai gets arrested and lands into a holding cell where also a certain David Lee Roth is present. The two share a peanut butter sandwich and decide to work together. So Alcatrazz yet again has to look for a new guitarist and finds one in the person of Danny Johnson (a man that worked with the band Axis and later on started the group Private Life). Johnson does his best but he is not really of the calibre of Malmsteen, let alone Vai and the album that he is featured on 'Dangerous Games' flops. Also because record company Capitol never ever really believed in the group. Not much later Alcatrazz ceases to exist.
COMEBACK
Throughout the years Graham Bonnet and the name Alcatrazz keep popping up and a few times Bonnet tours under the Alcatrazz banner, even releasing some live-albums. A new studio-album finally arrives in 2020 as Bonnet, Waldo and Shea launch a comeback this time in the company of shredder/guitarist Joe Stump and drummer Mark Benquechea. Band manager Giles Lavery manages to bring the band to the Silver Lining label and co-produces the album 'Born Innocent'. It is a good record indeed but it is strangely enough dominated by guest appearances by guitarists like Jeff Waters (Annihilator), Chris Impellitteri, Nozomu Wakai, Dario Mollo, Riot bass player Donnie Van Stavern, the late great Bob Kulick and D Kendall Jones. All these guests diminished the role of new recruit Joe Stump, but Bonnet and company certainly did not disappoint. Alcatrazz is alive and kicking again.
EXIT BONNET
Only a short time after the release of 'Born Innocent' the incredible happens. Graham Bonnet gets kicked out of the band that he started and reunited himself! As a replacement nobody less than Scotsman Doogie White is announced as the new singer. White is a good friend of Bonnet as they shared the stage together many times while working with Michael Schenker Fest. You would expect in such a situation that the dirty laundry will be hung out to dry but being the gentleman that he has always been Graham Bonnet wished White the very best and announced that he will continue with The Graham Bonnet Band with Brazilian guitarist Conrado Pesinato.
A NEW CHAPTER
Here we are in 2021 and Alcatrazz (yet again) is starting a new chapter. 'V' is in a way a typical Alcatrazz album with fast and guitar dominated songs like opener ,,Guardian Angel'' but because of the voice of White things sounds different. Sure, he can sing high pitched just like Graham Bonnet but the man can be a bit more versatile and has different ranges in his voice and that seems to benefit the material that has become more classic of character and also even more melodic. Stump has a lot more influence of the material and his playing is also more versatile on 'V' (less shredding than I had anticipated and playing more to suit the song), again produced by band manager Giles Lavery and keyboardist Jimmy Waldo, whose playing as always is more aimed at supporting the material and the guitarist.
GUEST MUSICIANS
There are this time no numerous guest musicians on guitar, so it is all Joe Stump on that front but Saxon drummer Nigel Glockler has canned a few songs while again Riot man Donnie Van Stavern is present on several songs. Even Tank guitarist Cliff Evans contributes a bass part on one song.
COMPOSITIONS
The songs have mostly undergone a more classic rock approach. ,,Return To Nevermore'' being most likely the most classic of them all. This song could have been on the Rainbow record 'Stranger In Us All', the album that launched the career of Doogie White. With ,,Dark Day For My Soul'' Alcatrazz even presents a quite epic ballad where Waldo's role is more prominent. The level of the songs is quite satisfactory most of the time. A few times maybe the level drops very slightly but not to an extent that you can say that there are fillers present on 'V'.
The conclusion is that there is life for Alcatrazz after Graham Bonnet although it is hard to grasp that the charismatic Bonnet is no longer leading the charge. But if one man can fill his shoes then it must be indeed Doogie White. Let us see if the current line-up of Alcatrazz proves to be the real deal and manages to stick it out for a while. In the mean-time not a bad effort at all!