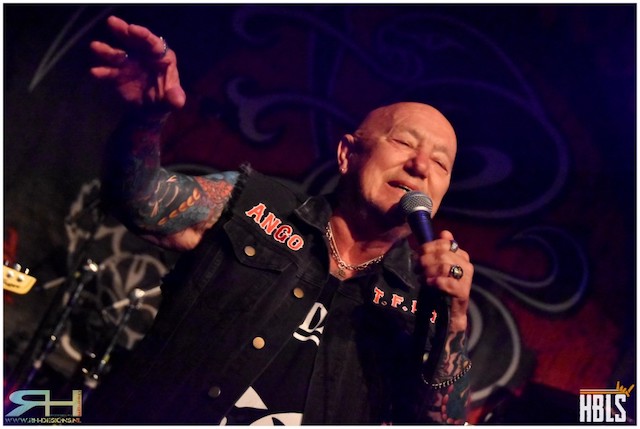 Live | Rose Tattoo – Rockfabrik – Übach-Palenberg [Germany]
13 July 2022
'I'm A Rock N Roll Outlaw'. Nobody sings these words more convincingly than Angry Anderson. And nobody owns these words more than the nearly 75 years old frontman of Australian legendary cult act Rose Tattoo. When Angry Anderson, fully named Gary Stephen Anderson, delivers one of his many imaginary lines you know it comes from the deepest fibres in his body. Anderson has always been and still seems to be the ultimate badass. Whenever he re-vitalises Rose Tattoo it no longer matters who shares the stage with him. It's the songs and his dominant stage presence that draws the crowd. Besides that, many of the past members are no longer amongst us.
Once a club band, always a club band could easily have been the band's motto. Contrary to the iconic success of AC/DC, Rose Tattoo never made it to the big time but also never definitively disbanded. Somehow Anderson always managed to keep the torch burning, transforming his band into a stubborn and resistant cockroach. The last official studio album of all new material, `Blood Brothers', already dates back 15 years and since then it has been a tour here and there and an album of re-recorded old songs called `Outlaws' in 2020. But Rose Tattoo remains to be out there.
THE POOR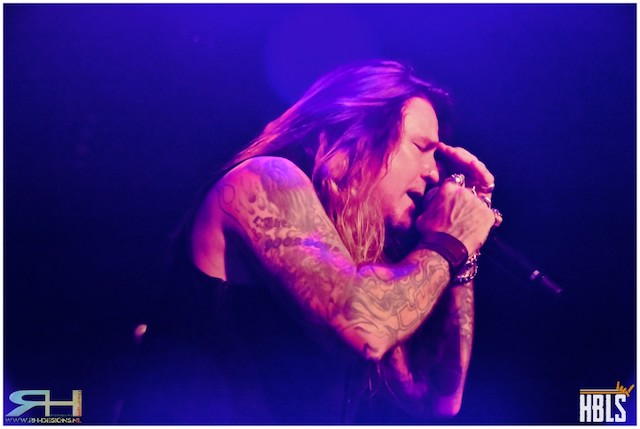 Tonight, a crowd of 250 people finds its' way to the Rockfabrik, which, like many German rock clubs, looks somewhat outdated. My last visit here dates back a quarter of a century ago, to 1997 when I saw Biohazard perform but little seems changed. It's still structured around a lot of steel and concrete making it a very loud room, a bit of a nightmare for a soundman. On this tour Rose Tattoo took their fellow Aussie pub rockers The Poor along as supporting act but unfortunately the rowdy foursome makes a rather poor impression. It all sounds and looks far too mediocre leaving the crowd somewhat unimpressed.
ROCK'N ROLL OUTLAW AND NICE BOYS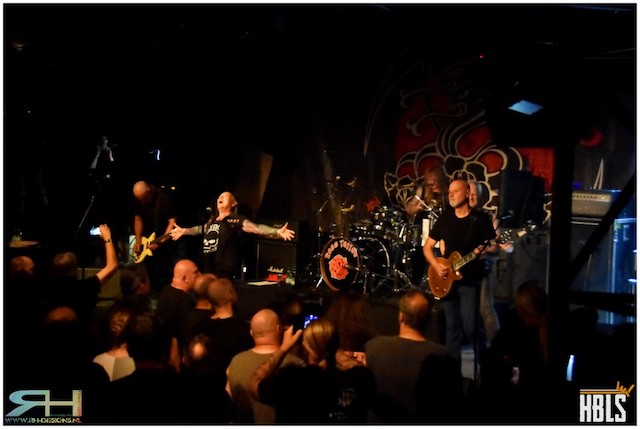 But when Anderson and co. take the stage for their 90 minutes show the atmosphere quickly changes. The sound is lacking detail but given the far from ideal circumstances it still is acceptable. It's the songs that matter though and Rose Tattoo has plenty of catchy songs. Tonight's set consists of five songs of 'Blood Brothers' and another ten of their first batch of albums including popular cuts like ,,Scarred For Life'', ,,Rock'N Roll Outlaw'', ,,We Can't Be Beaten'', ,,Rock "N Roll Is King'', ,,Bad Boy For Love'' and the electrifying show closer ,,Nice Boys''. The band plays well but it is evidently clear that this current line up is lacking the charisma of past formations.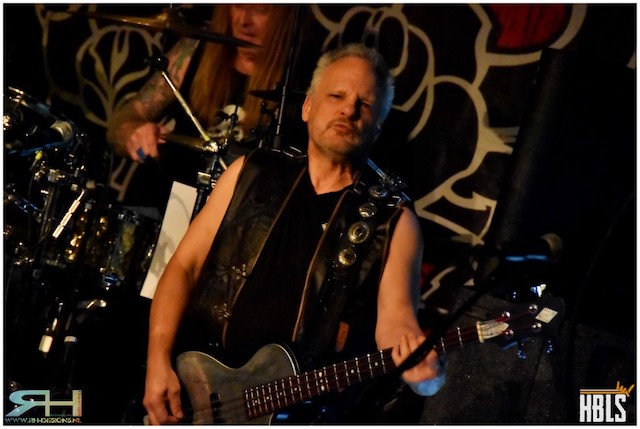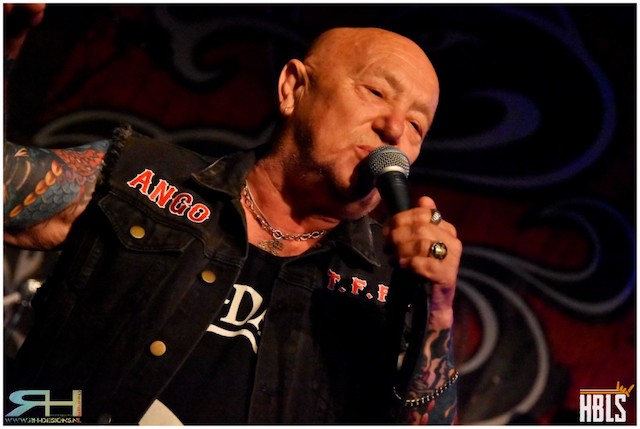 It is very cool to see former AC/DC bassist Mark Evans on board because his presence is surely an add-on but current guitar combo Mick Arnold/Bob Spencer looks and acts rather anonymous. They play the parts but that's about it. Long-time drummer Paul DeMarco is an eye catcher though with his hopelessly aged appearance. He looks like a character out of the Spinal Tap movie which certainly adds to the overall feel-good mood. His cheesy appearance aside, DeMarco manages to keep things nicely together so job well done in the end!
AN OLD FOX THAT DOESN'T LOSE HIS TRICKS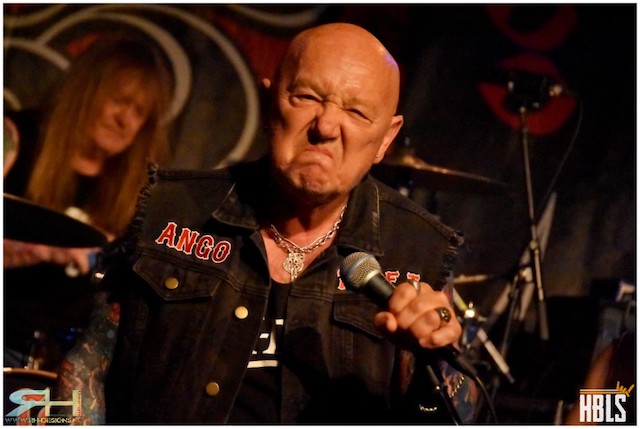 It is Anderson though who draws most attention with his demanding stage presence and still reasonably strong voice. Constantly waging between a can of Red Bull energy and a 24-ounce beer bottle Anderson works his crowd in a both charming and challenging way. Only measuring 5 foot 2" the bald and overweight old-timer has a keen eye to pinpoint the female part of his audience and sweet mouthing them, like an old fox that doesn't lose his tricks. But he also criticizes his crowd when he notices that the bar does not get a lot of attention. 'It's a party and at a party you drink beer. Don't just stand there but go get yourself and your friend a beer. Live like there is no tomorrow.'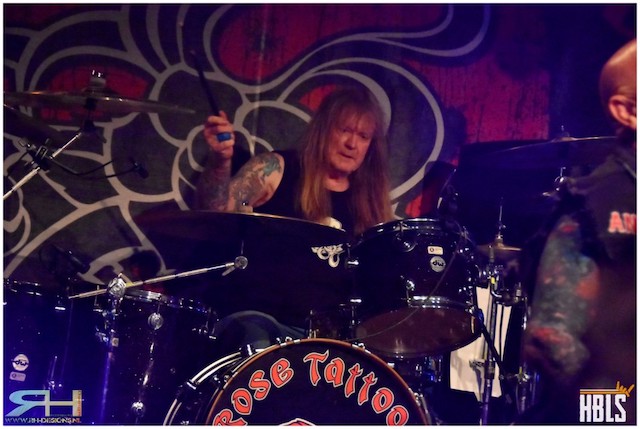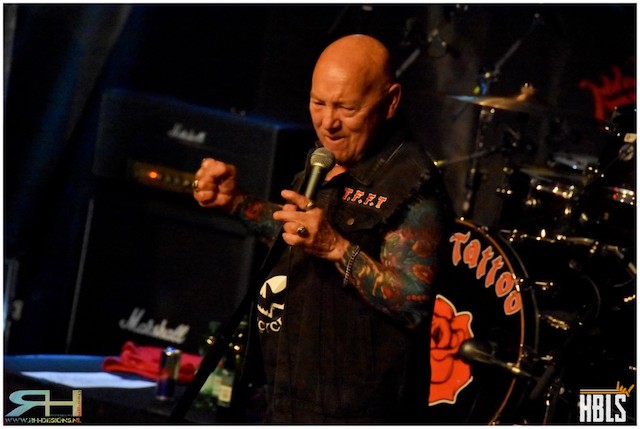 I doubt Rose Tattoo will ever release new material and this could very well be the last time I ever saw them live. With that in mind I go homewards satisfied with only one question still in mind: Where the hell were 'The Butcher And Fast Eddy'? Them two were sorely missed tonight…
All photos by Raymond Helebrand