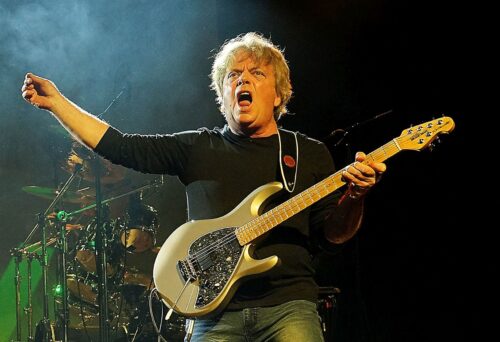 Live | Saga – Red Box – Mönchengladbach [Ger]
June 7, 2022
The beginning of 2022 slowly awakened the sleeping music industry, with bands finally getting up and ready to kick into gear. Being strung down for two years a burden is lifted as bars, clubs, venues and arenas open to host concerts and art, prepping audiences for an array of international spring and summer festivals. Crews and band members gear up and we see agendas filling with dates of performing acts getting their music to the stage.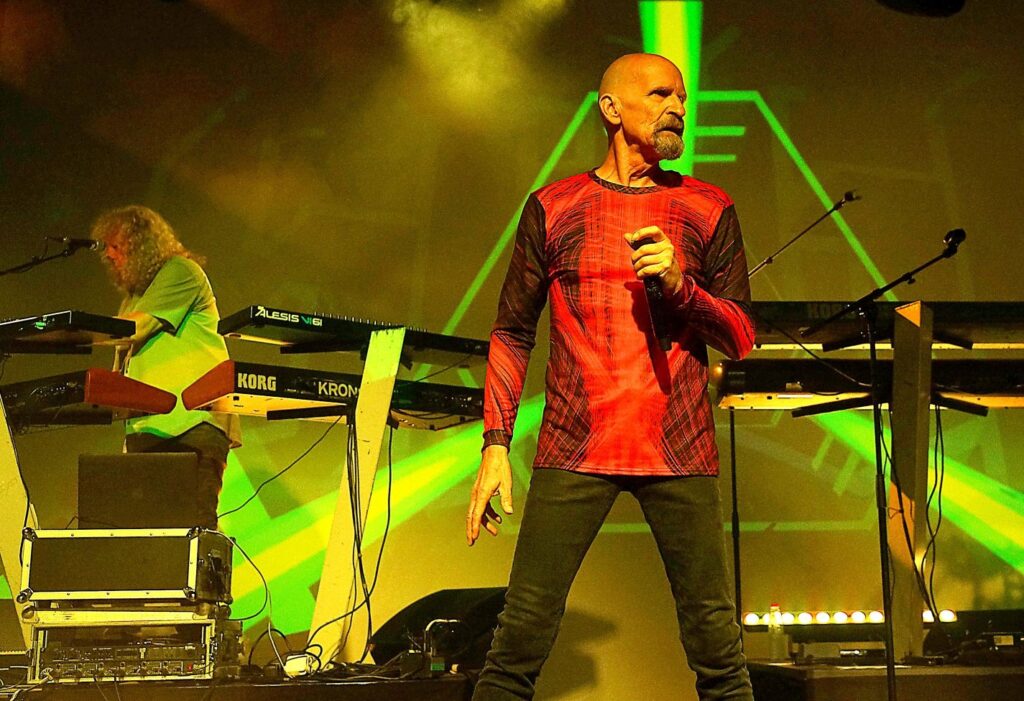 Canadian symphonic rockers Saga have weathered fame and changing musical trends over the course of their 5-decade spanning career, and report back with their "A Night to Remember" tour, taking them back to the fold world-wide, after the unwanted hiatus. Like keyboardplayer Jim Gilmour stated promptly tonight; "… we all gained a few birthdays. Let's set back the dial two years and get to it"
Tonight's venue is Red Box in Mönchengladbach, Germany. A new hall designed specifically for concerts and music events, based in the shadows of the Borussia football stadium. The Canadians' music is celebrated in Germany since their early days, and a lot of true at heart Saga fans clutter at the entrance. It's a pleasant atmosphere of laughter and back padding with many of them connected over the years. Present in their tour shirts, obtained at the band's previous gig in Bochum, or over the course of years, it is a mesh of old and older. The age averaging 55 and over, the general atmosphere is gentle and courteous, generating plenty of space to enjoy a beer and celebrate the music, once behind the barriers of the venue.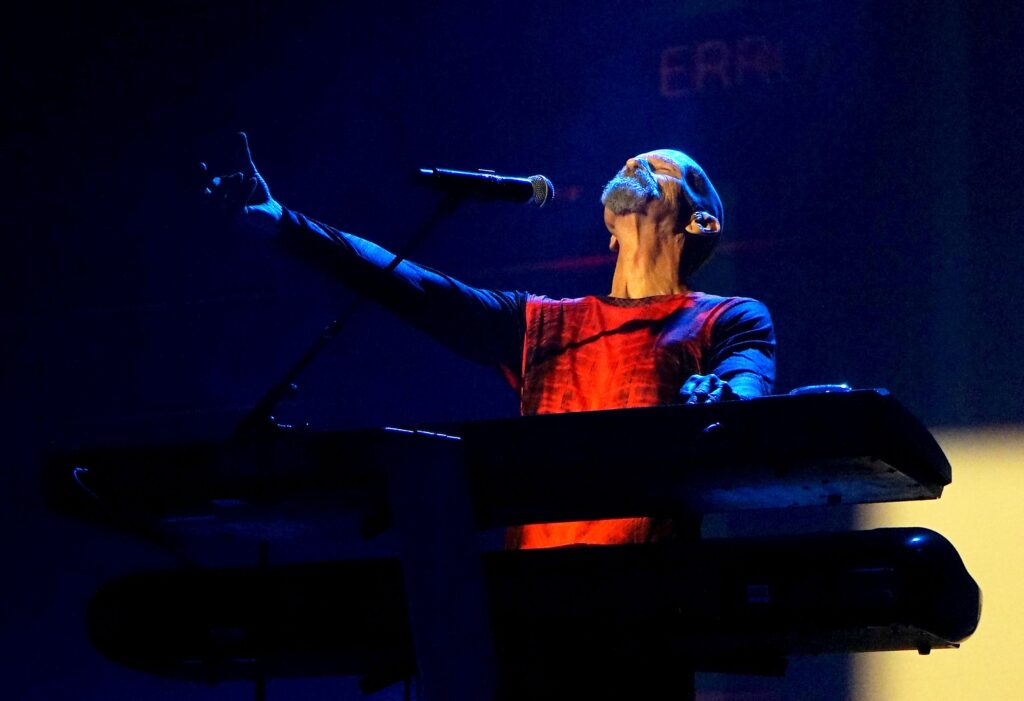 At exactly 20:00 the quintet takes the stage dialing up expectations with lifelong crowd-pleasers ,,Careful Where You Step" and ,,Framed" kicking the show into high gear instantly. Though suffering little technical imperfections on the guitar rig, the sound is spot on powerful, and the mix is perfectly matching the band's pompous symphonic arena strut; Bold and powerful. Band and fans align within seconds and the atmosphere is furthermore injected with energy by Michael Sadler's spry performance and imperative vocals. Switching front to keys and in constant contact with his audience and band, he impresses. Interaction is key and it is a true pleasure to see the band enjoying themselves as much as the audience. Gilmour and Sadler more than once burst into laughter during the gig while sharing thoughts and comments.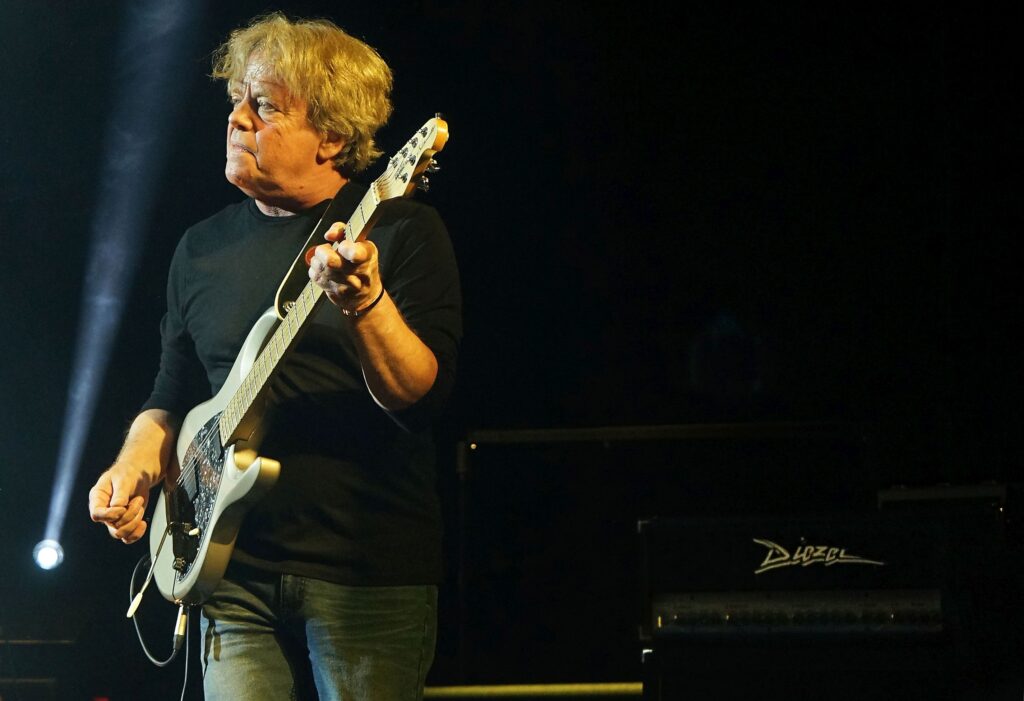 Crichton also enjoys himself exchanging on and on eye contact with Dusty Chesterfield (bass + synths) and Mike Thorne (drums). Closely monitoring the performance with demanding view, he lays down a vibrant performance himself, upholding the key features of the band's sound. Ian's precise staccato guitar riffs, in harmony with synthesizer and complex keyboard arrangements, are forceful and driven. His unique style combines melodic lines with furious speedy runs that "fly" over complex progressive soundscapes, adding a crisp clean bite to the dense and pompous layered sound.
The musical interaction discharging their powerful melodies and choruses is accurate and overwhelming, matching their status as live act. ,,Conversations" pushes the boundaries of their onstage presence with Crichton's snarling riffs and clean soloing, bordering with jazz. His dexterous tone switching in combination with the high-tech synth and swirling keyboards over the sturdy throbbing bass is colorful. Thorpe proves to be a perfect match with his versatile drumming and crisp percussion utilized. Gilmour pumps the song into its final jazzy 'sturm und drang' with towering keys, contradicting with its staccato drum breaks and pitching guitars runs. A powerhouse ending!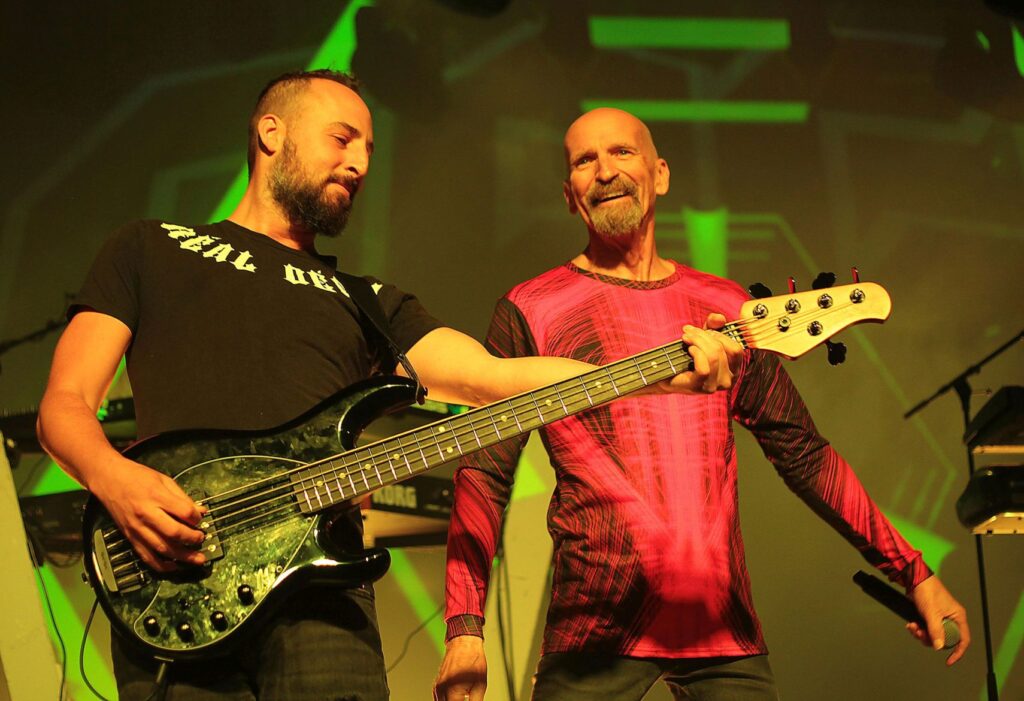 Hands are raised and the audience cheers on the band, celebrating their rich musical history. Slicing through their rich catalogue, they lean strongly on their classic tunes, but there's some surprises build in like the scattering heavy ,,Trust" and an energetic rendition of ,,On The Air". Richly orchestrated by Gilmour and Sadler switching duties and adding their synth and key parts with Chesterfield occasionally moving frontstage to add pumping Moog drills, the band is on top of their game. Looking back on their Sadler-less years he performs the Rob Moratti fronted 'Human Condition' track ,,Let It Go". Different in vocal lines he works hard and makes it work, adding the story of his absence and the rather unfair situation Moratti found himself in performing the Sadler-era tracks onstage.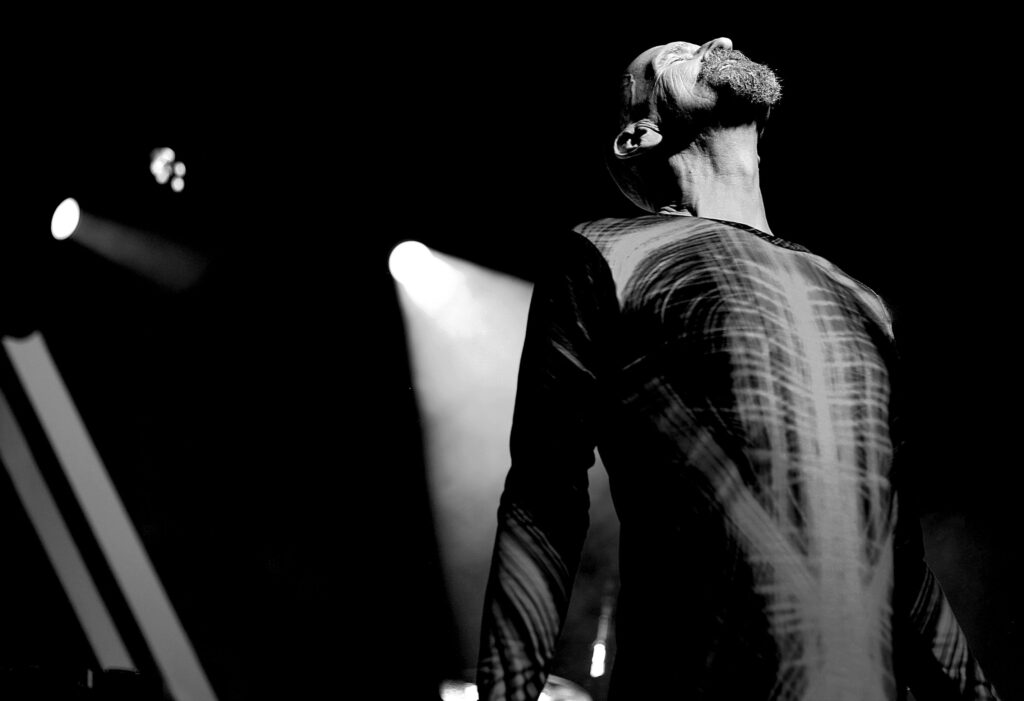 Michael thanks the audience for 45 years of support with some tongue in cheek anecdotes, and directs attention to the giant projection screen that shares old performances and flicks, as well as changing art of the band logo with song-empowering graphics. No fancy stage setting and lighting rigs, but a sober wide stage with the band fully concentrated on their music. Gilmour gets two spots performing ,,Amnesia" and the high-tech cult 'hit' ,,Scratching The Surface" while Sadler picks up the bass for the iconic ,,Humble Stance". The song's ending goes over the top with the music swirling into towering heights.
Crichton taps a different vein and his playing often resonates deeper and heavier, with alternated solos on his clean toned playing. It is in your face, almost as if it directly plugged into the small Diezel amplifier, using only a little chorus and only rarely refrains to using delay. The outcome is crisp and vibrant with Chichton switching between the clean and dirty rocking sound constantly while he displays his great skills soling with his tremolo-interaction stretching the notes. It adds to the bite Thorne provides with his more resonating style that clearly colors the old tunes vividly and bright.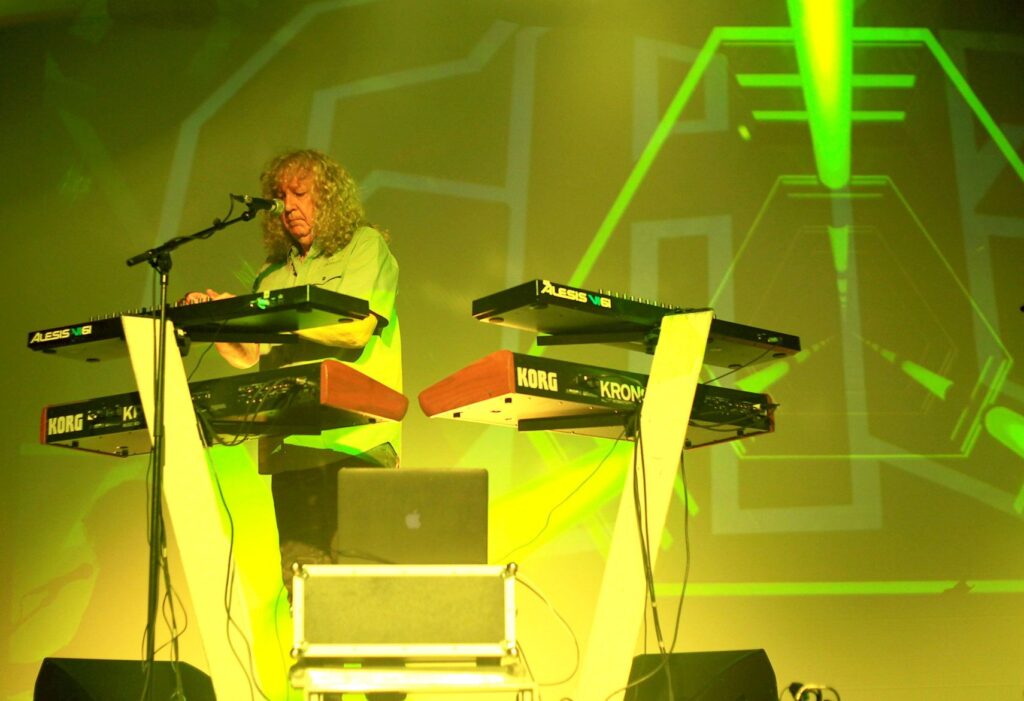 ,,Climbing The Ladder" is a great example with "The Pitchman" powering his playing up for his drum solo. A short interactive solo displaying his great dynamics and sublime use of cymbals, more than once reminiscent to the colorful diverse depths Neil Peart implied. Much like 'the Professor', Thorne also tends to color basic elements with dynamic subtle use of percussions and cymbals, ever so often using his drum computer to change dynamics and tone. At times the solo sounds like a homage to his inspirator, though Mike displays more interaction with his audience, staying on par with Sadler's interaction. Absolute smashing performance of ,,You're Not Alone" and ,,Don't Be Late" raise the roof for a grandiose ending of the gig.
The crowd cheers them back onto the stage for the encores with the vocalist teasing and pleasing his audience. ,,Wind Him Up" kicks into gear with radiating joy, moving into an extended sing along version of ,,The Flyer", that sees Red Box rocking out front to back. The atmosphere is tremendous celebrating the hymns while the sad goodbye follows upon a warming rendition of ,,How Long" closing the lid on this 'Night to Remember'.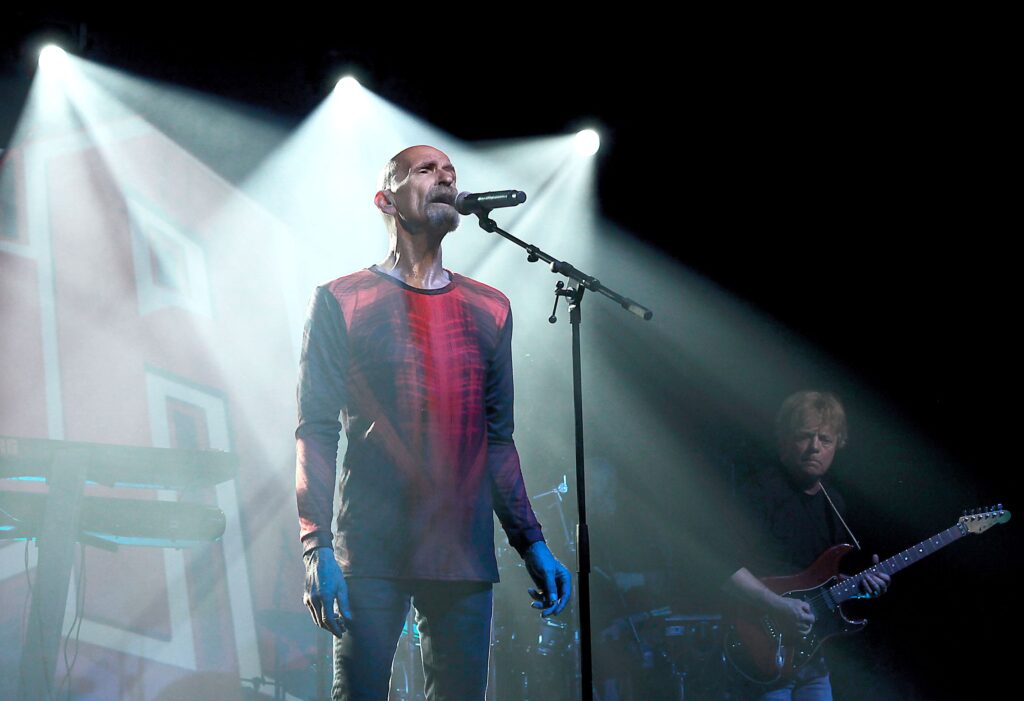 Saga proves their longevity as a performing force. Being able to perform an interesting and vibrant setlist executing tons of classics, they are able to pile memorable moments by the dozens. With an overall audience of die-hard fans averaging 55+ in age, it also was great to see teens singing along and enjoying the concert. With my own daughter falling into an awe frequently, it proves that real rock music is still alive…and kicking!
All photos by Edwin van Hoof