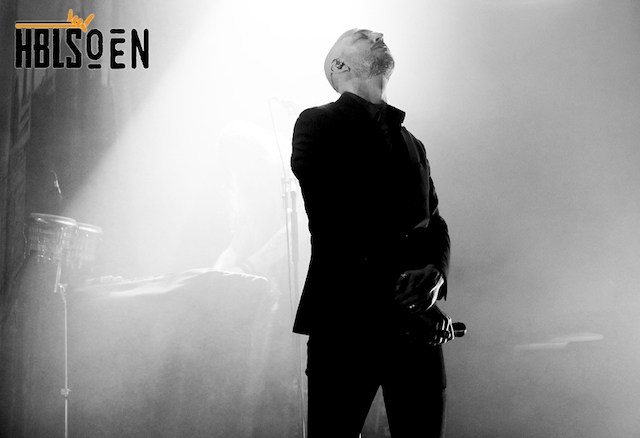 Live | Soen [& Molybaron & Terra] – De Casino – Sint Niklaas [BE]
12 October 2023
Following their widely anticipated new album `Memorial', the Soen caravan lands in the Belgian city of St. Niklaas. Tonight their 'sold out' campaign stuns the masses of the wonderful and vibrant venue De Casino. The old casino is renovated in style, keeping its ornaments untouched, providing a grandiose outline for tonight's progressive metal evening.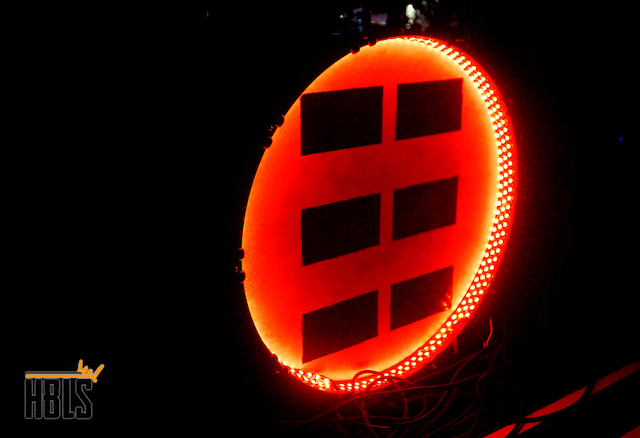 SUPPORT ACT 1 – TERRA
When the lights dim, loud tribal drums take center stage. Battering two giant drums, Italian roots-injected prog metallers Terra unleash a danceable heavy cadence pitching drummer-vocalist Daniele 'Zed' Berretta to the front. Heavy on the heart the drums position around the powerful vocals with the tribal drums making way for a wall of guitar-sound stunning the audience. It is danceable, it swings, and it packs blistering power. Lorenzo 'JB' Saponetta lays out a scorching rhythm for Paolo Luciani to build upon with colorful melodies and solos. Stefano Alfonsi's low growling bass drones amid the dynamic drums, pasting the musical specter solid. ,,Create Mutate Erase" brings out the band's best and connects. The heavy groove and wonderful vocal interaction, plus ditto melodies, nest instantly, and Terra wins hearts.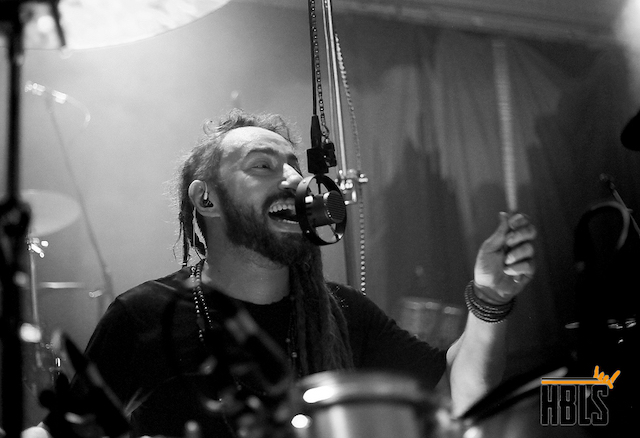 Heavily groovin' the band delves deep unleashing YouTube-hit ,,Father" with its rousing sections and Zed displaying his versatility as a vocalist and drummer. Positioned frontstage, his dynamics are sublime, switching his tom and floor interplay with double bass execution. Outlined with funky bass plucks, he exchanges his clean melodic register with JB's anger-laden grunts. Toning down for the intricate progressive opening of ,,This Scent", Terra unites their bombastic groove with echoing guitars and resonating bass and drums. Lush parts with resonating guitars build tension and perfectly build for the acoustic opened ,,Rise", morphing into alt-prog frenzy. Following Massive Attack cocer ,,Teardrop".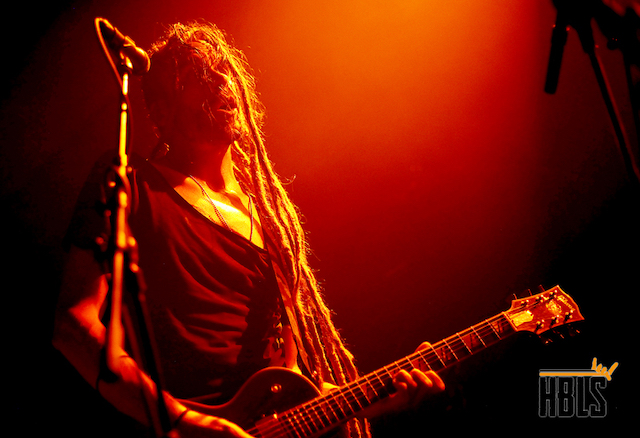 MELODIC APPEAL
With an audience largely drown into ecstasy by their indigenous performance, Terra underlines their skills and power the with melodic driven set closer ,,Close Enough". The rhythmic drumrolls and scattering bass pitch a great melodic vocal melody, tastefully underscored by the melodic appeal of Luciano and JB's colorful guitar-licks and rhythms. It is a potion that gels well tonight, accoladed by the tribal outro with reverting drum rolls and tribal grooves centered around Zed's luminated drums. Reminding me occasionally of a spiced up heavier version of 90s cult-sensation Tribe After Tribe, Terra makes a huge impression landing deep in the heart and soul of De Casino's audience.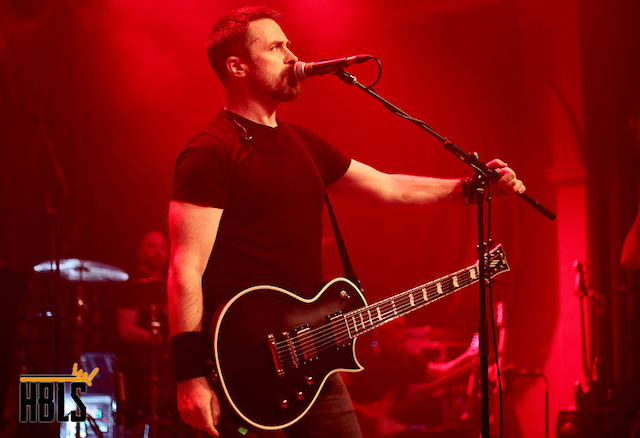 SUPPORT ACT 2 – MOLYBARON
Terra raised the bar for France-based Molybaron who paw into more metallic prog directions. More on the safe side, Molybaron gradually builds their set and behind me a young couple of fans goes wild with every guitar stroke. ,,Something Ominous" and ,,Set Alight" are pleasant on the ears and the theatrics and presentation by singer – guitarist's Gary Kelly are crowd pleasing all front to back. His voice is clean powered and matches the classic prog and metal genre, but it is guitarist Florian Soum who takes the spotlight tonight. His wizardry and fretboard magic are astounding, and live it fires on multiple cylinders.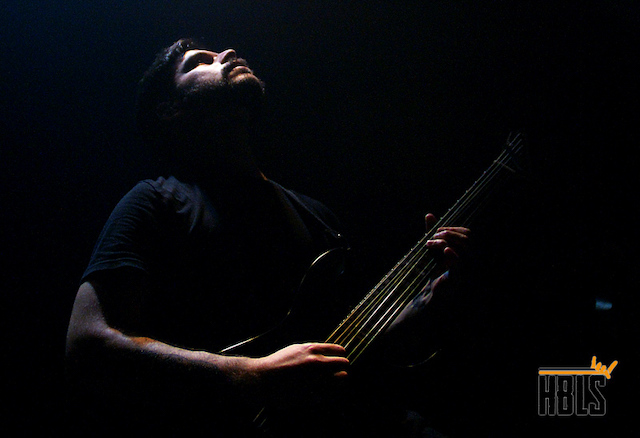 The loud scorching rhythm provided by Kelly adds the low that is further tracked by Greneron (drums) and Saint-Angel(bass). Working through their setlist ,,Twenty Four Hours" and ,,Breakdown" impress. The heavier ,,Animals" runs by with Soum lifting it from its mediocre state, while ,,Something for the Pain" reinstates Molybaron's rising star.
Hell breaks loose with the hit single ,,Lucifer" rousing the venue to its boiling point, with the happy luvers behind me in ecstatic mode. Unfortunately, the band ruins its upward spiral with the simple and cliché laden ,,Vampires". The song gets a large chop of the audience going, but it resonates clichés and predictability.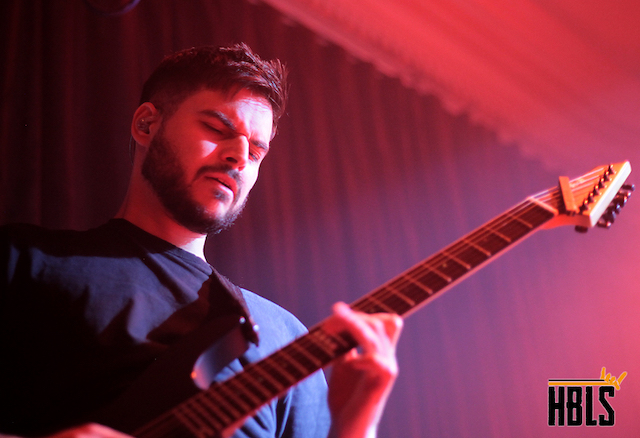 ,,Incognito" can't save the damage done and it is painful to conclude the band falling prey to its safe modus operandi and Gary Kelly's forced and predictable presentation making Spinal Tap look like Led Zeppelin on acid. A shame…. Or, are they falling prey to raised stakes Terra implied?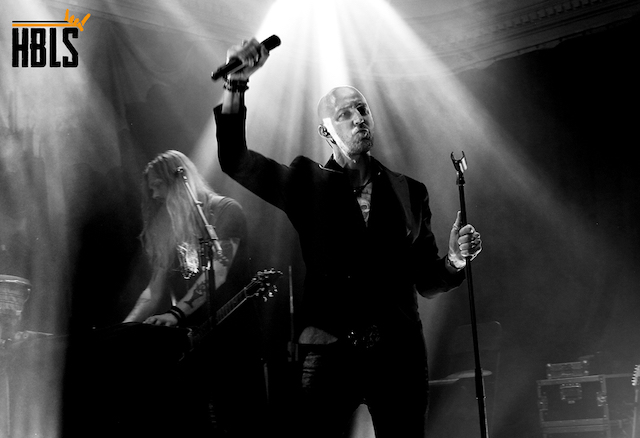 HEADLINER – SOEN
No, with the strong opening of Terra defining tonight's terra firma, the stunned masses are waiting for this evening to be ended on an extreme high. With `Memorial' in their back pocket Soen has enforced their status on the firmament of progressive rock and intelligent metal, finding accolades this night with a slick-as-chick performance. Leaning strongly on their social-critical tinged Grand trinity `Memorial', `Imperial' and `Lotus', Soen creates progressive waves. Storming onto the lit stage with the intricately phrased ,,Sincere", the band instantly makes clear they came to claim the throne.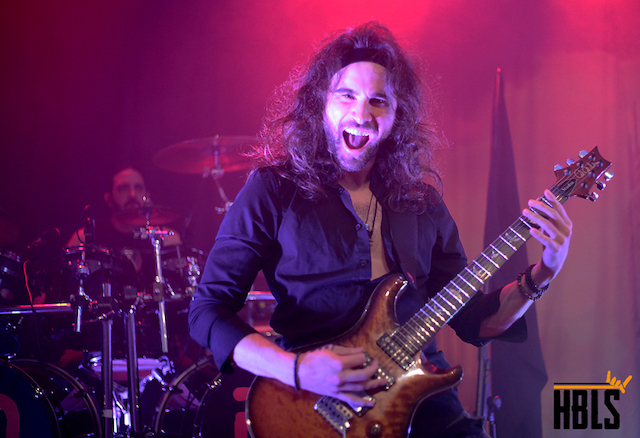 Impressive is the interaction between guitarist / keyboardist (and Viking-to-be) Lars Enok Åhlund and Canadian born gun-slinger and live-personality Cody Lee Ford, pulling the heavy parading and adjuring wall of sound into action. Hard on the gut are their riffs, pleasant are the licks and downward spiralling is the offload of their memorable hooks and solos. Impressive! Colored with a sober but effective stage setting and lighting, the band delves deep and works their way through ,,Martyrs" and the equally pleasing ,,Savia" before Martin Lopez rattles his snare with a marching beat announcing the title track of their album `Memorial'. The song is sung-along from front to back and verse to chorus by the warmed-up audience that devours it like sweets. There's an atmosphere of unification and respect amongst the spectators, firing up the band.
A UNIQUE SOUND
Celebrated, Soen unleashes the wonderful ,,Lascivious" and the extremely nesting live-cracker ,,Unbreakable", with Joel Ekelöf firing up the crowd. His flexible and wide range is astonishing, delving deep for the powerful outings and scaling back on the lows to empower his lyrics and melody-lines. His radiant, yet sober, stage appearance and personality contradict with his heart-warming vocals, while his persona is the impersonation of the natural born performer who only needs a nod and a smile to radiate character. The only thing disrupting the functionality of the show are Joel and his colleagues frequently retracting themselves from the spotlight, moving backstage.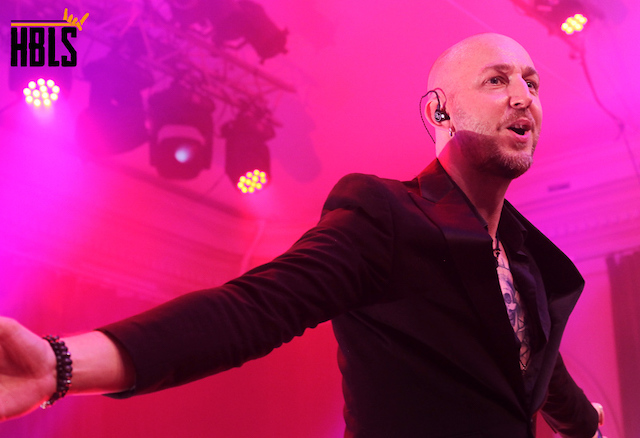 Nonetheless, Ekelöf is the frontman perfectly matching with the bands varied personalities unified in their unique sound that constantly explodes with power and passion. The musical marksmanship is tremendous and only few bands make this magic potion work like Soen.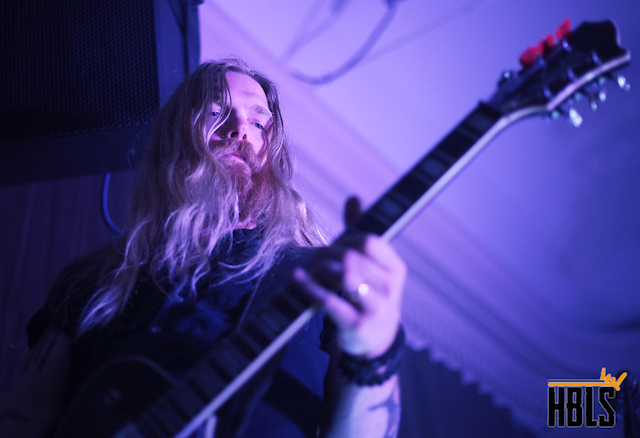 DRUM & BASS
More than once Oleksii Kobel's bass lines growl in their deepest tone, somewhat isolated bounce from the sound-resonating old building, injecting the low end needed for Lopez to build the groove that backs Soen's powerful prog. The time changes and rhythmic patterns fired upon us warp ,,Deceiver" and (especially) the lush instrumental ,,Ideate" into motion. His bass guitar is droning and growling, raw and rancorous. Building their gravitas, Soen charges batteries for scorching versions of the great and hooked prog missile ,,Monarch", with its intricate time changes and wonderful melodies fused onto hammering drum propulsion and fierce guitars, and the propelled spiralling ,,Fortress" that has the crowd banging their heads fiercely. Daunting power!
,,Illusion" has Kobel and Lopez bringing their A-game to the front. Battering with parading heavy strut, the song meanders between contrasts and Ekelöf displays his ability to switch registers constantly. The melancholic chorus is chanted along to enthusiastically, seeing Joel resting on the monitor to enjoy the pleasant sight of interaction. Cody and Åhlund swap guitar duties, feeding of each other's bliss, fired up by the audience. The song fluently meanders into the lusher and towering ,,Modesty" before toning down to the rich and colorful, almost Floyd-ian ,,Lotus" that ends the initial set.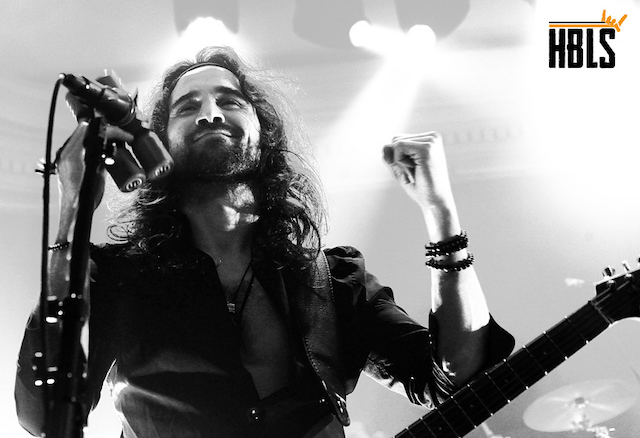 SOEN – ENCORES
Raising the roof for encores, Soen returns to the stage for the storming ,,Antagonist", perfectly building into ,,Lunacy". Both songs boast Soen's prowess with Ekelöf at the helm performing. It simply fires on all engines, not letting off the solid strangulating grip on their audience. It is a building apotheosis that is topped off by the blazing entrance of ,,Violence", soon hitting the breaks to delve into one of Soen's most gut-wrecking passages with Joel's narrative chants bordering angelic, before returning to its broiling sizzle. "You will repent your thought…."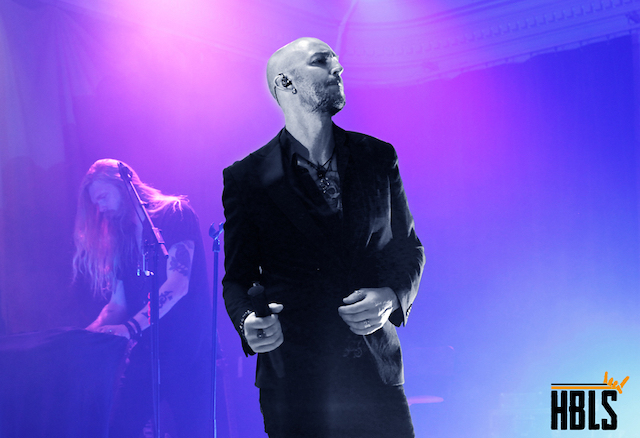 The house is on fire, with Soen undisputed as one of prog metal's finest and most compelling live acts to date. Modern, alty, weaver and weary, they reset the beacons of the genre. The mash of personalities and styles finds laurels on their albums and live performances. Inflating their songs with gutted and heartfelt passion and energy, Soen nests deep… and deeper.
Letting off steam, we have to speed race back into The Netherlands, discharging our energy surge. We experienced the well-oiled gears of Soen and were impressed by Terra's impressive presentation. A night full of prog, drums and danceable beats with the offset of time changes boggling the mind and preventing our feet from tapping along. Prog-metal at its very best….