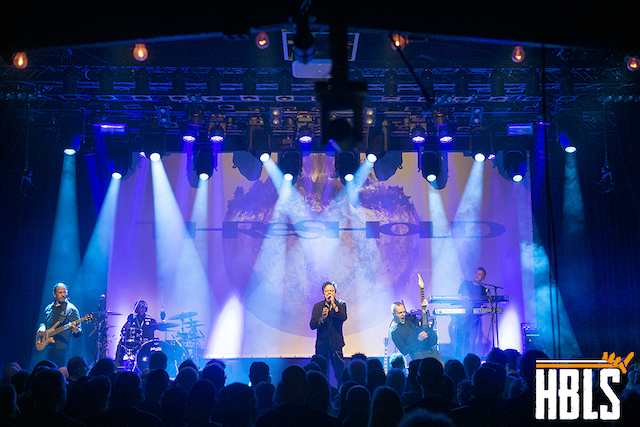 Live | Threshold [Virtual Symmetry & Oddland] – Poppodium Boerderij – Zoetermeer [NL]
21 April 2023
Finally, the British progressive rock/metal quintet Threshold is back on the road again. Their latest milestone `Dividing Lines' was released last year in November, the successor of the also excellent album `Legends Of The Shires' [2017] and on which singer/guitarist Glynn Morgan sealed his return. As support, the two bands Oddland and Virtual Symmetry travel along to introduce themselves and to get the audience going. This prog metal tour package kicked off yesterday in Hamburg, Germany and tonight they play in one of the coziest and well-organized venues of The Netherlands: Poppodium Boerderij.
Over four hundred music fans turned off Netflix and lifted their butts off the couch to enjoy high class prog metal that resulted in a successful evening.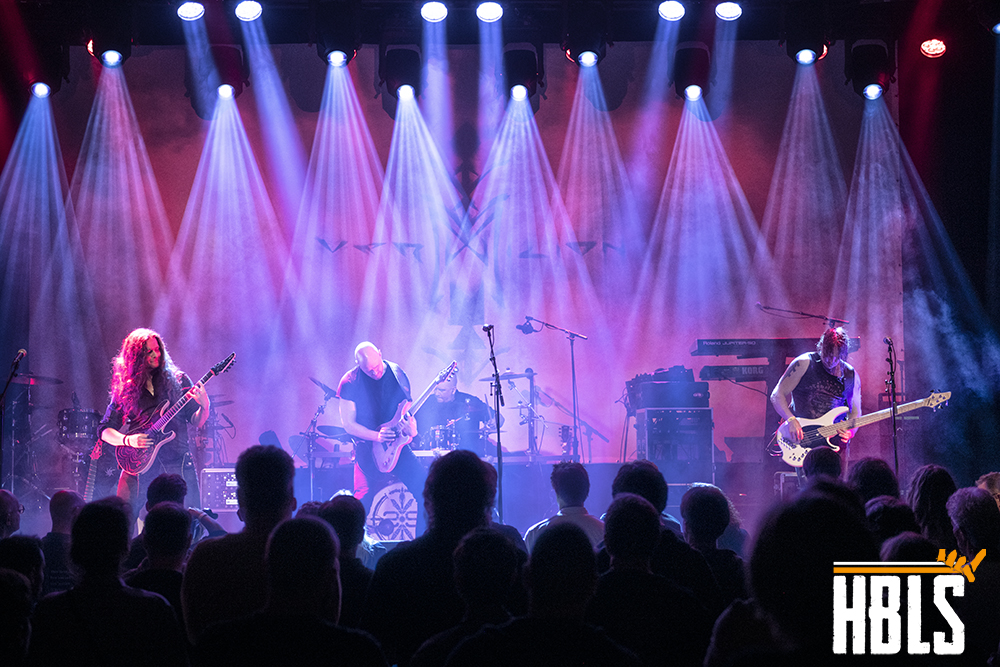 ODDLAND
The Finnish prog metal band Oddland presents itself on stage at eight p.m. sharp and the audience is ready to give this fourpiece a nice welcome. In their thirty minutes playtime Oddland explores the more somber sounding spectrum of prog metal. Their songs also burst of heaviness, while fully accelerating in Djent rhythms and complexity. This musical environment seems like a comfortable playground for these musicians, where they can experiment with almost neurotic sounding guitar notes and tapping, busy bass lines and thick sledge hammers on the drums.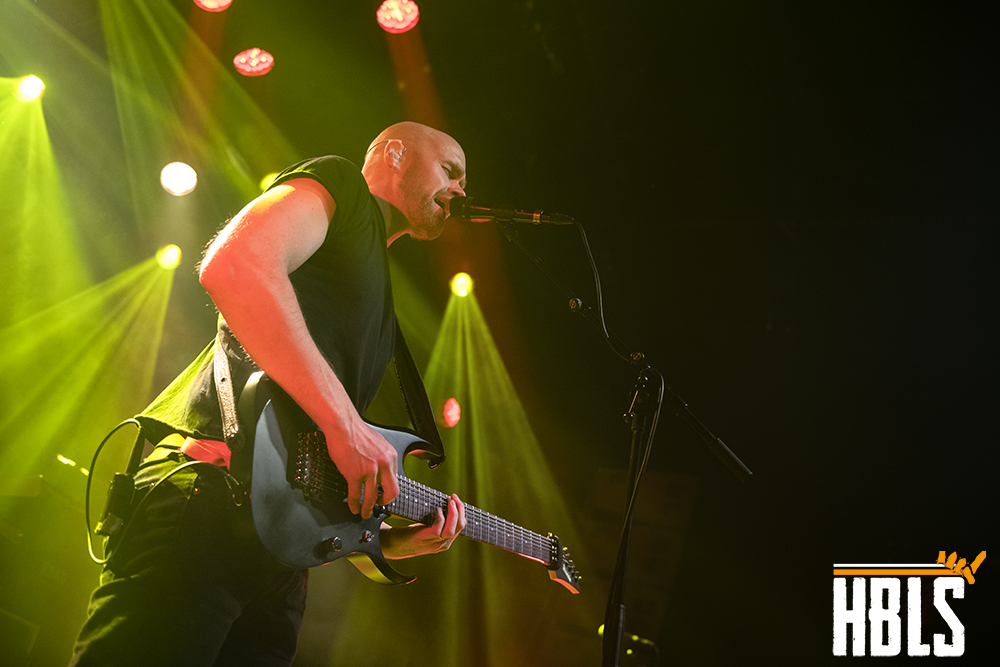 Vocalist/guitarist Sakari Ojanen has a wall of dynamics to deal with and unfortunately his wailing vocal lines drown in the overall sound. Personally, I feel there aren't enough memorable vocal melodies or interesting vocal approaches, nor catchy riffs and passages to fully support the songs.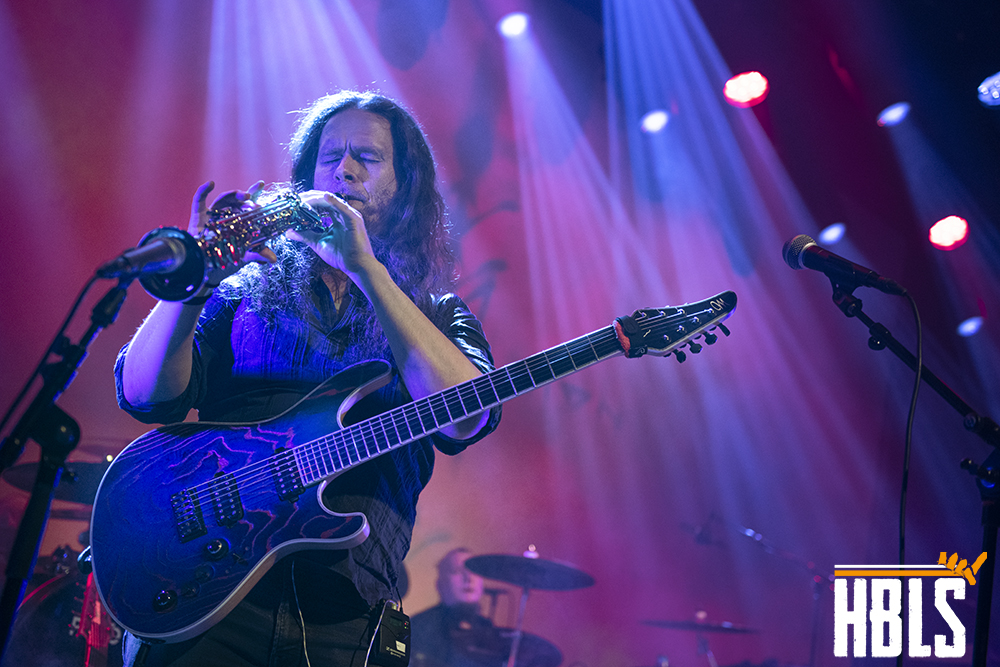 The element of surprise during their showtime is guitarist Jussi Poikonen, who also plays soprano saxophone. During these moments the atmosphere of the music becomes mysterious and more oriental and it regains my attention. All in all, this is a performance for the true lover of mathematical music.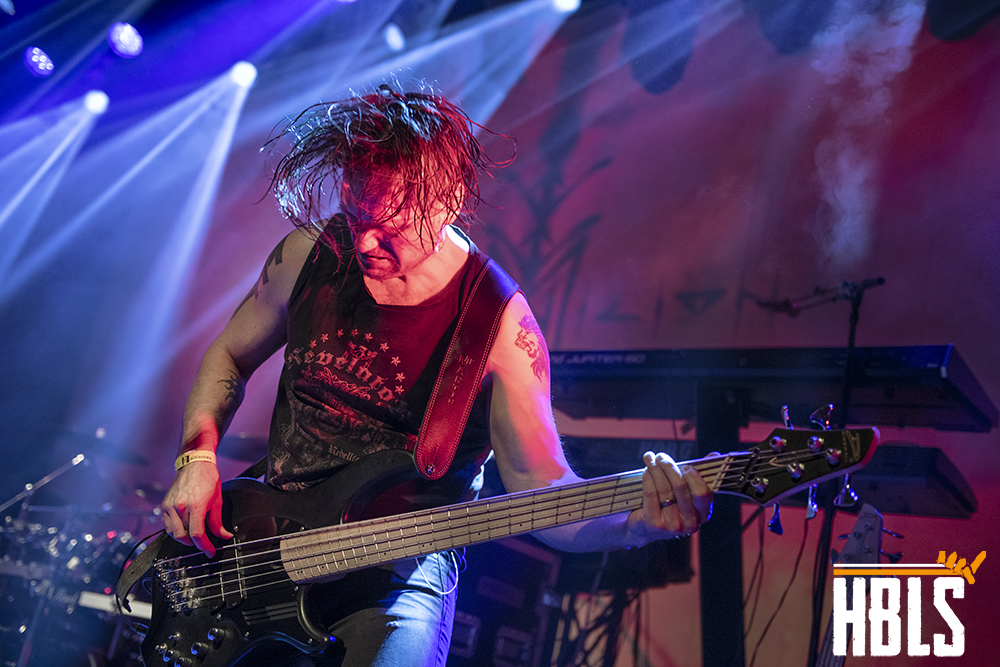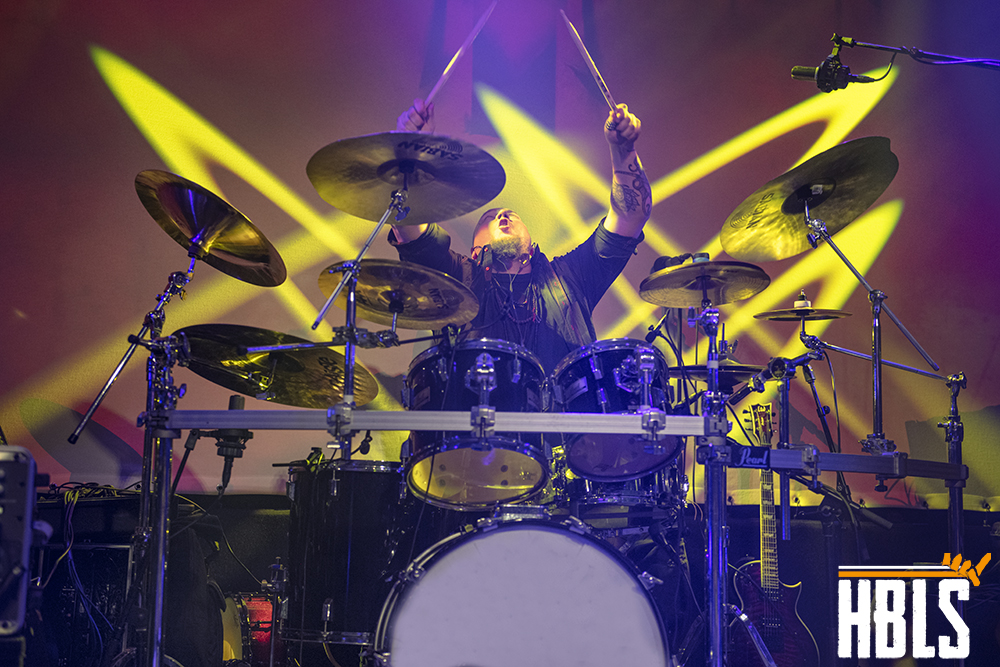 VIRTUAL SYMMETRY
After a quick change over, we are moving to a more accessible traditional melodic progressive metal style around ten minutes to nine p.m. Virtual Symmetry features bandmembers from Italy and Switzerland and especially the Italian extraverted passion drips from their stage presence. In full enthusiastic mode this fourpiece make full use of their 40 minutes playtime.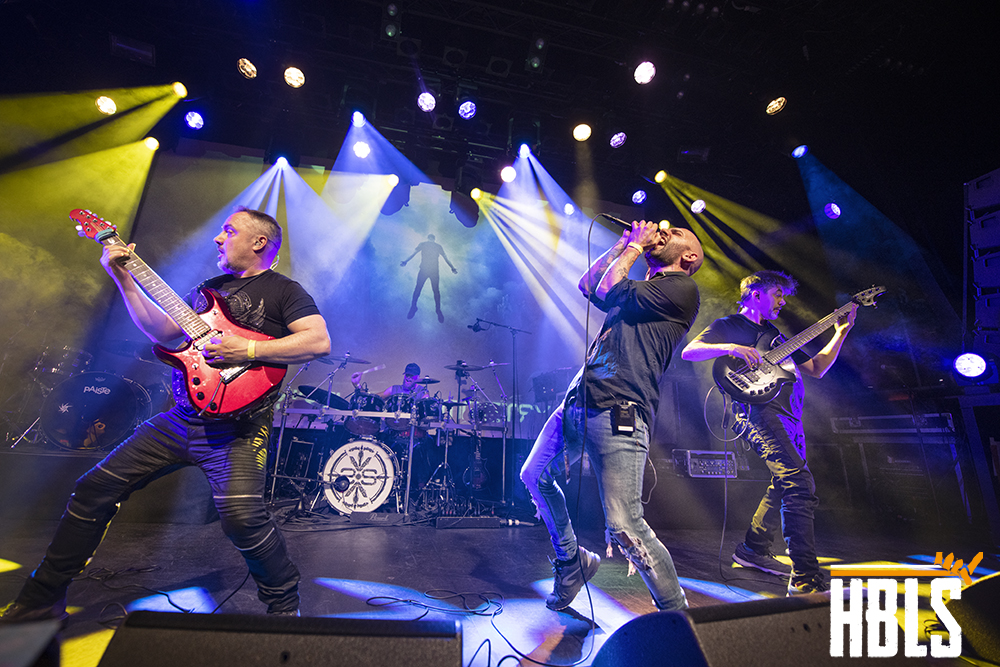 Singer Marco Pastorino shows quite the confidence and motivates a lot of fans clapping, singing along and waving with their hands. Virtual Symmetry shows the needed technical skills for this type of music but they wrap it with accessible melodies and choruses combined with an uplifting tone.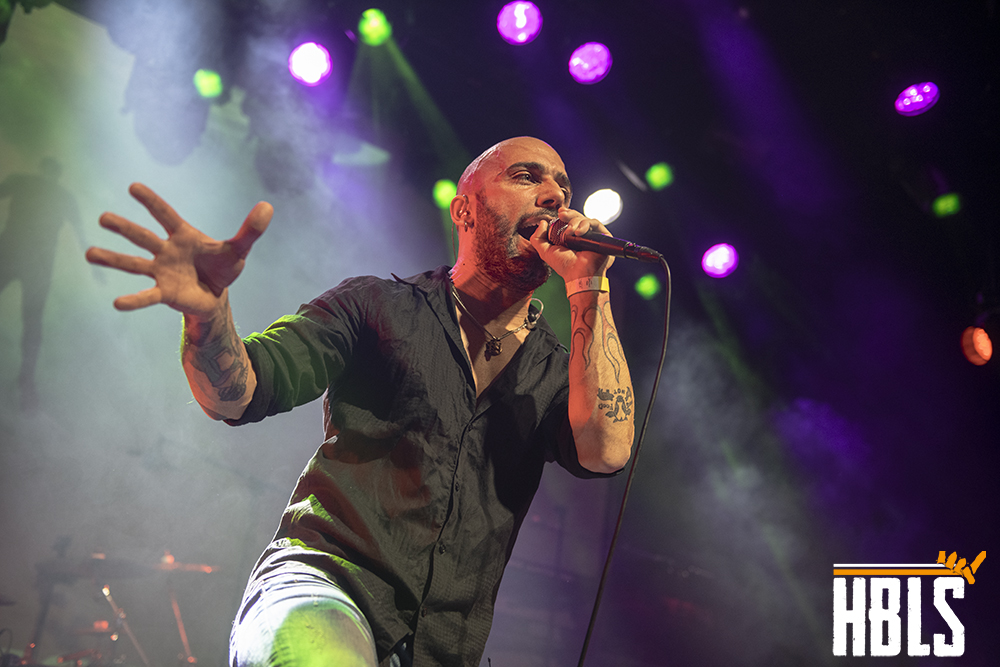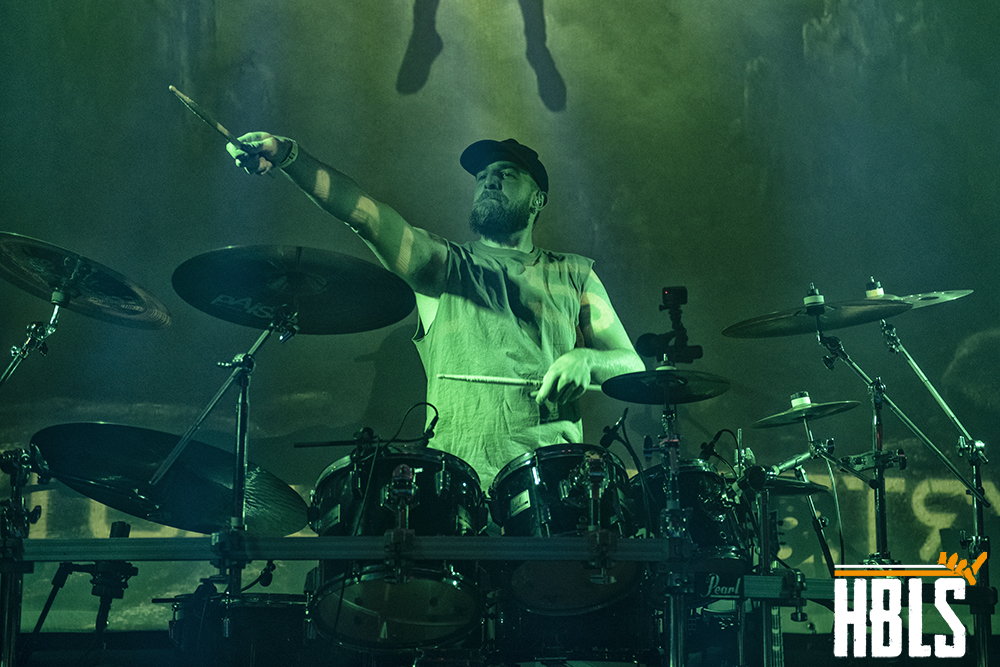 Very entertaining are the facial expressions of lefthanded 8-string guitar player Valerio Æsir Villa and very much appreciated are his luscious solos. Together with bass player Alessandro Poppale, he turns this gig in a personal party also. The overall enthusiasm and focus on the crowd work contagiously and a big pile of the audience is full in. The band's keyboard player Marco "Mark" Bravi is absent but very present on backing tracks to secure the symphonic grande frame of their works.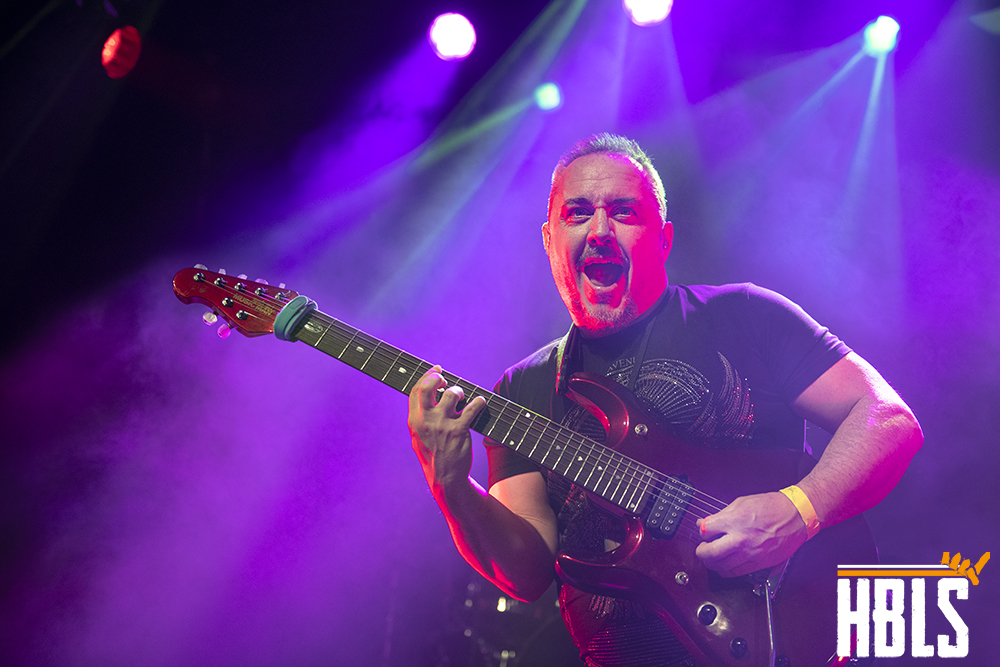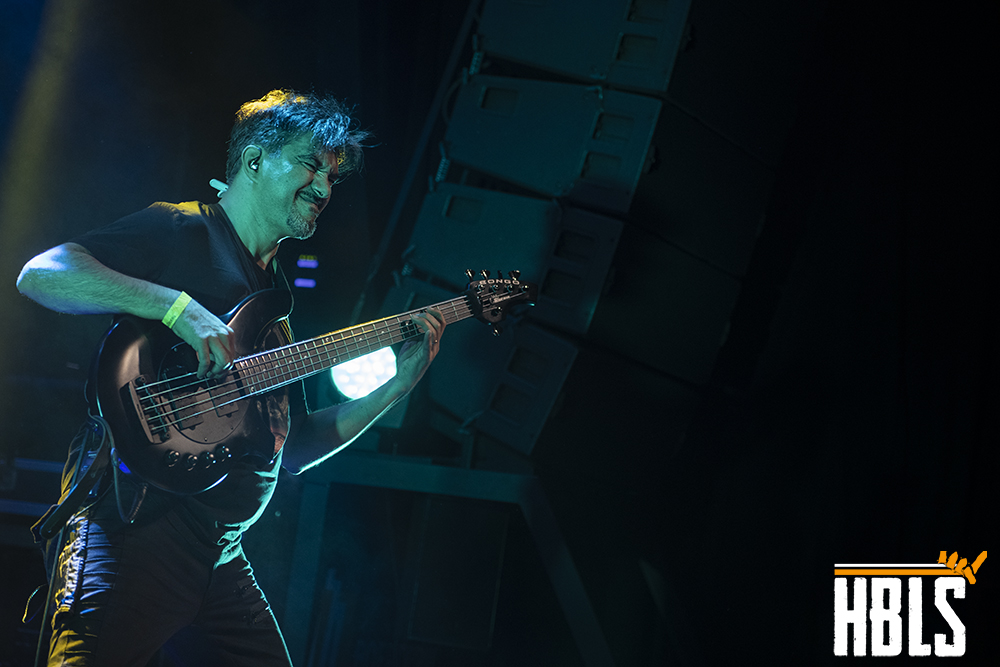 THRESHOLD
It takes about twenty minutes to clear the stage for Threshold and by now the audience is more than ready. Threshold always delivers with their albums and they sure do live as well, knowing their skills and musicality, having decades of experience and being a tight and professional unit on stage. So, their live performance never disappoints and that statement also applies tonight.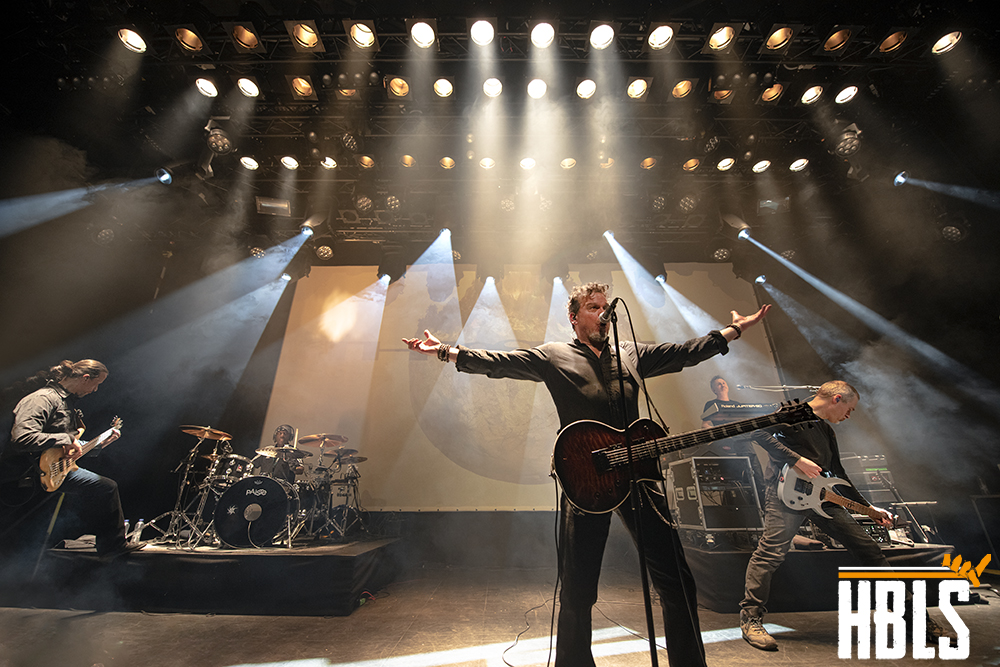 The setlist starts off with ,,Haunted'' and ,,The Domino Effect'', two excellent pieces, as an introduction of the latest album `Dividing Lines'. It also marks the starting point of a solid portion of prog metal of a very high level. It doesn't cost any effort to win over the audience, because the musical value of their repertoire is crystal clear. Right after singer/guitarist Glynn Morgan ventilates his thoughts about the whole adventure: ,,It's really great to be back on the road. It's been too long. Also, thanks to our support bands on this mini tour.''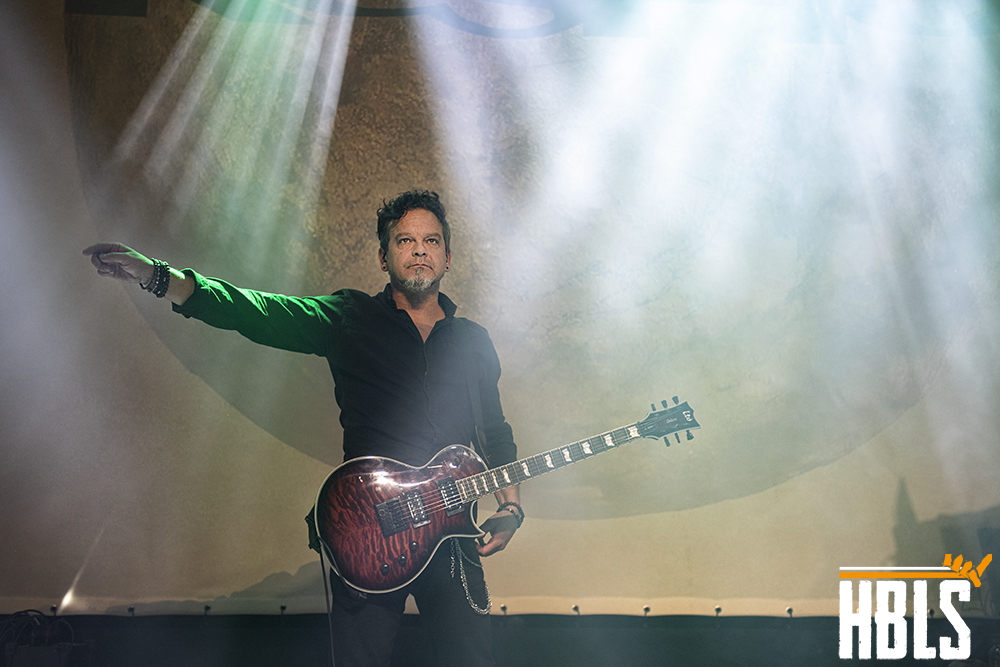 LIVE ENERGY
Glynn is a great singer with a very appealing vocal sound and he has a talent for vocal melodies that are also catchy, especially in the choruses. It's good to conclude early in the set that he really takes his place on stage as a front man but without overdoing, also when he frequently grabs his guitar to give the songs extra support. The appearance is well balanced and all band members display their talent in their own typical way, contributing to the recognizable sound of Threshold. A sound that is quite heavy and energetic live, which we don't mind at all, led by drummer Johanne James (wearing a Feyenoord track shirt!).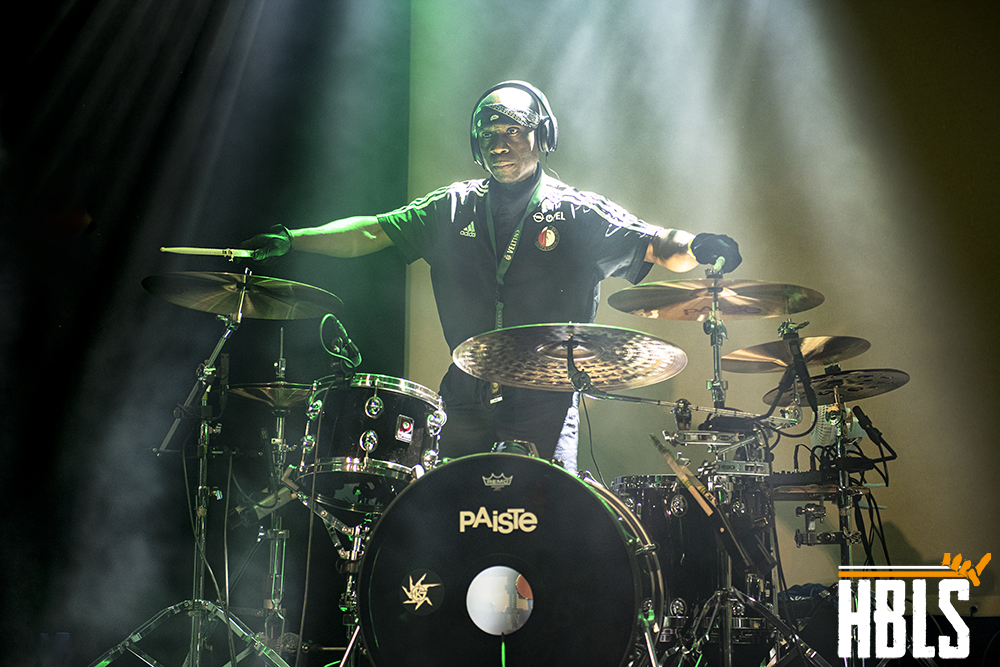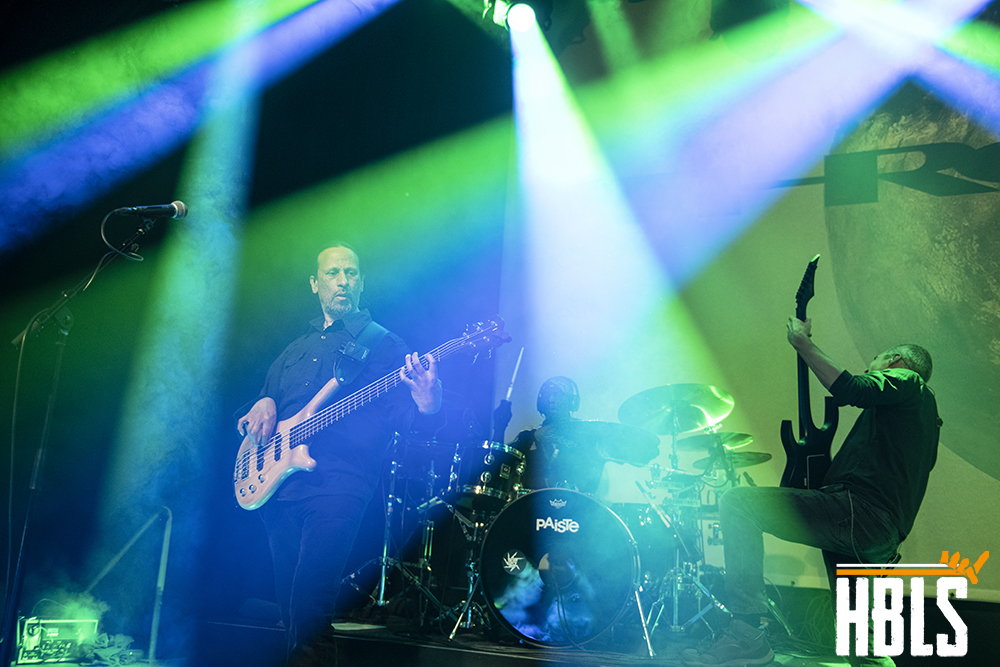 Yeah, this guy is a real mean machine behind the kit and one hell of a player, who is solid as a rock and definitely not shying away at all. A real pleasure to watch. The reliable drum work is the ideal platform for bassist Steve Anderson to fully focus on his very impressive and constant moving bass lines.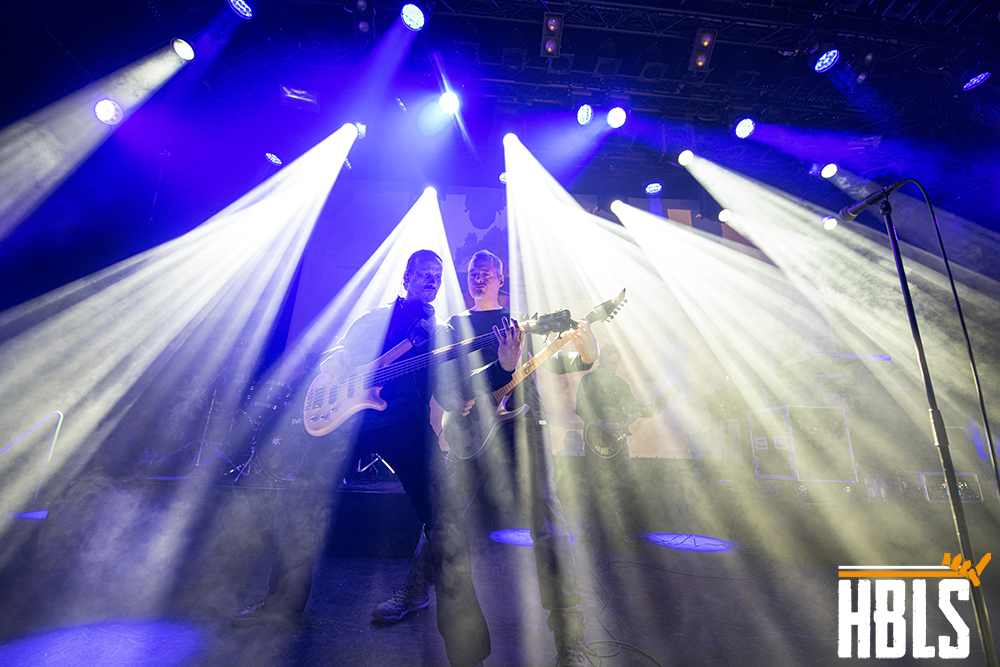 THRESHOLD – THE OVERALL IMPRESSION
In over more than one-and-a-half-hour Threshold's biggest focus is of course on the new album, playing seven tracks, all very energetic and powerful, like higlights ,,Let It Burn'', ,,Defence Condition'' and ,,Silenced''. They also put a spotlight on `Legends Of The Shires' with ,,The Shire 2'', ,,Snowblind'', ,,Lost In Translation'' and ,,Small Dark Lines''. For those who really long for the past we are treated to ,,Slipstream'' (`Dead Reckoning'), ,,Mission Profile'' and ,,Pressure'' (both `Subsurface'). Needless to say, the crowd highly appreciate the gesture.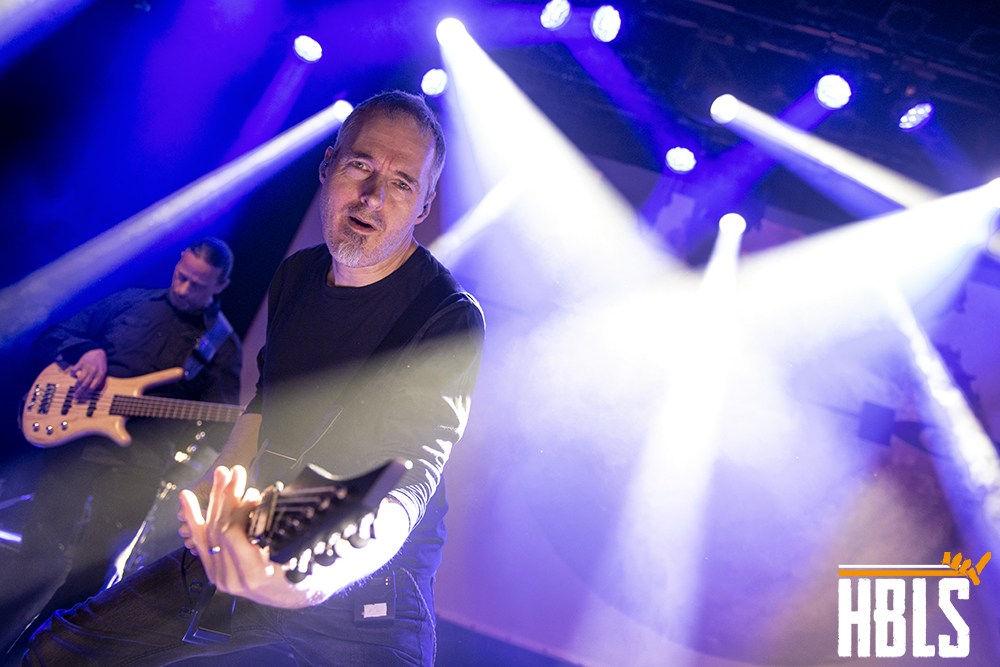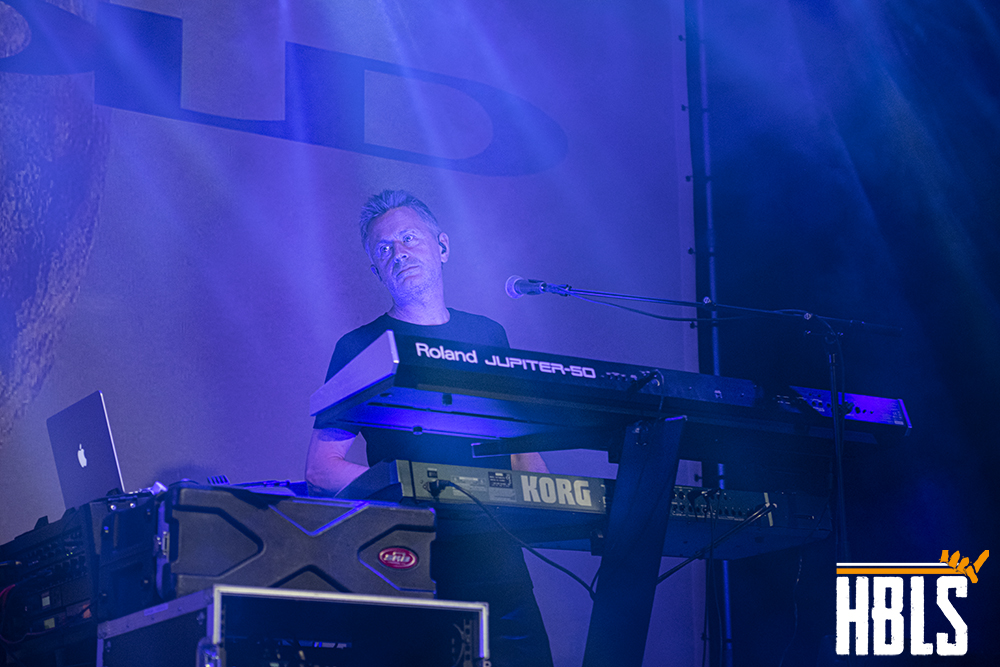 But whether old or new material is played, Threshold keeps their sophisticated and inventive qualities full force at all times and they certainly don't forget having fun on stage as well. Karl Groom is a master in his characterful riffing and his guitar solos are tasteful and fine jewels in the songs. But in the overall picture of course you can't miss the wizardry on keyboard by Richard West. He nails it with a large sound pallet, atmospheric samples and playful solo's and we are even treated with extra goodies on backing tracks. Which I think is not a shame at all because Threshold already proved to be outstanding and a force of its own.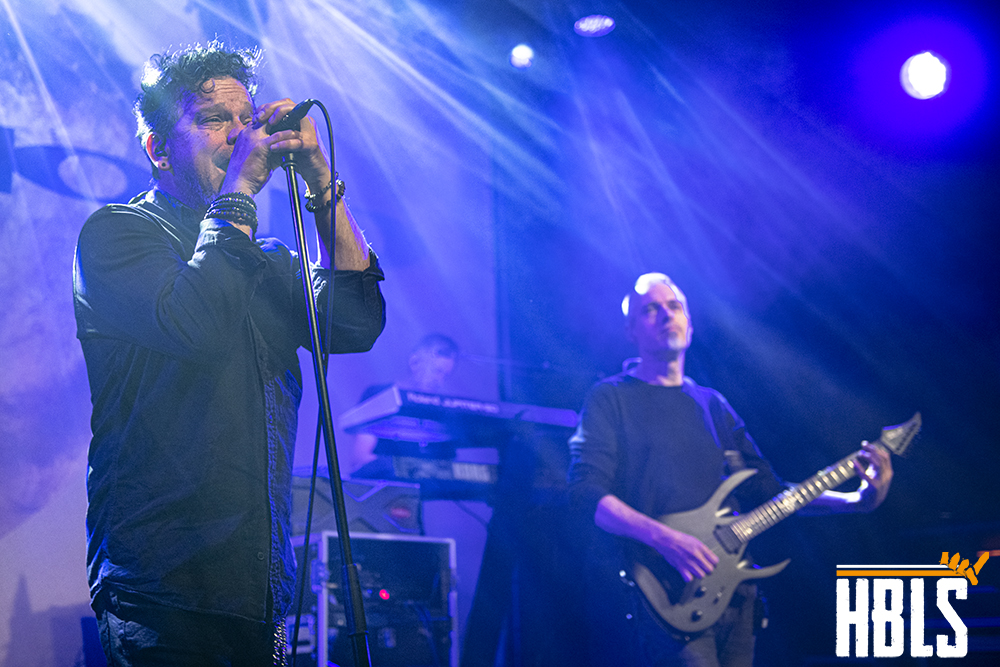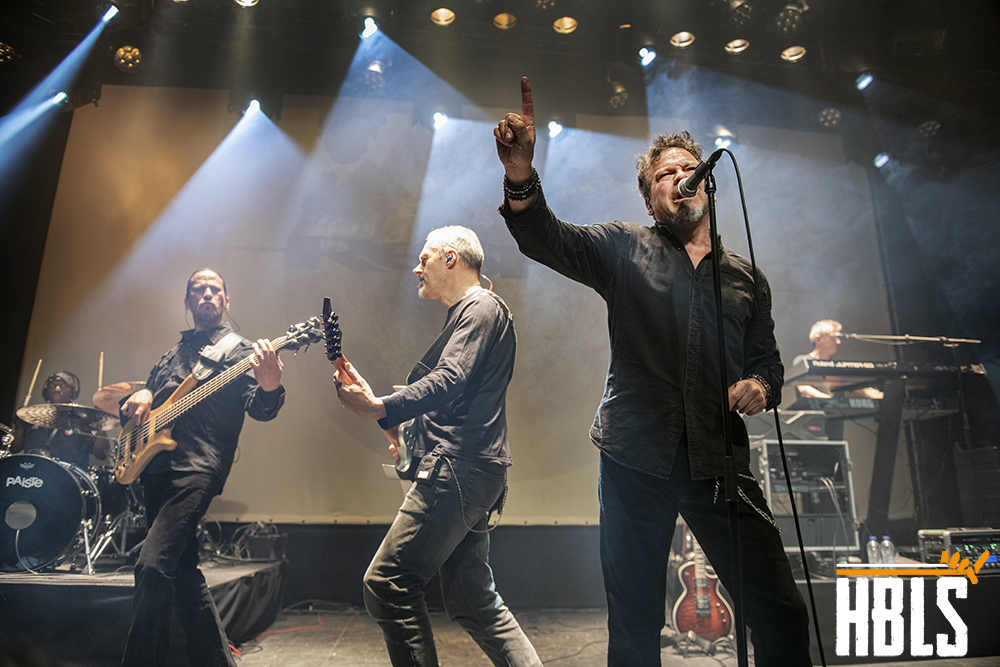 All photos by Dirk van den Heuvel of DCH-photography
About
Threshold is a progressive metal band, formed in Surrey, UK in the late 1980s. The enduring creative core of guitarist Karl Groom and keyboard maestro Richard West constructed a unique new strain of heavy, progressive music, combining incisive melodies, thought-provoking lyrics and intricate but thunderous arrangements.
Genre
progressive rock metal
Website
https://www.thresh.net/
Social
Tags