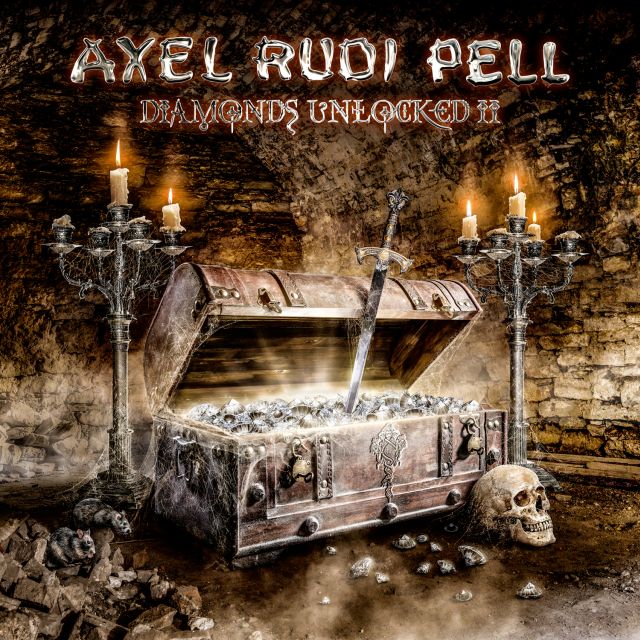 AXEL RUDI PELL-DIAMONDS UNLOCKED II
STEAMHAMMER/SPV
German guitarist Axel Rudi Pell thought about what to do during the pandemic. He was not able to promote his latest top record 'Sign Of The Times' on stage and the prospect of writing new songs, record them and then possibly still not be able to play concerts did not really attract him. So he revamped an idea he had been toying with for some time and that was to select a bunch of cover songs, give them the Pell treatment and record them with his current band members Johnny Gioeli (vocals), Bobby Rondinelli (drums), Ferdy Doernberg (keyboards) and Volker Krawczak (bass). In 2007 Axel already released a cover album called 'Diamonds Unlocked' and some 14 years later, due to circumstances, that album finally has a successor in 'Diamonds Unlocked II'.
Instead of sticking (too) close to the original versions Axel and his band mates have given the songs a brush up without damaging the integrity of them. How do you do that? In Axel's case his unique guitar sound and tone already make a big difference. By adding the specific sound of his guitar plus adding the specific tone of Johnny Gioeli the band has managed to beef up several songs like ,,Rock'n'Roll Queen'' by the UK band The Subs. Originally a punky track but after the Pell treatment a feisty heavy rocker.
A TYPICAL PELL ALBUM
In some ways 'Diamonds Unlocked II' is a typical Pell album. First of all an atmospheric instrumental intro (,,Der Schwarze Abt'', the only new composition on the record') followed by a fast and heavy hard rock song. In this case Sammy Hagar's ,,There's Only One Way To Rock'' in a tempo and version that the Red Rocker surely will appreciate. It is a recipe that Pell likes to use for the opening of his albums, also for this one. The same goes for ,,Paint It Black'' by The Rolling Stones, covered many times by others artist but never as powerful and up-tempo as by Axel Rudi Pell (with a superb keyboard solo by Ferdy Doernberg, followed by Axel going mad).
KICK ASS
Some other covers have been written many years ago and some of them have made an everlasting impression. Like CCR's version of ,,I Put A Spell On You'', but also the Pell version is great as is the interpretation of the Rainbow song ,,Lady Of The Lake'', where Johnny Gioeli does Ronnie James Dio proud. And what about the heavy version of ABBA's ,,Eagle''? Benny and Bjorn could come out of retirement after they hear this kick ass version….
Discover for yourself how diverse the choice of covers is and how Axel Rudi Pell has managed to make these songs his own by putting his personal stamp on things and still honour the original versions. It is like listening to a new and inspiring Pell album with the exception that you will recognise most of the songs in a heartbeat. This is how a cover album should be. Your own touch in combination with paying respect to the original. 'Diamonds Unlocked II' is exactly that!