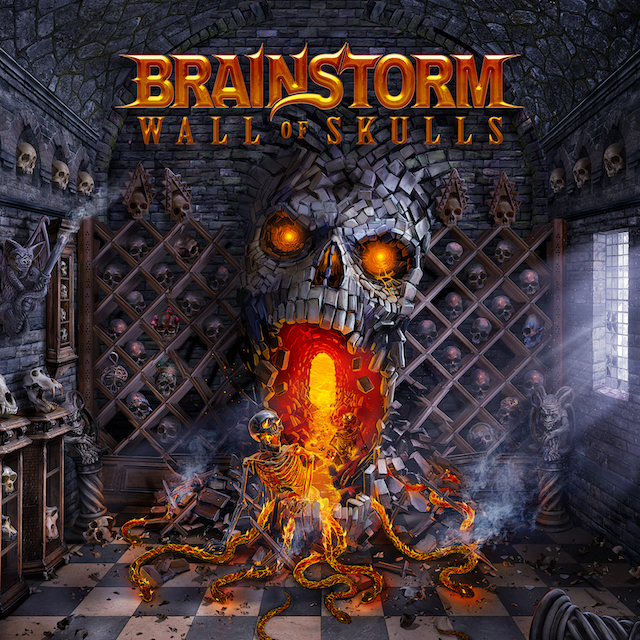 Review | Brainstorm-Wall Of Skulls
AFM Records
FAMILIAR SOUND
'Wall Of Skulls' (very original title, by the way…) is Brainstorm's 13th album (hopefully the band is not superstitious…) and it is of course their best effort so far!
That last remark is without any doubt a super cliché. But I think that 'Wall Of Skulls' is also a cliché album filled with 11 classic Teutonic power metal songs. Sad but true (another cliché I know) all tracks are too predictable, featuring singalong choruses galore and very predictable guitar licks as well. The song titles and lyrics are also too cheesy and too traditional/predictable. As some notorious titles are: ,,Solitude", ,,Turn Off The Light" or ,,Holding On".
GUEST APPEARANCE
Singer/shouter Andy B. Franck does hit utmost, but his vocal performance is rather mediocre, meaning not enough variation. The 1st single ,,Escape The Silence", features Rage singer Peavy Wagner and the follow up single ,,Where Ravens Fly" is the best song of the entire album. ,,My Dystopia" might become Brainstorm's new anthem hymn but the rest of the songs on this album will be soon forgotten, I guess….

So, to end with another cliché: 'Wall Of Skulls' is a must for power metal fans and Brainstorm fans as this album really contains more power songs and more fast tracks as on their previous album 'Midnight Ghost' (2018). Amen, enough said!