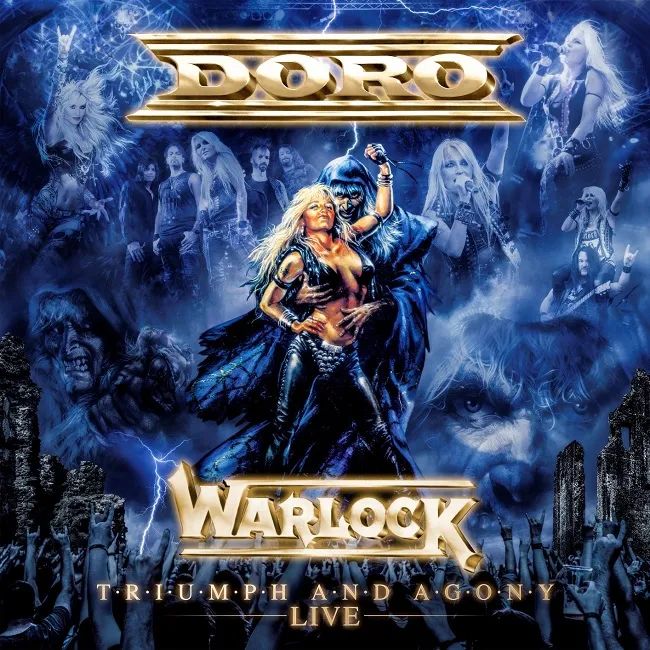 DORO-TRIUMPH AND AGONY LIVE
RARE DIAMONDS
Doro celebrates the 35th anniversary of the Warlock album 'Triumph And Agony' with the release of 'Triumph And Agony Live'. The band was captured live a few years ago at the 2017 edition of Sweden Rock Festival. For this special show guitarist Tommy Bolan, who played in Warlock at the time of the original release, was added to Doro's band.
'Triumph And Agony' is one of Doro's personal (and fan) favorites and this time the ten songs from the 1987 album were played in a different order.
The album will be released in different formats including an exclusive strictly ltd. Box. The cover and other artwork, including booklet and inlay, is made of live shots combined with the iconic Warlock paintings of artist Geoffrey Gillespie.
Songs, like ,,All We Are'', ,,Für Immer'' and ,,I Rule The Ruins'' have become fan favorites and are still part of regular Doro shows. They can rightly be seen as classics in the Doro/Warlock legacy.
The original release marked the international breakthrough for Warlock and caused quite a stir at music stations like MTV. These were the commercial heydays of Doro/Warlock and it led to extensive tours with Megadeth, DIO, Judas Priest, amongst others.
SWEDEN ROCK FESTIVAL
The 2017 concert is beautifully captured, both in audio and video. During the bonus features Doro takes all the time to tell the fans background stories about the way and why the album was recorded. Also how the clips were captured and more. The pride and passion she reflects in the interviews does tell the whole story.
Every last details of 'Triumph And Agony Live' is perfect and for that alone this is an album to recommend. The songs are known for decades but the amount of love and dedication put in this release will surely make everyone appreciate the album.
Nothing but respect for the career of this girl from Dusseldorf, who has been rocking the stages around the world since the early 80s. This is a mandatory release for the fans!
About
German singer/songwriter Doro Pesch, aka Metal Queen, is active in the music scene since 1980. She started her career as lead singer of the German heavy metal band Warlock and released 4 studio albums between 1984 and 1987. In 1989 she released the album `Force Majeure' under her own name and has been successful as a solo artist ever since.
Genre
heavy metal
Website
https://www.doromusic.de/
Social
Tags