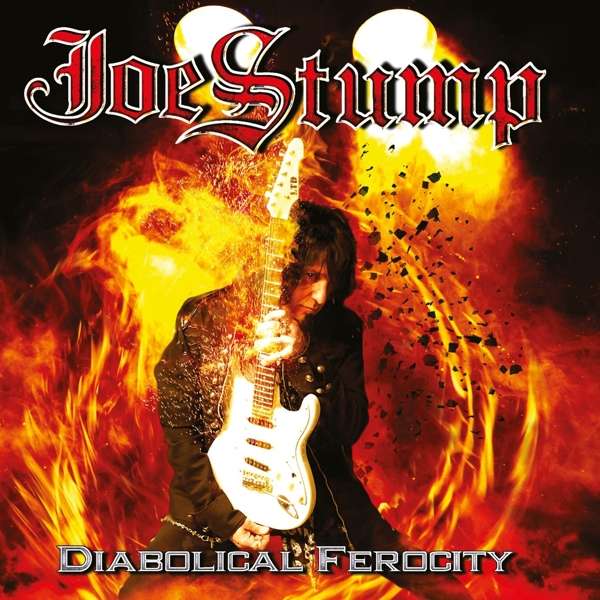 Review | Joe Stump-Diabolical Ferocity
Lion Music
Joe Stump has been around for some thirty years. Recording with several bands like Reign Of Terror and Raven Lord, but most of the time he has been releasing solo-albums that are filled with blistering instrumental metal. The man is one of the most gifted guitar shredders, but has somehow not reached the popularity of guys like Vai, Satriani, Gus G and Malmsteen. Still, he belongs up there.
ALCATRAZZ
Last year the spotlight went on Joe Stump when news broke that he had become the new guitarist for Alcatrazz, the band led by vocalist extraordinaire Graham Bonnet. Joe stepped into the footsteps of the former Alcatrazz guitarists Yngwie Malmsteen and Steve Vai and made his debut on the CD 'Born Innocent'. His impact on that record was not as big as I had anticipated. Joe only co-wrote a few songs and a lot of guest guitarists made an appearance on the album taking away the attention from Joe Stump. It came even as a bigger surprise that a few months after the release Graham Bonnet himself got thrown out of the band in favour of Doogie White. A new Alcatrazz album is in the making, presumably this time with a bigger role for Joe Stump.
DIABOLICAL FEROCITY
As the album title already suggests Joe's latest solo-effort is back to the material that he has released for most of his life. Finger fast guitar work and lots of arpeggio's are the main ingredients on 'Diabolical Ferocity', but it is not so that Joe Stump only concentrates on speed and shredding. Obviously there is a lot of that present but at certain moments the instrumentals have a beautiful theme, tasty keyboards (,,King Of The Underworld'') and even some very classic parts, that you may be used to from Accept's Wolff Hoffmann, can be heard on this record (,,Nacht J.S. Bach'').
GARY MOORE
I suppose that fans of Mister Malmsteen might find this latest Joe Stump record interesting (and with good reason). But also fans of the late great Gary Moore might find something that pleases them. Joe concludes the record with a gorgeous over eight minutes long tribute to the former Thin Lizzy-guitarist. ,,Forever Moore'' is a mid-tempo instrumental celebrating Gary Moore's past as a heavy rock guitarist with again a sublime (slightly haunting) melody dominating the song. Joe Stump has really outdone himself with this one! I'm looking forward to his forth coming album with Alcatrazz.