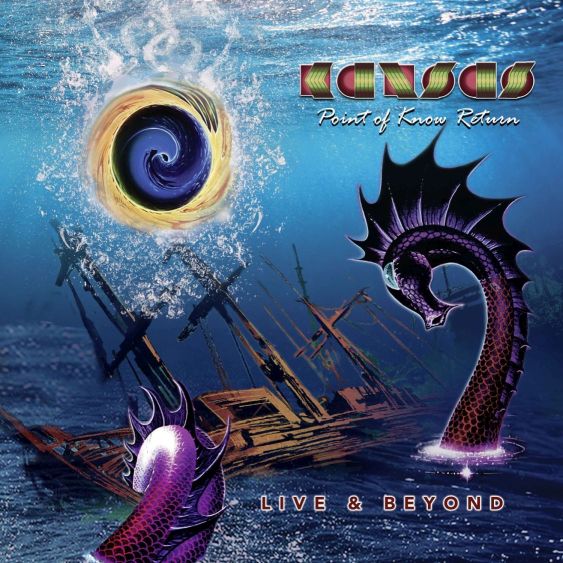 KANSAS-Point Of Know Return Live & Beyond
Inside Out Music
After the departure/retirement of vocalist/keyboardist Steve Walsh many people doubted the future of Kansas. But core members Phil Ehart (drums) and Richard Williams (guitar) kept faith in their band and by getting singer/keyboardist Ronnie Platt on board the duo secured the future of this epic formation. For people who had doubts the studio-albums 'The Prelude Explicit' (2016) and last year's release 'The Absence Of Presence' were (and are) undisputed claims that there was life after Steve Walsh. Ronnie Platt turned out to be the perfect replacement!
To celebrate that it was 40 years ago since the epic album 'Point Of Know Return' was released the group undertook an USA tour to promote that album once again and in the mean-time looked back at the rich musical past by selecting some more old but also some more recent stuff to play. CD one is a mix of those old and more recent songs while CD two is a live-version of the 'Point Of Know Return' album played in the same sequence as the album. What can we say about this live double CD? It is a must have item for a regular Kansas fan of course as the band from Topeka, Kansas once again showcases in how progressive rock with lots of heavy rock and symphonic elements integrated in the sound should sound and should be played. Iconic arrangements, stunning individual performances and above all songs that have stood the test of time like the epic ballad ,,Dust In The Wind'' or the hard rocking classic ,,Carry On Wayward Son'' are just a few examples that highlight this release that also has stunning versions of ,,Song For America'', ,,Point Of Know Return'' and a more recent track like ,,Summer'' with lead vocals from bass player Billy Greer.
Very recently the band resumed live-activities again so do not be surprised when these veterans hopefully release a new studio-album in 2022 (or maybe even sooner). Until that time this gorgeous live-document will do very nicely, thank you very much!