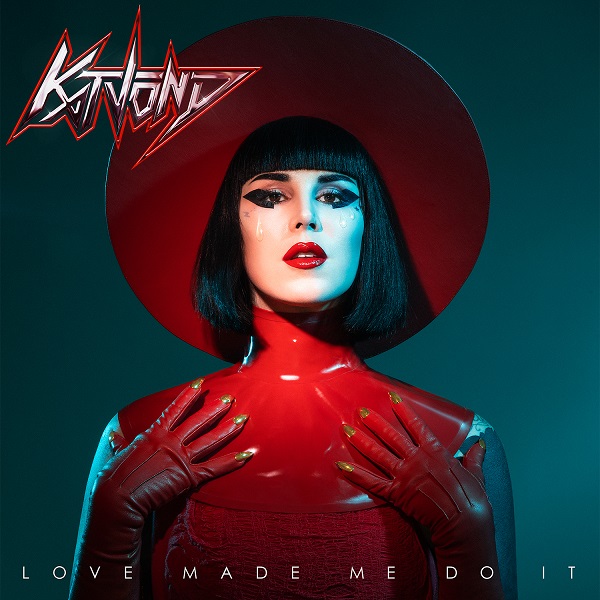 Review | Kat Von D-Love Made Me Do It
KVD/Kartel Music Group
THE WAIT IS OVER
Tattoo artist, TV celebrity, make-up artist and incredibly creative talent Kat Von D announced ages ago that she was working on her own music. It has been a minute, no doubt about that, but Kat really took her time to write and craft her music and lyrics and to finally release her long-awaited debut `Love Made Me Do It'. It is a smart move to do so. But what may we expect from this unique artist who always seemed to be a hard rock fan, but also adores Ludwig Von Beethoven and likes gothic, new wave and post-punk? In 2018 Kat Von D teamed up with cult musician Chris Corner to do guest vocals for his dark electronic rock band IAMX [`Alive In New Light' album] and she also joined IAMX on tour. Was this a subtle hint?
LEARNING THE SKILLS
I guess you can interpret like this because `Love Made Me Do It' is indeed a dark-wave, electronic synth pop piece. Before she even set foot in the studio, the L.A. Ink star prepared herself by studying voice intensively for several years under vocal coach Ken Tamplin. And before writing on her own she also did writing-sessions with American rock musician, songwriter and producer Linda Perry to learn the important skills. When finally her twelve songs were ready to go, Von D formed a very cool band to actually record and to perform with: Gregg Foreman AKA Mr. Pharmacist [synth 1], Sammi Doll [synth 2], Dave Parley [drums] and Brynn Route [contortionist]. Watching the various video singles and listening to the entire album, it is clear that this gang is a great fit. It is a topnotch total package, including the overall visual art and presentation and a welcome refreshment in the scene.
ELECTRIFYING
The album opens with ,,Vanish Intro'' which is a tense instrumental electronic synth introduction and a perfect tune to open a live show actually. When the second song ,,Vanish'' starts there's only a melancholic piano melody and the gloomy singing vocal lines of Kat Von D. Along the way subtle electronic soundscapes appear in the background and light strings enhance the mood of the song. Kat is actually a classical trained pianist since her youth and that seems to be the spinal cord of the album.
Things get more grand and open with ,,Enough''. There's a lot of electronics and it has a kind of pop approach that reminds me of Depeche Mode. It definitely gives me an 80s vibe. But like with several other tracks the band Editors is a reference as well. ,,Exorsism'' has been the debut single and it is obvious why. Because this song is built on strong electronic up-tempo beats and it has a killer vocal hook and mood twist. It stands out and sticks.
SYMBIOTIC
Kat being a hopeless romantic, she is pouring her heart out via deeply personal lyrical poems. It's about love, loneliness, heartbreak, inner fear, feeling lost, hope and making mistakes. In fact lyrical themes and life experiences we can easily relate to. It is intimate and fragile but at the same time very brave to share this with the world. Singing wise Kat stays in a certain vocal range that suits her and the music very well. But having Bauhaus vocalist Peter Murphy join her in the beautiful dreamy track ,,Protected'' is a big deal. Their voices blend awesome together and it is another highlight of `Love Made Me Do It'. It is also a song that Kat co-wrote with Danny Lohner [Nine Inch Nails, A Perfect Circle].
Another moment that completely pulls you in is ,,Fear You''. The vocal melody of the chorus is so intense, it creeps right away under your skin. It is just hard to let it go. The dark romantism of ,,I Am Nothing'' is balancing on fragility but there is also a ray of light present in the music that gives you a feeling of hope as well.
PERSONAL NOTE
,,Lost At Sea'' is more upbeat and energetic with an intense electronic beat and drive and the chorus is surprisingly heavy. ,,Interlude'' is another instrumental piece that fires away heavy electronic beats and sounds and it makes way for the upbeat synth popper ,,Pretending'' and the mid-tempo confession ,,Easier Sung Than Said''. The final track ,,The Calling'' takes us to more somber and calmer waters again but with a pleasant surprise, the never heard before recorded spoken words by actrice Maila Nurmi, also known as Vampira.
My conclusion is that Kat Von D really pulled it off on her debut, with the help of the wizardry on synth and drums by her bandmates. Kat found her own vocal identity and thankfully she doesn't go larger than live or vocally crazy at all. It sounds all very personal and intimate and therefor convincing. As a musician, performer and lyricist Kat stays true to her creative heart and I can only admire that. I am a rock and metal fan. But I am also a sucker for dark-wave and post-punk and `Love Made Me Do It' is definitely a must in my collection.