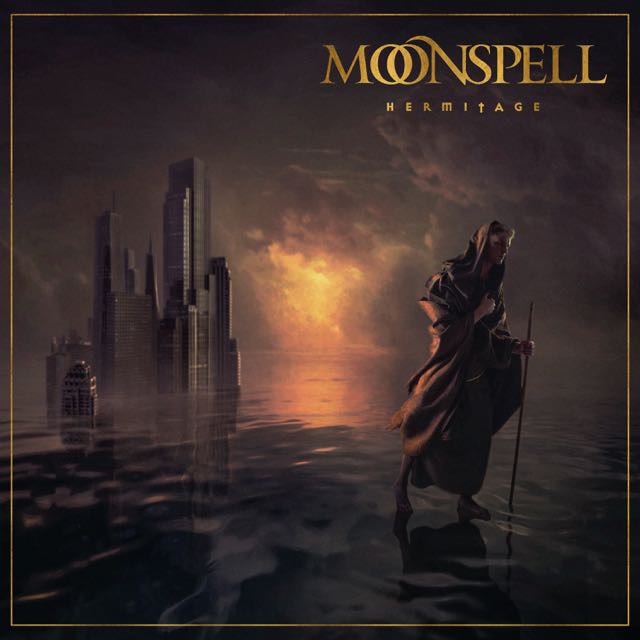 MOONSPELL-Hermitage
Napalm Records
Portuguese gothic metal band Moonspell is approaching their 30th anniversary as a band. The new album `Hermitage', to be released February 26th, is their gift to the fans to celebrate this accomplishment. The 13th full-length album in the career of the band is loaded with fat groove and guitar-driven metal songs and Moonspell knows exactly when it is needed for a song to go full power, or when to go for a more subtle approach. Just listen to ,,All Or Nothing".

`Hermitage' is a mix of the familiar Moonspell sound and more modern elements, recorded, mixed and mastered by Jaime Gomez Arellano (Paradise Lost, Primordial, Ghost, Sólstafir & many more) at the Orgone Studios in the UK. Mr. Arellano definitely did a great job because the overall album sounds amazing. At times the songs are drenched with prog metal influences, just take a listen to the guitars in the title track ,,Hermitage". In general the tracks do sound well balanced due to their constructive structures. Though, I must admit that the vocals of lead singer Fernando Ribeiro are not really my cup of tea, but it is part of that famous Moonspell sound and I am sure the fans will be happy with Fernando's performance.

Moonspell has delivered a varied, good sounding album, featuring ten well-written compositions and this is indeed a very nice way for the band and fans to celebrate the upcoming 30th anniversary. This release also proves the band hasn't written its final song yet. Of course, `Hermitage' is available in various formats and some of them include the bonus Candlemass cover ,,Darkness In Paradise'' or the special bonus track ,,The Great Leap Forward''.