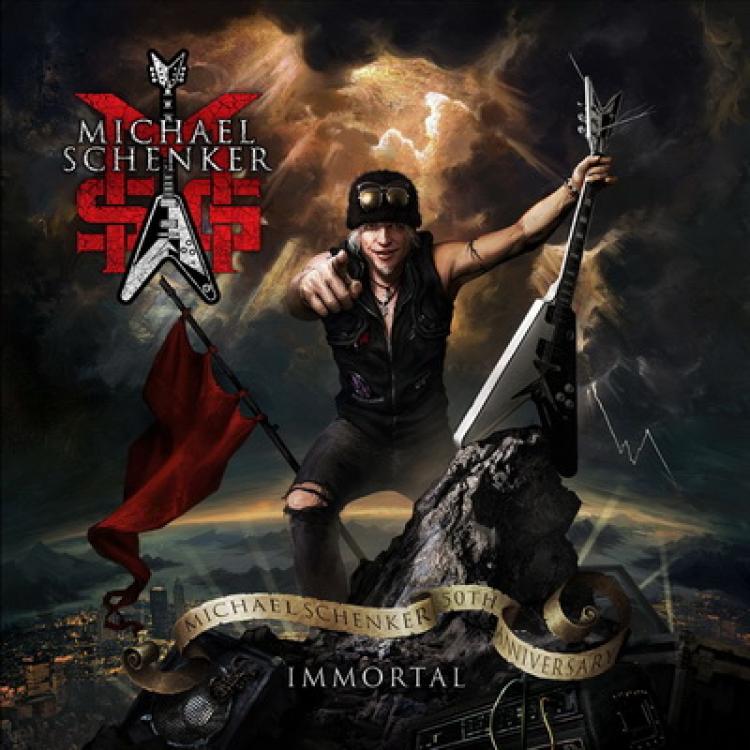 MSG-Immortal
Nuclear Blast Records
After recently operating under the monikers Michael Schenker's Temple Of Rock and Michael Schenker Fest the veteran guitarist has gone back to 1980 when under the name MSG (Michael Schenker Group) he started out for himself after turbulent years with UFO and Scorpions. Funny enough two guys from that era (singer Gary Barden and drummer Simon Phillips) feature also on 'Immortal', some 40 years later. Michael has hit many highs but also several lows in that 40 year period but the main thing is that he is still here doing his thing.
He has announced a touring line-up for 2021 with musicians who are also featured on 'Immortal'. Depending on what happens on the live front (depending on the Covid-19 situation in this year) he has selected good old Steve Mann on keyboards/guitar, Michael Voss on bass (and some vocals I presume), drummer Bodo Schopf and the man that has featured on (too) many albums for the last couple of years Ronnie Romero on lead vocals. Time shall tell whether this line-up makes it to the stage.
In the meantime the Schenker fans will be able to amuse themselves with 'Immortal'. It has become one of the heaviest albums in the career of Der Michael. Hiring Romero, Primal Fear's Ralf Scheepers, Joe Lynn Turner and Michael Voss on lead vocals plus also guest roles for the already mentioned Gary Barden, Dougie White and Robin MacAuley the singing force is second to none. Three drummers of some calibre helped out as well. Besides Schopf and Phillips also Brian Tichy played on some tracks (Tichy is the guy to call for bands in need when you look at his track record in the last decade or so). Barry Sparks played bass, Steve Mann keyboards and even Derek Sherinian made a guest appearance on the blistering opener ,,Drilled To Kill'', one of the hardest and fastest songs Schenker has recorded in ages with Ralf Scheepers leading the way and Sherinian duelling with Michael. That killer track opens 'Immortal'. Especially the three songs with Romero and the two recorded with Scheepers are the ones that shift the balance direction 'hard and heavy' as they are all hard rocking songs with some brilliant riffs and solos from Michael. Turner and Voss sing the songs that are more melodic pieces like the ballad ,,After The Rain'' (Voss) that sounds a bit out of place after the drill bits provided by Scheepers and Romero. Maybe the song would have fitted better a bit later in the sequence of things, but hey, it is what it is.
Michael Schenker and Michael Voss produced the album in Germany, Schenker making several trips from the UK via The Netherlands to Germany, self-isolating each time while the others musicians worked from their own studios. Obviously not the most ideal circumstance to record an album but there was according to Schenker no other way.
Taking everything into consideration I must state that 'Immortal' has become one of the best releases of Michael Schenker in a long time. I liked his Schenker Fest and Temple of Rock adventures but this really is the way I like to hear and see Michael Schenker operate. Rocking songs, up-tempo drums, great riffs and signature sound solos. ,,Come On Over'' (with Romero singing) just kicks ass. The last two songs on the album feature contributions of Gary Barden, Dougie White and Robin MacAuley. ,,Sangria Morte'' is an up-tempo rocker of very decent quality, but it ends somewhat abrupt. The most surprising track is kept for last. ,,In Search Of The Peace Of Mind'' is a remake of the song that was featured so long ago on 'Lonesome Crow', the first album Michael ever recorded with Scorpions. It is the first track Michael wrote in his illustrious career, at his mother's kitchen table when he was just 15 years old. Nice that he has revisited that track 50 years later and recorded it again with much better equipment and a lot more expertise and experience in the bag. The first signs of his brilliance as a composer of epic rock tracks are to be heard on this song, later followed by pieces like ,,Rock Bottom'' and ,,Love To Love''.
'Immortal' might not be as epic as his first albums that he made under the MSG banner, but at stages it comes damn close if you ask me. At the age of 65 Michael Schenker is still a force of his own and a musical trailblazer. I have had serious doubts about some stages in his career as he seemed to be going nowhere (his older brother Rudolf told me once that Michael's career is like a roller coaster ride, going up and down, being unpredictable) but since working with his right hand man Michael Voss he has managed to resurrect himself slowly but surely. With 'Immortal' as his latest piece of proof that he still got a lot to offer.
About
German guitarist and songwriter known for Scorpions, UFO, Michael Schenker Group, McAuley Schenker Group, Michael Schenker's Temple Of Rock, Contraband, Michael Schenker Fest.
Active since 1969.
Genre
rock, hardrock, heavy metal
Website
http://www.michaelschenkerhimself.com/home.php
Social
Related links
Tags