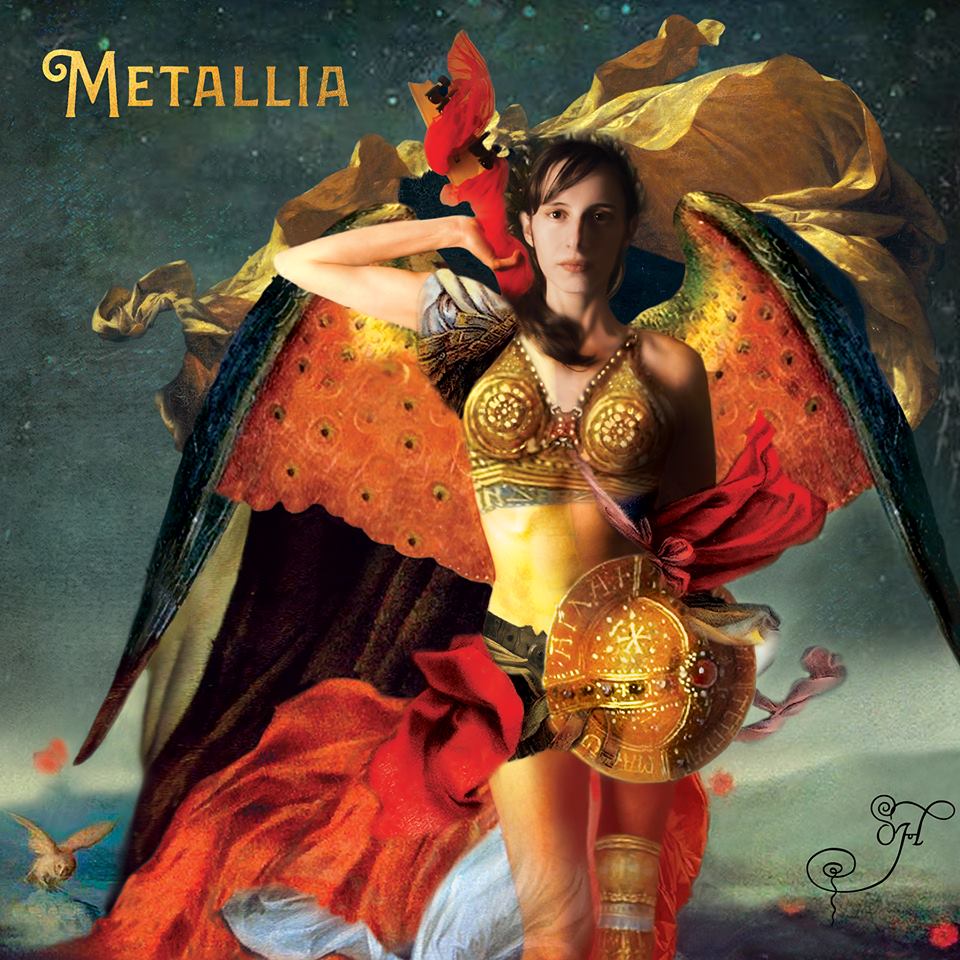 OH.-Metallia
Independent
The rock and metal scene is crowded these days and with the almost daily offerings of new music it is a challenge to stand out as a band or solo artist. Well, I hereby praise the talented Greek musician Olivia Hadjiioannou [OH.], because she is a true Do It Yourself artist who succeeded to create her own unique sound and musical approach within the progressive rock, metal and avant-garde genre. Olivia shows an impressive decisive attitude, perseverance, commitment and dedication to the entire creative process that obvious has led to a satisfying end result. OH. celebrates her latest release `Metallia' [2018], which offers the ears and mind a unique experience on many levels. The album needs a few spins to crack the code though, but once you do, you are able to fully enjoy what a free spirit like OH. has to offer. It all starts with the stunning artwork, the beautiful packaging on which Olivia is presenting herself as a mythological, gold, orange, red glowing warrior. The wonderful drawings and liner notes in the booklet [The OH. Racle] that goes along with the song titles, serve as an inspirational and almost philosophical guide for this genius journey. It confirms she has taking care of her album with love, care and dedication. Olivia plays all the instruments herself and acted as the producer and mixing and mastering engineer as well. There aren't real vocal lines, choruses and lyrics in the songs, but experimental, vocal soundscapes and vocal effects that support the music in a great way, an approach that almost feels like the Resurrection of the mighty Kate Bush. In the 6 tracks Olivia owns the stage like a Red Lion by playing demanding, noisy riffs and shredding, experimental guitar solos and dazzling notes, displaying her own typical sound and playing style. The girl funks on the bass guitar and her driven tribal-like drums and experimental percussion beats deliver the message. Along the way there is orchestration and the magical sound of the violin. OH. is definitely having a real Triumph on `Metallia', her creativity sounds intense, in your face and innovative but underneath the raw sound and the busy Bee performance, you'll find epic musical freedom and layered emotions. If you are up for a musical challenge, this Androgyny will give you the Dragon's Kiss you won't forget.
About
Oh. is a progressive metal multi-instrumentalist. Frenetic harmonic guitar solos, sultry multi-layered harmonic vocals, ecstatic head-banging riffs, fantastical violins, grooving bass lines and furious drums paint the myriad and intricate sonic landscapes of Oh. From her award winning debut EP in 2013, "Sleeping World" she has released seven other projects - a progressive metal album, "Synemotion" on vinyl, four avant-garde prog ballads, and a new progressive metal EP on CD— "Metallia" in 2018.
Oh. has three international music video awards, most recently in the London Greek Film Festival for her single "Deserted Eyes". She plays guitar (electric and acoustic), bass, drums, violin, piano and percussion composes, performs, produces, mixes and masters in Athens, Greece.
info@olitunes.com
Genre
Progressive Rock and Metal
Website
https://olitunes.com/
Social
Related links
Tags