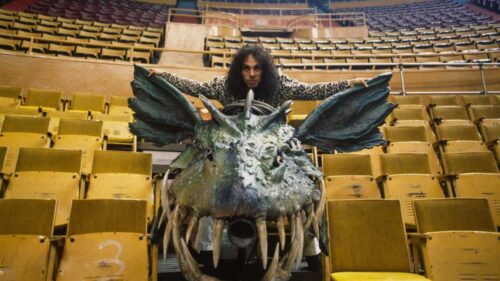 Report | Ronnie James Dio – DIO: Dreamers Never Die
Documentary
Wednesday 28 September saw the world wide cinema premiere of DIO `DIO: Dreamers Never Die', the first official documentary about none other than Ronnie James Dio. It goes without saying that this man deserves an eternal statue in the hard rock and heavy metal world.
As a fan of the Ronnie James Dio and his music since 1983, I was therefore very curious about the way in which the documentary would portray the Man On A Silver Mountain.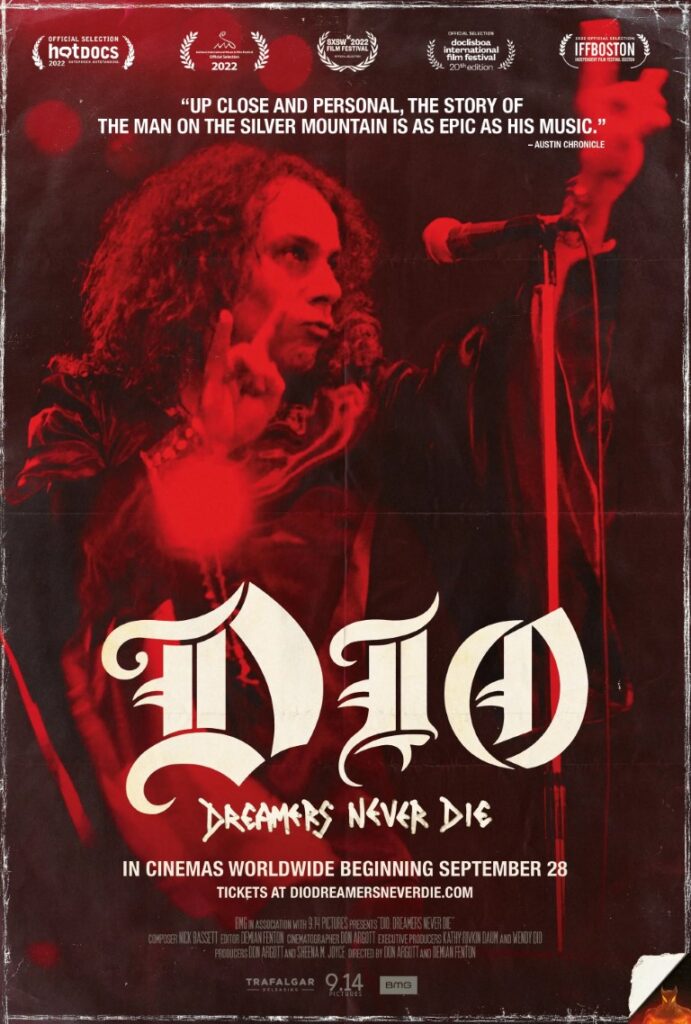 The bio that accompanies the movie introduction opens like this:
"Ronnie James Dio's story transcends the standard rock documentary. Beautifully highlighting both his powerful voice and his gentle heart, "DIO: Dreamers Never Die" delves deep into the singer's incredible rise from '50s doo-wop crooner to his early rock days in Elf and Ritchie Blackmore's Rainbow, to replacing Ozzy Osbourne in Black Sabbath, and finally cementing his rockstar status with his own band, DIO."
It made me very curious what to expect from this film.
DIO LIVE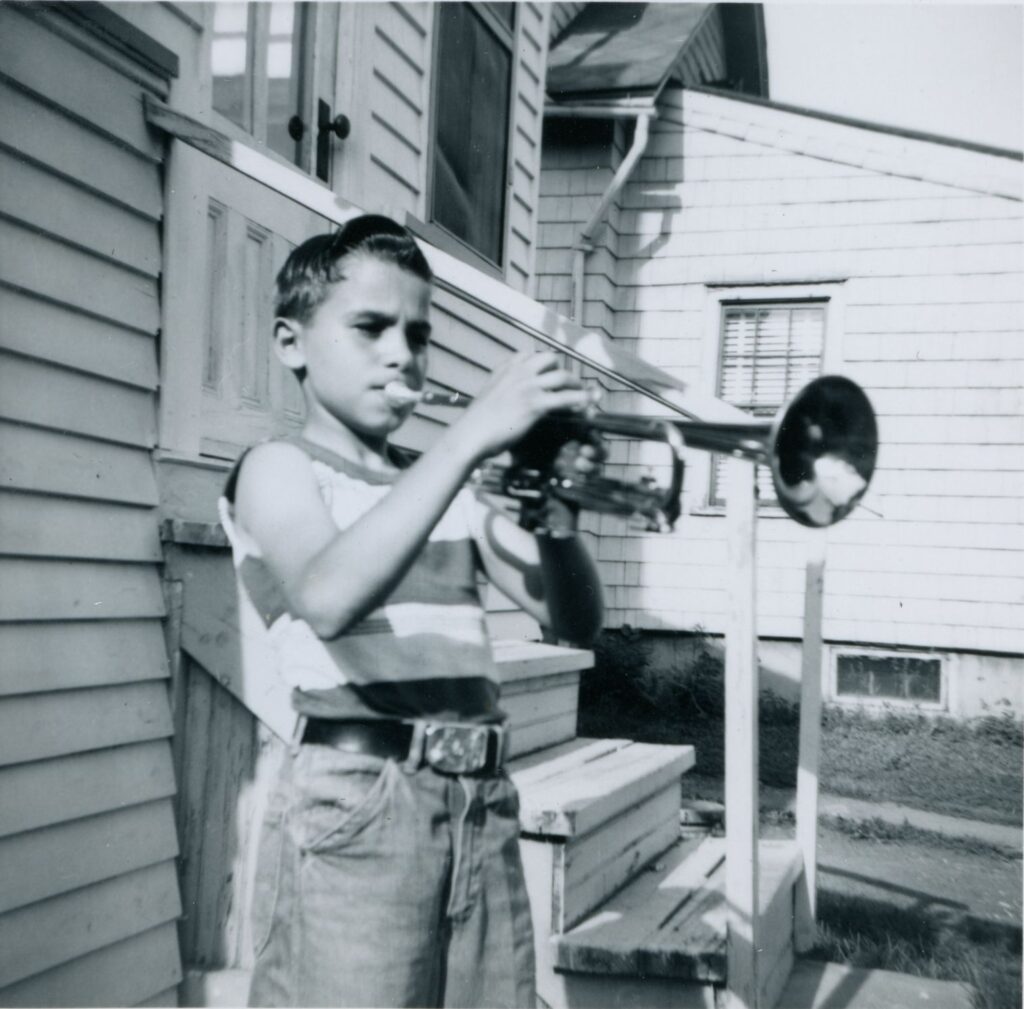 Not surprisingly, I was able to conclude that I was certainly not the only one who had found my way to the cinema. In my case the VUE in Kerkrade, where the film was shown thanks to the efforts of Theo 'The Rock' Samson. An estimated 150 people attended this premiere and since it almost felt like we were attending a DIO live performance, the drinks sales tonight for the cinema were 'slightly' higher than usual.
The documentary was beautifully constructed and expertly strung together by commentary from mostly Wendy Dio and Mick Wall [British music journalist, author, and radio and TV presenter.]
In addition, quite a few well-known artists and friends, such as Tony Iommi , Geezer Butler, Glenn Hughes, Vinny Appice, Lita Ford, Rob Halford, Sebastian Bach, Eddie Trunk, Simon Wright and Jack Black shared their memories with us. There were sometimes funny anecdotes in between, but also the moments that Ronnie made special for them and why this hardworking singer, composer still, years after his death in 2010, still means so much to them (and us).
THE EARLY DAYS OF RONNIE JAMES DIO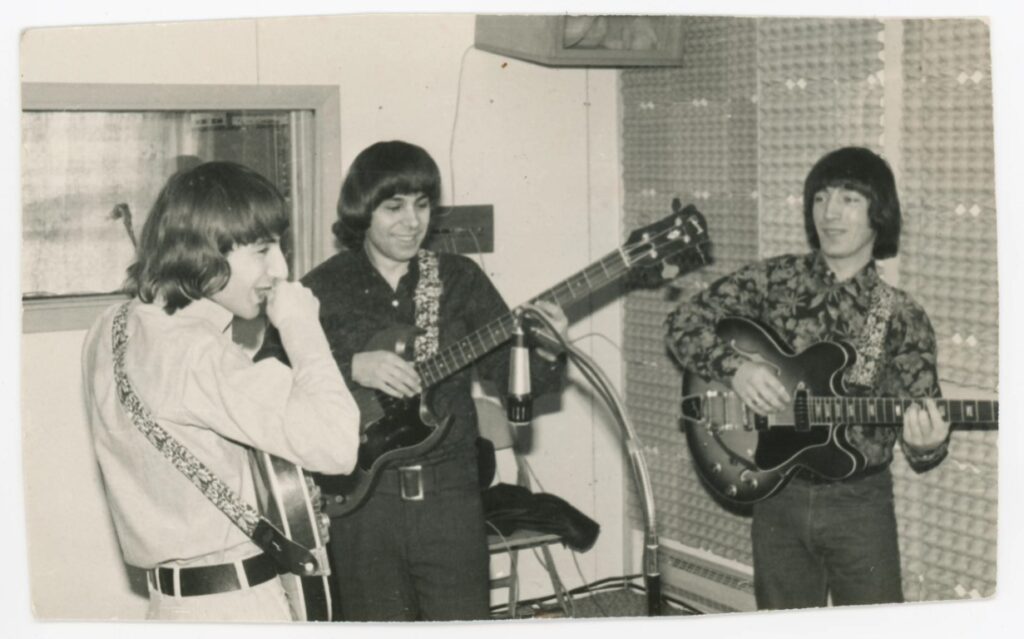 What I really liked is that early musical projects such as The Vegas Kings, The Red Caps or The Electric Elves were also extensively covered in the documentury. Even recordings of Ronnie as a trumpet player (he played the trumpet since he was 5 years old) and other old recordings from his early days as a musician are discussed. Including comments from old band members from those times. And then we are talking about the period between 1958 and 1971. It is clear that Ronnie certainly did not get his success overnight and always had to work hard and perhaps even harder for it.
I liked the anecdote where it was told how Ronnie had to audition with the band ELF in a studio for about 20 record company hotshots and that it was perhaps even scarier that Roger Glover and Ian Gillan were also there since, if the band got the deal, they would produce the ELF record. There the ELF band stood, as Deep Purple fans, in front of 2 of their biggest idols.
RAINBOW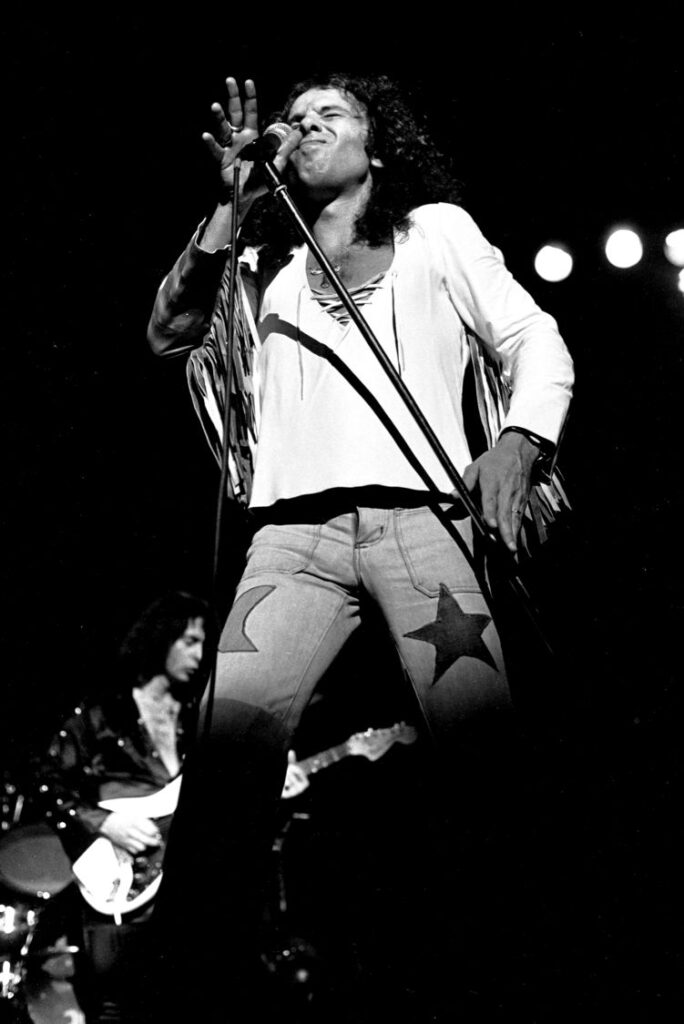 Of course this was the just one step away from the first neo-classical collaboration with Ritchie Blackmore, who recorded his first RAINBOW record a few years later [1975] with most of the ELF line up. That was also the first big success for this, at that time unknown to the world, Ronnie James Dio. But the real fireworks and success came a year later, when the band recorded the unique masterpiece `Rainbow 'Rising'. A masterpiece that is still high on the lists of rock and metal enthusiasts.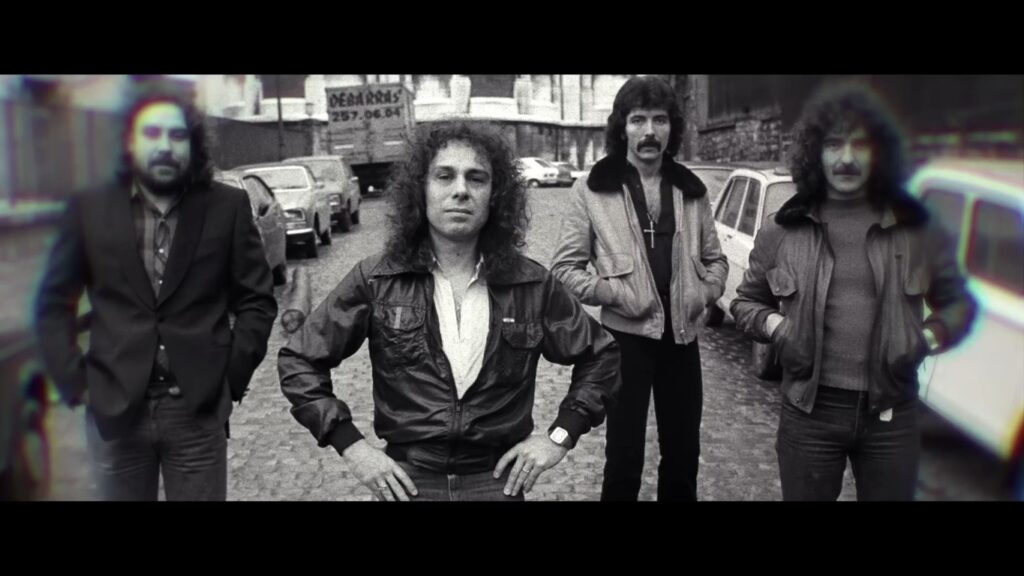 But the downfall and the abrupt end of the Rainbow era are also highlighted. Ronnie, who already was with the love of his life [Wendy] for several years, suddenly found himself unemployed and learned the downside of being an artist. With $800 in the account and no employer, he ran into Tony Iommi at the Rainbow Bar and Grill in Los Angeles, who had just said goodbye to Ozzy. And suddenly, Ronnie was behind the microphone of Black Sabbath and had the "impossible" task of succeeding Ozzy. Nobody expected that collaboration would produce a 2nd classic album. Black Sabbath was done and gone for the fans, media and music industry. And then came 'Heaven And Hell'. Once again Ronnie managed to work on a classic, genre-defining album.
HOLY DIVER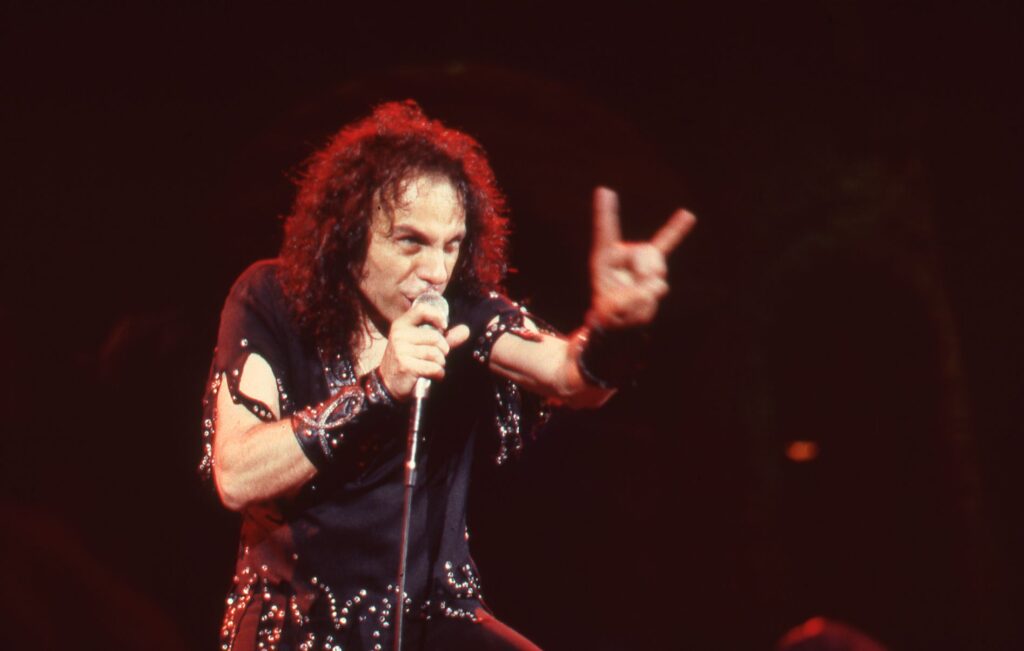 However, after two albums and the 'Live Evil' album, everything changed and Ronnie said goodbye to Black Sabbath. Again he was on his own. He gathered all the courage, wrote songs on his bass guitar, got a new band together and put everything he and Wendy had into this band, album and tour. It is also very nice to see in the documentary how the iconic album cover was created. We get to hear rehearsal recordings and a small glimpse into what it was like at the time. Iconic album number 3 Dio's 'Holy Diver' was made and Ronnie and band had everything ready to conquer the world. And so they did!!!
The period of the first three DIO albums, and especially the lack of involvement of Vivian Campbell in the documentary, is a lost opportunity. The departure of him from the band is therefore somewhat hidden between all the praise for Ronnie. Replacement Craig Goldy however is quit extensively discussed in the documentary. The first attempt of a  Black Sabbath reunion in 1992 with Ronnie is also not covered in the documentary ['Dehumanizer'].

However, the Stars project is discussed, the impact of one album of a grunge band called Nirvana on the entire music industry. The album that reset an entire industry overnight. The difficult periods in the 90s for the band and person Ronnie James Dio, who kept making records and kept performing anyway. Whether it was for 10 or 10,000 fans. The show continued and he did not stop. Of course there's also the chapter Heaven And Hell 'The Devil You Know', with which Ronnie eventually recorded his last album. We also see footage of a hospitalized and sick Ronnie during his stomach cancer treatments which is heart breaking.
A TRIBUTE TO RONNIE JAMES DIO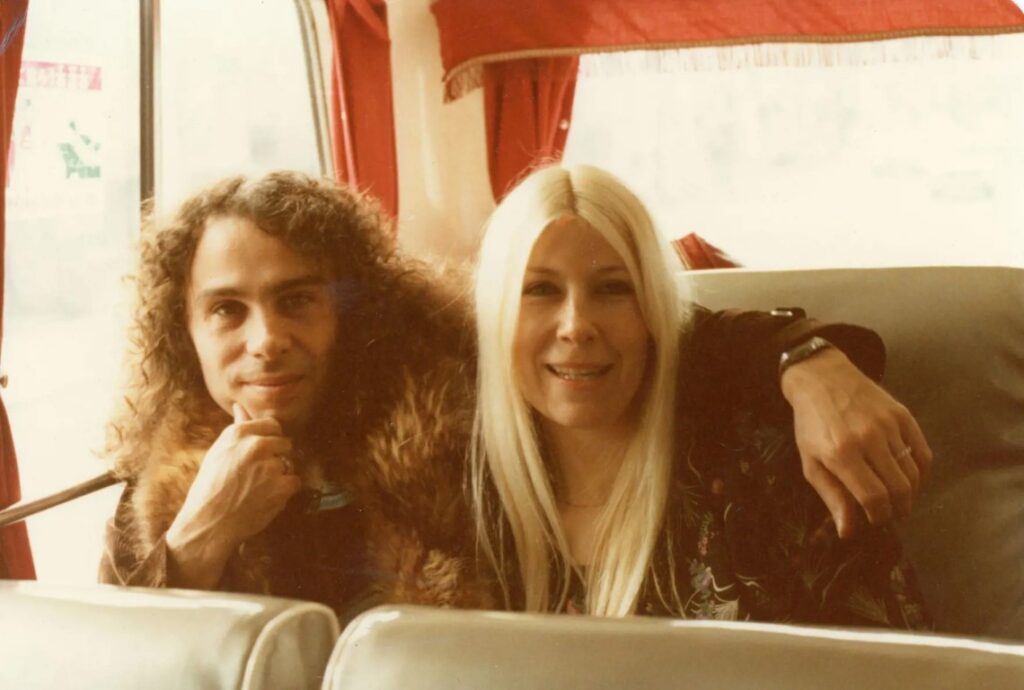 This man always had time for his fans, was a gentleman and was blessed with a voice that could always deliver. That is why even today so many love the music, the legacy and the person Ronnie James Dio. Of course, Wendy's grief and loss are also discussed regularly, because ultimately this documentary is a tribute to Ronnie from the woman who has always been by Ronnie's side and has arranged management matters for him since 1983. That's hasn't changed, Wendy is the woman who determines what will and will not happen with the musical legacy of Ronnie James Dio.
I personally think the extra footage 'hand-picked from the cutting room' add little to the image sketched in the documentary. If only they had shown an unreleased live clip, because that's where Ronnie James Dio was at his best. The documentary was beautiful, but personally I thought the emphasis was on painting a picture of how great he was and what he did achieve. The fans and industry already know that. If the documentary had been done by an independent production company, I think there could have been, even a little more depth in it.
Overall, a nice documentary about The man, the voice, the entertainer, the man on the silver mountain. 'Dreamers Never Die'