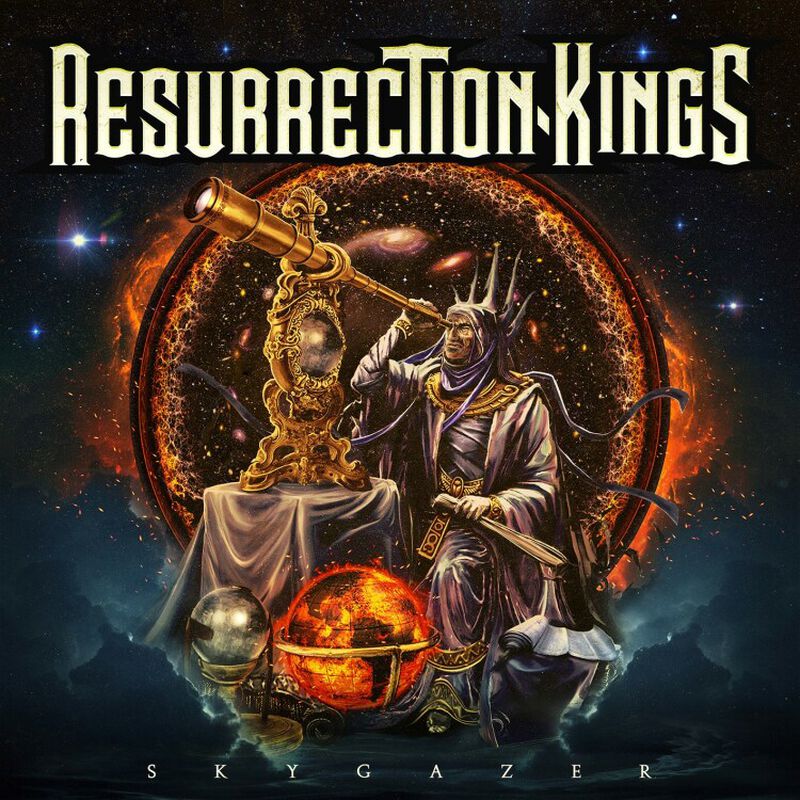 RESURRECTION KINGS-Skygazer
Frontiers music srl
It has been some five years since we were confronted with the first album from Resurrection Kings [simply called 'Resurrection Kings'], a new band featuring guitarist Craig Goldy [Rough Cutt/Giuffria/Dio], singer Chas West [West Bound and Jason Bonham Band] and drummer Vinny Appice [Black Sabbath/Dio/Heaven and Hell].
Clearly the veteran musicians have not been sitting on their bum for the last five years, being involved with several other projects. Vinny toured throughout Europe with his own band featuring Dutch bass player Barend Courbois and also with the band Last In Line. Craig Goldy was involved with the Dream Child project delivering the 2018 CD 'Until Death Do We Meet Again'.
Here we are in 2021 and under the guidance of Alessandro Del Vecchio [who also contributed some bass and keyboard parts plus had a hand in the composing of the songs] the experienced trio come up with a heavy record where the influences of the former bands of the musicians are easily recognised. This group is not reinventing the musical wheel on their eleven songs but they sound as massive and as solid as a rock, that is for sure.
The riffs and drum parts of Goldy and Appice have a Black Sabbath/Dio feel but with the big vocals of Chas West they developed a sound that also has ingredients from bands like Rainbow and [if you want] Giuffria as the style of West has some similarities with David Glen Eisley while he was fronting Giuffria. Both singers have that slight feel for expressive and emotional singing. A bit like the best of both worlds when we are talking about classic rock meets melodic rock. I mean a ballad like ,,Don't Blame Our Love'' could have been on a Giuffria album [certainly one of the best songs on 'Skygazer'].
There are plenty of good songs present on 'Skygazer', like the powerful title track or the fierce rocker ,,Is This The End'' with a driving guitar and drum pattern.
Like I said Resurrection Kings are not a band that is trying to sound hip and modern. They are firmly sticking to their musical roots and there is nothing wrong with that. Especially as Resurrection Kings have completed a professional, hard rocking and very satisfying job indeed.