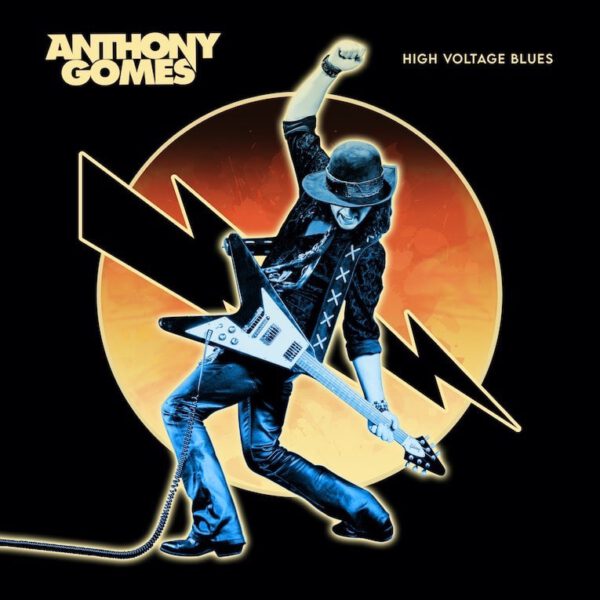 Review | Anthony Gomes – High Voltage Blues
Rat Pak Records
Singer/guitarist Anthony Gomes has been around for a while now with a dozen or so records to his name. Still 'High Voltage Blues' is the start of a new era as it is his first for Rat Pak Records. It turns out though that this record is not a completely new one.
COMPILATION
Gomes and his record company came up with the idea to start the partnership with a compilation album with some new and fresh songs added to the mix. If you are not so familiar with the catalogue of Gomes I suppose 'High Voltage Blues' is a perfect way to get to know what Gomes is all about. He combines bluesy rock with heavy rock, a touch of soul and southern rock with a sensitive ballad or two. As a guitarist he is as raunchy as can be, as a singer he has a raspy voice that at moments can sound ultra-sensitive as well. His lyrics are very tongue-in-cheek. His music is most of the time aimed to give his fans fun and a laugh with his semi-sexy lyrics, his up-beat singing and his quite exorbitant guitar exploits.
If you (like me) have all his work this album only offers less than a handful of new songs like the raunchy opener ,,Painted Horse'', a hard rocking track where nobody less then Billy Sheehan on bass and Korn-drummer Ray Luzier help the Canadian out. On songs such as the cheeky ,,Fur Covered Handcuffs'' and ,,Blues-A-Fied'' Gomes manages to hit the right snare over and over again. They are typical Gomes-songs, rocking, intense and delivering a smile on your face. The whole record is filled with a bunch of good time songs such as ,,Red Handed Blues, ,,White Trash Princess'', ,,Blues In The First Degree'' and ,,Peace, Love & Loud Guitars'', but they are all taken from older albums, although they have been re-recorded it seems.
MEANING
I am not sure what the meaning or purpose of this album is. Is Rat Pak trying to introduce Gomes to a bigger audience with releasing a sort of best of re-recorded with some extra's? If that is the case I wonder why the sensitive soul rocker ,,Darkest Before The Dawn'' is featured twice on this edition as there are some other ballads in his catalogue that are better, at least in my humble opinion. Also the track ,,Born To Ride'' is a bit middle off the road . You can put a few question marks behind this release as for the dedicated fan there is not that much new material to hear.
On the other hand. 'High Voltage Blues' showcases exactly who Anthony Gomes is. If you like to be introduced to his music that is being described by the man himself as 'BB King meets AC/DC', 'High Voltage Blues' is your guide to a good portion of fun and entertainment. Gomes is a guy that has always managed to create little videos of a lot of his songs. Feel free to check him out via YouTube before deciding is this is your cup of tea or not.
Release date: 23 September 2022