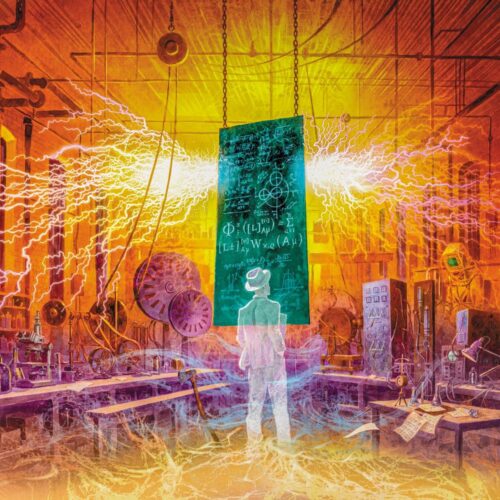 Review | Arena – The Theory Of Molecular Inheritance
Verglas Music
The tenth Arena studio-album should have been out somewhere in 2020 with new vocalist Damian Wilson (Headspace/Threshold) making his debut, but through circumstances (including the pandemic) recordings and tour arrangements were postponed. It took another two years for there was finally some new work available. The band is currently touring the UK promoting their latest epic release 'The Theory Of Molecular Inheritance'.
KEY MEMBERS REMAINED CONFIDENT
Although vocalist Paul Manzi called it a day close to four years ago the key members remained confident that they would find a good replacement for Manzi. Clive Nolan (keyboards), Mick Pointer (drums) and John Mitchell (guitarist) kept slowly but surely working on new material and when they managed to get the multi-talented Damian Wilson into the band the puzzle was complete again. It was just a question of putting some pieces (read songs) into the right place. With getting Wilson the band landed a major coupe. Damian Wilson has a long career with Threshold, Landmarq, Headspace, solo-albums and various guest appearances on Ayreon and Star One-albums. In the progressive and hard rock scene he has built up an immaculate reputation.
ARENA STRUCK GOLD
When you hear the full scale on this album as fan of neo-progressive rock and heavy rock you can only conclude that Arena has struck gold on this record. A production that is powerful yet as clear as crystal, majestic structured songs that can sound happy yet moody at the same time. Add to that a singer in top shape and four instrumentalists on top of their game and for more than an hour you are in a musical heaven that only Arena seems to be able to create. Rich colourful luscious melodies, sometimes fast and intriguing, sometimes super intense but always drawing and demanding your attention to what is happening on the album. All songs are connected with each other, call it a concept album, a thing that Arena has done in their past before (think about 'The Visitor').
NO EGOTRIPPING
With such albums you often find that several musicians overdo it by creating ultra-complicated themes and topics. And although the music of Arena certainly has complicated structures and lots of variety and mood swings, there is no ego tripping going on, although Mitchell and Nolan have plenty of solo spots where they are able to excel, yet it is always in favour of the song. For me this whole album is a highlight where everything has come together. That is why I have not mentioned any individual songs, as 'The Theory Of Molecular Inheritance' is from start to finish an absolute cracker. In its genre Arena once again proves to be top notch and together with the latest Cats In Space album the UK rules the progressive rock scene like never before!
Release date: 21 October 2022