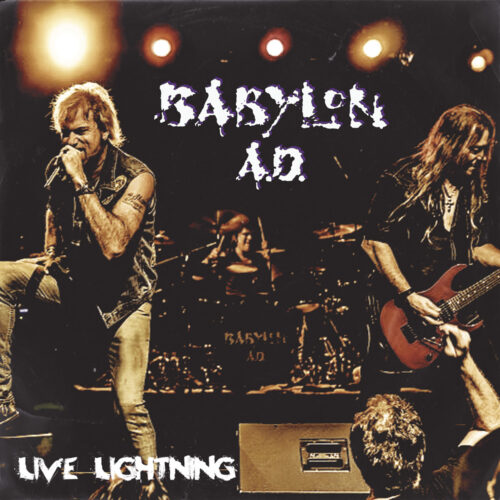 Review | Babylon A.D. – Live Lightning
Perris Records
Originally hailing from the Bay Area/San Francisco the melodic heavy rock band Babylon A.D. moved to Los Angeles in the late eighties looking for a record deal like so many others on the Sunset Strip. They showcased at the Foundations Forum and some local clubs and got signed by Arista, a major label. At that time in 1989 I happened to be in L.A. and saw the band several times. They sounded good, cocky and reasonably heavy being led by singer Derek Davis, who was also the main song writer. The first album had some real quality songs (released as 'Babylon A.D.').
One of their songs was also used for a Hollywood movie. Yet, the second album 'Nothing Sacred' that came out in 1992 was one of the victims of the rise of grunge. It took them ten years until a third studio-album 'American Blitzkrieg' saw the light of day, but that did not do it for the band either. Several of the musicians started doing some projects away from the band. There were some live recordings released in between but in 2017 the original line-up once again worked together on the album 'Revelation Highway' (released by Frontiers). That was a decent effort, although the level of the first album was not matched.
BABYLON A.D. BOOTLEG
With still four out of five musicians from the early days in the band Babylon A.D. recently did some more shows. Their soundman recorded a bunch of shows and the band decided to use these recordings for 'Live Lightning'. Originally recording sixteen tracks they settled for fourteen with the bulk of them coming from that first album that is still their best in my opinion. All albums are represented on 'Live Lightning' although the bunch is coming from 'Babylon A.D.' and 'Revelation Highway'. To put it bluntly this record sounds more like a bootleg. The voice of Derek Davis dominates, the guitars and drums are at times too much in the background for me.
A further problem is that the voice of Derek Davis has not really been able to stand the test of time. Not that his singing is impossible to listen too but the reach is not completely there anymore and on the ballad ,,Desperate'' his performance is shaky. That is a pity because songs like ,,The Kid Goes Wild'', ,,Bang Go The Bells'', ,,Maryanne'' and ,,Hammer Swings Down'' (all coming from that first album) are still pretty cool. You can hear that these are no top-notch recordings. It does sound pretty raw and at some parts that has its charm but whether that is enough to recommend 'Live Lightning'? I beg to differ. Later this year the band hopes to release its fifth studio-record. Maybe Derek and the boys can take their sweet revenge. Let's wait and see.
Release date: 17 March 2023