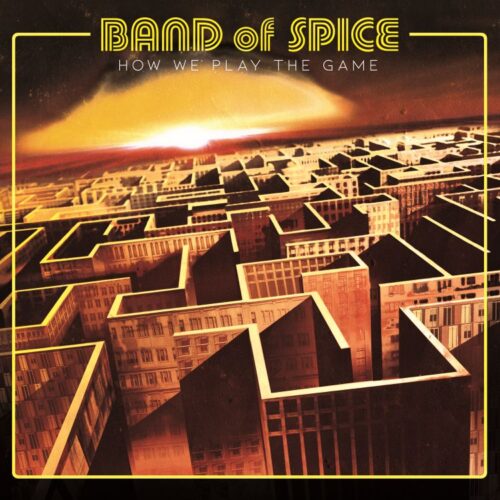 Review | Band Of Spice – How We Play The Game
Scarlet Records
With 'By The Corner Of Tomorrow'(2021) we saw the re-launch of this Swedish band originally founded in 2010. Band Of Spice mainman, songwriter, singer, guitarist Spice (Spiritual Beggars, Kayser) is heavily influenced by 70/80s hardrock. Their fifth album 'How We Play The Game' is a bit faster and heavier than its predecessor but still a logical continuation. The trio, besides Spice consisting of bassist Alexander Sekulovski and drummer Bob Ruben, comes up with a pretty diverse album still very much rooted in the 70s and 80s.
STAND OUT
Whether it is a song with a great doom riff (,,Gone Insane''), hypnotizing rhythms and screaming vocals (,,Demonized'') or blistering riffs, galloping rhythm and spat out vocals (,,My Game'') they all grab you. ,,Below The Sun'' is a bit monotonous vocal-wise but it fits the music perfectly, textbook stoner metal. One of the stand out tracks on the album is ,,Control'' with its familiar Megadeth-like riff, ominous vocals, tempo change in the middle before picking up speed again with a fast solo and galloping drums.
MEAN RIFFING
The fastest song is followed by the slow ,,Descending'' with its nice bass intro and pure Sabbath sound. Spice and co speed up things again with ,,Offside'' that contains some mean riffing and angry vocals. The short riff-based instrumental ,,Little Casino'' leads up to ,,A Song For You'', the album closer. A pretty catchy, almost poppy song provided with a cool arrangement and a tasteful, Thin Lizzy-like twin solo.
LABYRINTH
The connection between 'By The Corner Of Tomorrow' and 'How We Play The Game' is also obvious on the cover. The labyrinth that was part of the cover of the previous album is the main focus on the new one, which I think is a clever move. If you liked the previous album, you'll love the new one.
Release date 23 September 2022