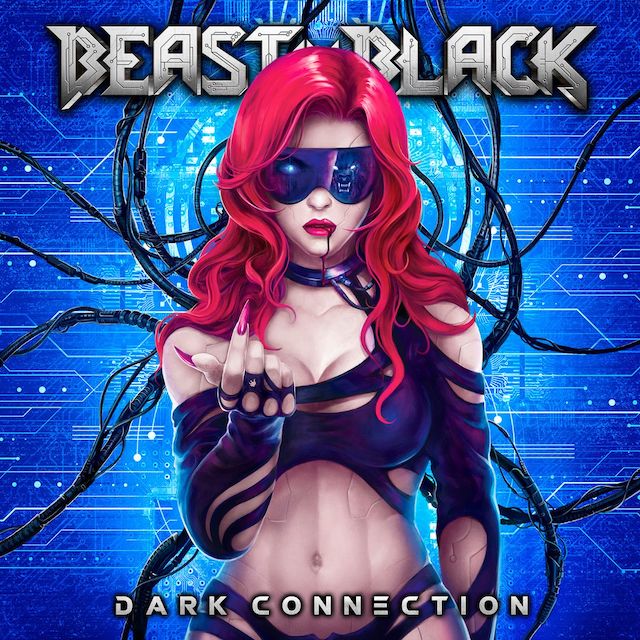 Review | Beast In Black-Dark Connection
Nuclear Blast Records
The Finnish-Greek–Hungarian band Beast in Black was founded in 2015 in Helsinki by guitarist and songwriter Anton Kabanen. `Dark Connection' is the 3rd studio achievement of this Power-Metal orchestra. Like a Swiss clockwork this outfit delivers a new album every 2 years.
THE EXPECTATIONS
What can we expect from this album? A big bowl of melodic power metal, written with love for the profession. Fat guitar riffs, ripping vocals by singer Yannis Papadopoulos, pumping drums and bass parts and catchy melodies. So, basically all the ingredients we know from their previous albums. And if you're looking for new paths, you won't find them. What we do find on `Dark Connection' are 11 songs that are above average quality and in my opinion these guys just delivered a very cool album.
ONE BIG SURPRISE
Album opener ,,Blade Runner'', immediately shows what Beast In Black have in store for us. What you will hear is a beautiful keyboard introduction, heavy guitars, along with great melodies, while Yannis is showing his great vocal range. ,,Bella Donna'', starts in a beautiful bombastic way. The verse of this song is pounding big time and the band's signature melodic choruses are simply of a higher level. The intro guitar riff of ,,Highway To Mars'' is also one to die for and I can already imagine this in a live situation, leading it to a boiling room that will explode. Well, I can actually analyse all the songs one by one like this, but my advice is actually to just give it a spin. Be surprised by the high level of the music.
In addition to the well written and performed material I would like to point out that the album is produced wonderfully. It definitely increases the pleasure of listening a few steps up.
ABOUT MICHAEL JACKSON
I can conclude that Beast In Black really surprised me with the 11 new tracks in a very pleasant way. Though unfortunately, I can't say that for the 2 extra covers. I don't feel that they really add much to `Dark Connection'. Yes, of course I do understand that the band likes to pay tribute to their heroes Manowar with the classic track ,,Battle Hymns'', but what they want to prove with their version of Michael Jackson's ,,They Don't Care About Us'', I absolutely have no clue. What were they thinking? In my humble opinion it IS and remains a terrible song and even this top band can't change that.
Beast In Black will be performing live on November 27 at 013 in Tilburg [NL] and I think this could be a great live experience. Let's hope the show will actually take place, given the unpredictable times we live in. But what no one can take away from them is a wonderful album called ,`Dark Connection''. A must for lovers of melodic power metal!
Release date 29 October 2021