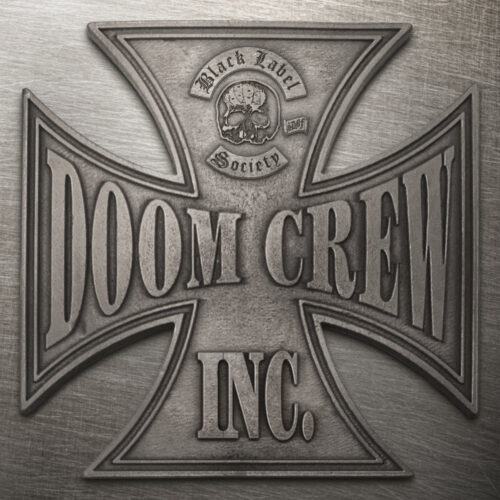 Review | Black Label Society – Doom Crew Inc.
Spinefarm Records
The new Black Label Society album 'Doom Crew Inc.' will be unleashed on the band's loyal supporters any time soon. A legion whose support stretches back to 1998. The Black Label Society biker-style battle vest "kutte" is as ubiquitous at hard rock and metal shows as a black t-shirt. 
Zakk Wylde's band has been releasing records with some regularity since 1998. Ten studio albums, two live albums, two compilation albums, one EP, and three video albums, to be exact. A work ethic that is far from being lazy.
Can this album still surprise? Or have we heard about everything from this band already?
FAMILIAR FEELING
I think the answer to those questions lies somewhere in the middle. What I especially like about this album is that it immediately feels very familiar. A bit like a warm bath. The typical vocals and of course the dazzling solos of mr. Zakk Wylde, can be distinguished from thousands.
The tempo of the songs on `Doom Crew Inc.' tends mostly towards the slow [ballad] and mid-tempo side. With the exception of the up-tempo ,,Destroy & Conquer'' and ,,Gather All My Sins''.
Album opener ,,Set You Free'' starts with a slightly 'classic' arrangement and then turns into a lingering, mid-tempo beast of a song. While the rest of the tracks all have their own grooving way, which is nice to listen to.
The soft, ballad side of BLS is represented by ,,Forever And A Day'', ,,Love Reign Down'' and ,,Farewell Ballad''. Songs that remind me of Zakk's side of playing that he did on his 'Book Of Shadows' solo album. This is mainly due to the atmosphere of those songs.
THE BLACK VATICAN
Like every BLS album since 2010, the band tracked 'Doom Crew Inc.' at Zakk's home studio, aka the Black Vatican.  An excellent choice, because sound technically there is little to criticize on the album. I think that the fans of BLS do certainly get a solid album. Perhaps not very surprising, but with all the elements that make the band what it is. Good compositions, Zakk's recognizable vocals and wonderful lead guitar parts from one of the greatest players out there.
Best songs on the album for me: ,,Farewell Ballad'', ,,Destroy & Conquer'' and album opener ,,Set You Free''.
Release date 26 November 2021