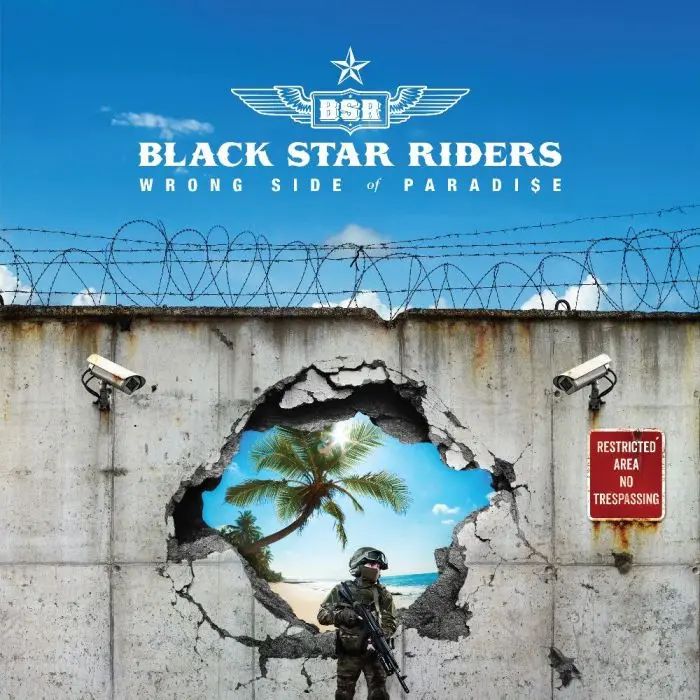 Review | Black Star Riders – Wrong Side Of Paradise
Earache Records
Founded in 2012, Black Star Riders releases their fifth album 'Wrong Side Of Paradise'. The band, which originated from the then Thin Lizzy line up, has already released quite a few awesome hard rocking albums, always with a nod to Thin Lizzy's legacy. This new album is the first in the new line-up, because co-founder Scott Gorham has left the ship and now singer Ricky Warwick is the only one left of the original 2012 line-up. Together with Robbie Crane on bass, Sam Wood on guitar and drummer Zak St. John, they have been working hard on the record last autumn.
EARACHE RECORDS
This is the first record they release through the Earache label and despite the fact that this label is mainly known for heavy weights such as Napalm Death, Carcass or Bolt Thrower, the Black Star Riders have remained faithful to the straight forward hard rock formula, with a touch of Lizzy, which we know from them. On this album the twin guitar parts are a lot less present. Quite a shame because that is an element in the earlier albums that I could certainly appreciate.
MID-TEMPO ROCK SONGS
The band treats us to 10 new songs and 1 cover. The Osmonds classic ,,Crazy Horses"! This one didn't necessarily have to be on the album since the performance sticks pretty close to the original and therefore doesn't add much. From the original work the album opener and title track ,,Wrong Side Of Paradise", ,,Hustle", ,,Green And Troubled Land'' and ,,Don't Let The World (Get In The Way)" are the most appealing songs. Certainly in a live ambiance they will do the trick as they are wonderful mid-tempo rock songs.
THE X-FACTOR
I can't get rid of the feeling that the rest of the material could be more like singer/songwriter material by singer Ricky Warwick. I really miss the sharp edges here and there in songs like ,,Riding Out The Storm", ,,Catch Yourself On" or ,,Burning Home". Nice songs, but somewhere missing that thing, which you often can't put your finger on. Some call it the X-factor.
NEATLY
The musicians are well crafted musicians and have managed to put everything neatly on the record. Production wise there is nothing to criticize. However, I miss the real bangers on the album, like ,,Another State Of Grace" or ,,Heavy Fire" did for me on previous Black Star Riders albums.
SOLID
'Wrong Side Of Paradise' turns out to be a solid album, but there are no real highlights. Live, however, the Black Star Riders will undoubtedly be a true party to go to again. And I'm glad that there are still bands that know how to release solid craftsmanship in the hard rock sector.
Release date: 20 January 2023