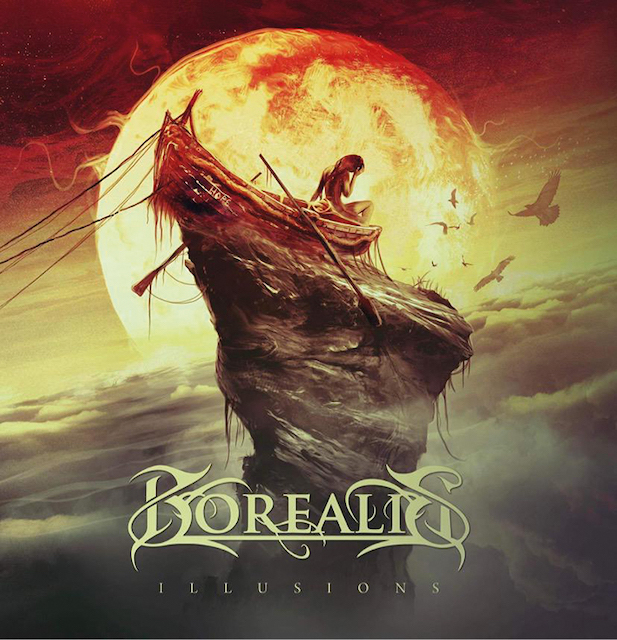 Review | Borealis – Illusions
AFM Records
Canadian melodic power metal band Borealis returns to the fold with their fifth studio album called 'Illusions', which is a continuation of the story from their previous album 'The Offering', released in 2018. After a four-year hiatus we can enjoy a new high class melodic metal album filled with strong melodies, excellent instrumentation, great guitar solos and strong powerful vocals, in the obvious veins of Evergrey and Symphony X.
DARKER THEMES
The eleven new tracks however have much darker themes than before and also definitely more bombastic orchestral elements which is due to the fact that Borealis asked composer and multi-instrumentalist Vikram Shankar to compose and add all the synthesizers and orchestra elements. This certainly added a new and interesting musical level to the music. 'Illusions' starts with the short title track featuring keyboards soundscapes and the overly dramatic vocals (without words by the way) of Christine Hals, followed by a 12-string guitar intro, which leads into ,,Ashes Turn To Rain". This one is extremely bombastic filled with galloping guitar riffs, a very Evergrey-like catchy chorus and a remarkable speedy guitar solo.
IMPRESSIVE
Follow up ,,My Fortress" is one of the highlights as this one is truly dominated by the guitars of Ken Fobert and Matt Marinelli, so check out those impressive speedy, but very melodic, guitar solos in the middle and the end of this epic track. ,,Pray For Water", being the first single of this album, is again fast and also again with a bombastic, orchestral intro, while ,,Burning Tears" is the obligatory ballad. Featuring a vocal duet between Marinelli and guest singer Lynsey Ward the song is mediocre and does not really come to life. ,,Believer" is an up-tempo song with lots of shredding and this one again truly sounds like Evergrey. ,,Face Of Reality" and ,,Abandon All Hope" are power ballad-like tracks featuring flashy, soaring guitar solos, sometimes even twin guitar solos, lots of orchestration and almost identical musical intros.
CHEESY
The music of Borealis is filled with elements from bands such as Nightwish, Symphony X, Avantasia, Pyramaze, Kamelot and especially Evergrey, so if you like those bands then this album will be a delight to listen to. The musicianship is top notch throughout the entire album. However, after listening to 'Illusions' several times I feel that most of the songs and melodies sound a bit too much alike and I can really do without the two mediocre songs ,,Illusions" and ,,Burning Tears" as they are again too cheesy and too poppy. Enough said, there are still lots of things to enjoy on Borealis's new album. Listening tip: ,,My Fortress".
Release date: 7 October 2022