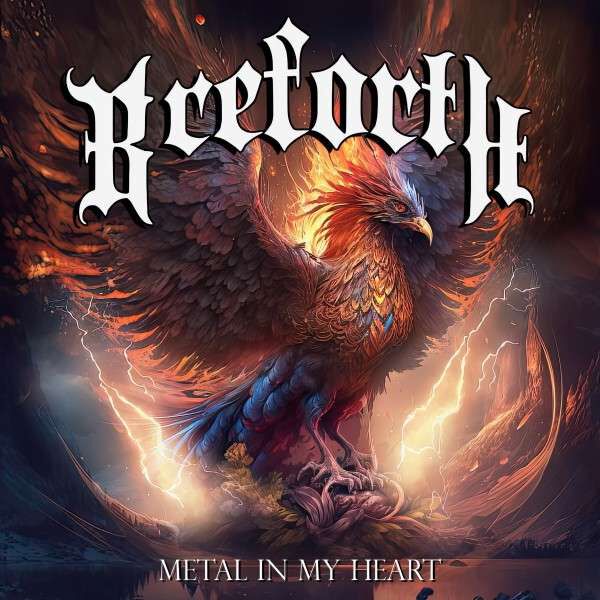 Review | Breforth – Metal In My Heart
Metalopolis Records
Guitarist Jürgen Breforth is a veteran in the German scene. He started the band Mad Max together with singer/guitarist Michael Voss in the early eighties. The group has been together for years although there were some times that the band was inactive. How the future of Max Max looks right now is in the wind as Voss decided to say goodbye to the band leaving Breforth to run things. No news about a definitive farewell to Mad Max has been announced though. To kill some time Jürgen Breforth started a new outfit.
BACK TO THE BEGINNING
With Breforth, the guitarist goes back to the beginning. Back to the early eighties, back to the New Wave of British Heavy Metal. The time that a band like Accept started to progress into a German stronghold of metal. Do not expect a continuation of the more melodic approach of Mad Max here. Breforth is pure old style heavy metal. Jürgen Breforth recruited singer Peter Lenzschau, guitarist Erik Blumenthal, bassist Jens Lukermann and drummer Arne Fleischhut. The ten songs on 'Metal In My Heart' are inspired by bands like Accept (hear that guitar lick in opener ,,Reset My Sanity''?) and other more traditional rockers like Scorpions. Priest, Saxon, etcetera.
NOT MUCH ORIGINALITY
The thing is that Breforth does not even want to hide their influences which leads to an album that does not show much originality. The band goes hard at it, that must be said. Fact is though that several songs are not very memorable and that vocalist Lenzschau is certainly not the best singer on this planet with his slight accent and rather screamy approach. It is not that he completely stuffs up the album. Towards the end there are a few decent songs on there like the speedy rocker, ,,Nighttrain To Paris'' (best track in my opinion).
BREFORTH – THE CONCLUSION
When you look at the album, well, there are not enough good songs there, although the guitar work by Breforth and Blumenthal is certainly not bad. But from a guy with the experience and background of Jürgen Breforth I honestly expected more than this mediocre affair. Unfortunately, not an A-category release.
Release date: 25 August 2023