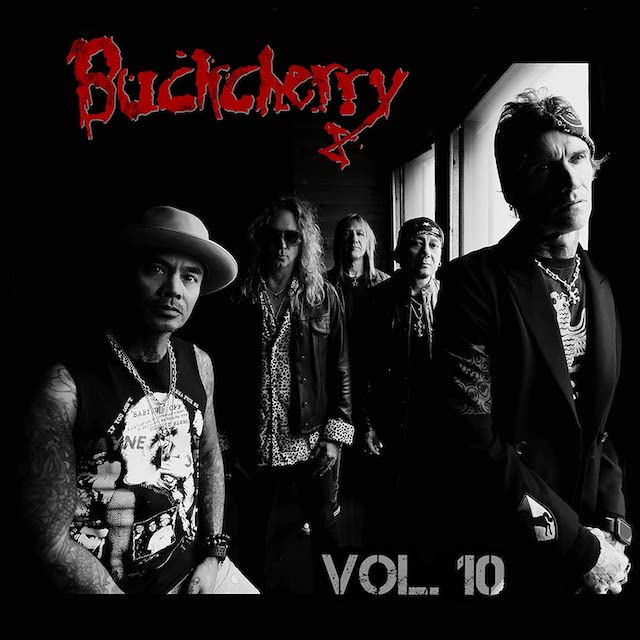 Review | Buckcherry – Vol. 10
Round Hill Records
Two years ago, predecessor `Hellbound' was released, and now Buckcherry reports back with a brand new album. It is simply titled `Vol.10', since this is the band's 10th album and I wonder what has changed musically for Buckcherry in the past two years. Well, it seems very little, as the band continues in their well-known way of making music. That means sleazy hard rock songs, and you know that's fine because that's what the band is good at.
DEF LEPPARD
Singer Josh Todd once again sings his way through the 10 new songs with his recognizable voice. Perhaps a quieter song like ,,Feels Like Love'' does show the slightly more commercial side of Buckcherry, or should I say the Def Leppard side! And that's not a bad thing at all, because Buckcherry has already proven for a long time that they don't want to reinvent the musical wheel, but just want to record a bunch of nice groovy songs and make nice music.
Once again, the band has managed to record a fine & pleasant-sounding album, of the kind that will make you press your gas pedal just a little bit harder while driving on the highway. Don't whine, just play loud!!!
BUCKCHERRY – SUMMER OF 69
Songs like ,,This And That'', ,,Good Time'', ,,Let's Get Wild'' are fine tracks and especially if you value sleaze rock. For fans of bands like Little Ceasar, Warrior Soul definitely another tasty album to purchase. However, whoever came up with the idea of putting track 11 on the album should be checked, in my opinion. The Bryan Adams hit ,,Summer Of 69'' is actually covered in a meaningless way and adds nothing to the original. In my opinion, this cover even detracts a bit from this fine album. Anyway, that is my opinion, perhaps there are others who find this a great addition to the album.
As said, `Vol.10' is a fine 10th Buckcherry album, with all the elements we know the band for. Only song #11 should be skipped for a moment.
Release date: 2 June 2023