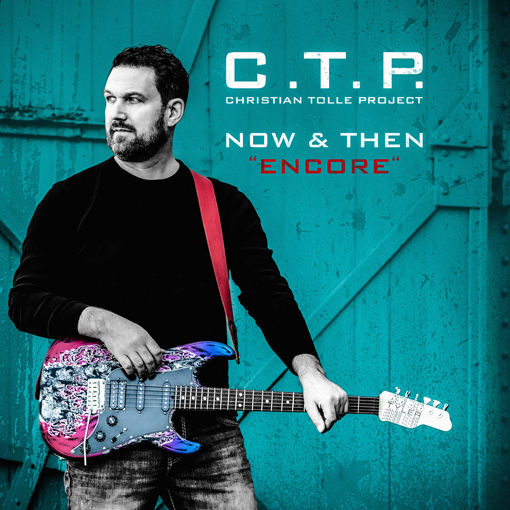 Review | C.T.P. Christian Tolle Project – Now & Then 'Encore'
ChrisTones Music
Guitarist/multi-instrumentalist/composer and producer Christian Tolle hails from Germany and has been in the business for several decades releasing a handful of albums, 'Now & Then Encore' being number six. He also has been a music journalist and comes from a very musical family. Nowadays Christian Tolle releases his music on his own label.
A STEADY CAST OF GUESTS
During all these years Christian has been working with a steady cast of guest musicians of which singer David Reece and Praying Mantis shouter 'John 'Jaycee' Cuijpers have been regulars. These two experienced singers are present on eight of the ten songs on 'Now & Then Encore' (each four songs) while the other two songs are being sung by David Frazee (who worked with guitarist Michael Landau). It is safe to say that as far the singing aspect is concerned Christian certainly has taken take of business.
As always Christian has a few other guitarists participating like Michael Thompson and Mathias Dieth (people like Steve Lukather and Doug Aldrich guested on earlier albums). There is also an important role for keyboardist Morris Adriaens who adds some really subtle and cool sounding sounds to the mix while mister Tolle himself takes cares of the guitars, bass and drums plus the productional side of things.
HEAVY ROCK RULES
On this record melodic heavy rock rules the roost. The record is a pleasant mix of heavy rock, a bit of AOR and some more up-tempo rock that touches metal (,,Fire Away''). The bulk of the music is written by Christian himself while Reece and Cuijpers have assisted on the lyrics. The album also offers spots for two cover songs. First of all we have a new version of the 1981 song ,,In The Dark'' by Billy Squier (from Billy's 1981 album 'Don't Say No') and (another) version of the Desmond Child/Paul Stanley composition ,,Sword And Stone'', a track that in the past was already recorded by Bonfire on their 'Point Blank' album and by Loverboy-guitarist Paul Dean on his solo-album 'Hardcore'.
As a guitarist Christian Tolle sounds really impressive but he is not a guitar slinger that is keen to show off his abilities. His playing is always in the best interest of the song and together with an excellent sound that is one of the attractive sides of this album. If you are interested in getting this album, I can advise you to visit the website www.christiantolle.com for more information on the artist and there is also a link to his web shop. All in all, a pretty cool sounding and interesting rock album from an artist that operates under the radar.