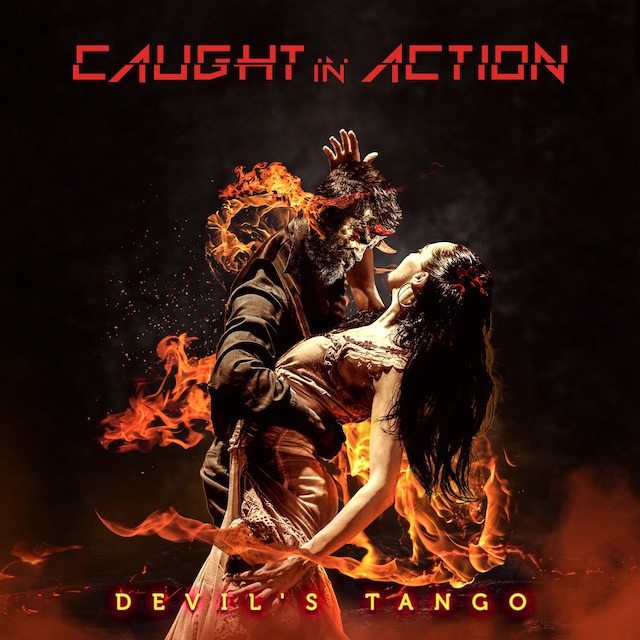 Review | Caught In Action – Devil's Tango
Steelheart Records
Overwhelming is the best term to cover this remarkable 'under the radar' album of Swedish Caught In Action. Comprised of seasoned musicians the band certainly lives up to their name. `Devil's Tango' is an album packed with action and blends the key ingredients from the best melodic hard rock and AOR, fused with a crisp modern mix, bridging to the present. An album spent two years in the making, that will certainly please all fans of the genre.
THE KEY INGREDIENT
It is one of those albums that instantly catches fire. Not leaning to strongly on specific streams it, much like the House Of Lords debut, blends styles and morphs towards the tunes at hand. All marked with key ingredients from the widest of melodic rock's genre, the band fires on all engines. Crisp and highly melodic guitar playing with insane melodies, riffs and solos delivered by Richard Jönsson are fused with swirling and pompous keys from Ronnie Svard/Ménito Ramos. Occasionally the band runs on classic thrive like in the hammering and heavy title track, which comes tango-ing in and is kicked into life with ponderous drums and a Hammond psyching it up. Much like classic rock tracks such as Deep Purple's ,,Burn" it pulls forward, yet with slicker chorus and bridge.
Key ingredient is Marcello's insane flexible vocal capacity, who switches from heavy roars and power vox to slick melodic registers without missing a note.
PRIME ROCKER
The vocalist instantly impresses on the arena rocker ,,New York City" with his clean delivery, reminiscent to Mark Free's in his pre-Marcie days, Marcello has an oozing warm register and can open to a roar (think King Kobra's ,,Hunger") as well as pitch it up high. He creates total compositional freedom to explore the widest of styles from the genre, and more than once surprises with his impeccable range and delivery. ,,Gave You My Heart" also is a prime rocker with welling Hammond and intense guitar licks alternated with plucking short notes. Modern, but with classic rock compulsion and insane guitarwork and keyboard interaction, it marks a sophisticated style. It also has an intense drive with tribal rhythms and soulful swagger. ,,Closer To My Dreams" also taps the hard rock vein with comparable drive, but more classic rocking elements and staccato riffing.
Especially when the band hits the melodic AOR notes Caught In Action and Marcello radiate confidence, laying down one extraordinary performance after another.
OUTSTANDING GUITAR WORK
,,Miracle" vocally switches back and forth in registers and is held up by some wonderful heavy riffs supporting the ear mingling guitar -and key melodies. The ponderous rocking foundation laid down by Ricardo Dikk (bass) and Mauro Ramos (drums) is solid and tight as a Swiss clock ticking. Versatile propelling the tracks it gives a kick and hit when songs need, creating insane dynamics. ,,Too Late For Love" also features the Survivor and Signal ingredients, though it sounds somewhat condensed in production. Guitarwork stands out, as does the grounded bass line pulsating like a heartbeat. ,,First Time" and "If Only" pump forward with the latter displaying the band's wonderful guitar-keyboard interaction. "It Is What It Is" is another prime example of the band's slick melodic execution. Tradia and Kooga come flying by, without lacking the typical CiA touch. Pompous section and crisp melodic sections with welling pitches.
POP AND POWER
The slow mover ,,Simply Man" displays the band's mature songwriting skills. Typical slow moving it follows the classic path but manoeuvres around the predictability swamps. Much like Creye, Caught In Action has a poppy edge without lacking the rocking ingredients to land down deep and hard. It is exactly what the mandatory ballad ,,It Was Always You" does: stand out with modern twists. Firing guitar pitching up and Marcello touching deep. There's a sincerity oozing and the vocal interaction is top notch, while guitars keep swirling the emotions. That same appealing vocal delivery is brought on the wonderful ,,I Will Wait" which falls in between the semi-paced rocker and power ballad, with reminiscent hooks and excellent musical interaction. Marcello draws a hoarser register and switches to more nasal vocals on demand, adding to the variety and style of the song.
MUSICAL FIREWORKS
Caught in Action certainly impresses with this first effort. The musicianship and songwriting craft is tremendous with all style fused into a generic CiA-style that feels comfortable and smooth as well as rocking and infectious. The musical fireworks crackle with light and spark with life. There's a crisp modern edge like with Creye, yet it is rooted deeper in the heydays of the melodic rock era, sinking their teeth into contemporary rock and English pomp. Diverse like the House Of Lords debut, and as consistent bearing the band's unique marks. Colliding styles and fusing it with this modern poppy edge, CiA certainly delivers an album with infinite growth, for every fan of the genre.
Highly recommended!