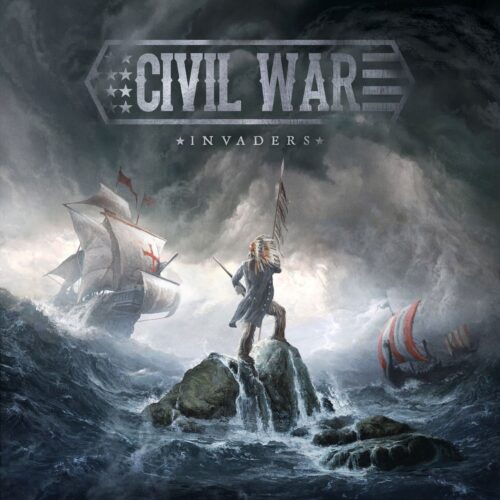 Review | Civil War – Invaders
Napalm Records
Civil War's 4th album, 'Invaders', is again a formidable musical example of power metal in its purest form. This Swedish band, founded by former Sabaton members, returns with ten brand-new power metal songs dealing with, again, war and war-related pitched battles. Civil War has a new singer called Kelly Sundown Carpenter (ex-Darkology and ex-Outworld) and his typical vocals really fit in with the sound of the band, that really reminds me of Rhapsody Of Fire!
The band also has a new guitar picker, namely Thobbe Englund (ex-Sabaton) and he shreds like hell on this album, creating a rather heavy guitar sound for the band. So, what can you expect? You will get blasted away by pumping power metal with soaring solos, metal galloping galore, crunchy riffs, stirring solos and simple lyrics (sad but true). So: old school power metal indeed!
AFRICAN RHYTHMS
Opening track ,,Oblivion" featuring an esoteric intro, is an apocalyptic, biblical epic song with some obvious Iced Earth musical characteristics, setting the tone for the entire album. Follow up ,,Dead Man's Glory" is a rather catchy, mid-paced upbeat song, while ,,Heart Of Darkness", featuring African rhythms, reminds me of Kamelot. ,,Andersonville" is the power ballad of the album, while ,,Carry On" and ,,Soldiers And Kings" are both mid paced melodic metal tracks. ,,Slaughterhouse Five", named after the well-known Kurt Vonnegut novel, is a rather dark song and ,,Battle Of Life", featuring a bombastic orchestral intro, will be a true live staple in the future; a 100% power metal anthem!
SABATON
,,Custers Last Stand" ends this album and is a new version (re-recorded) of the song on the 2012 EP. Civil War might be best described as a harder-edged version of Sabaton and if you like modern power heavy metal then 'Invaders' is a must album for you.
Release date: 17 June 2022