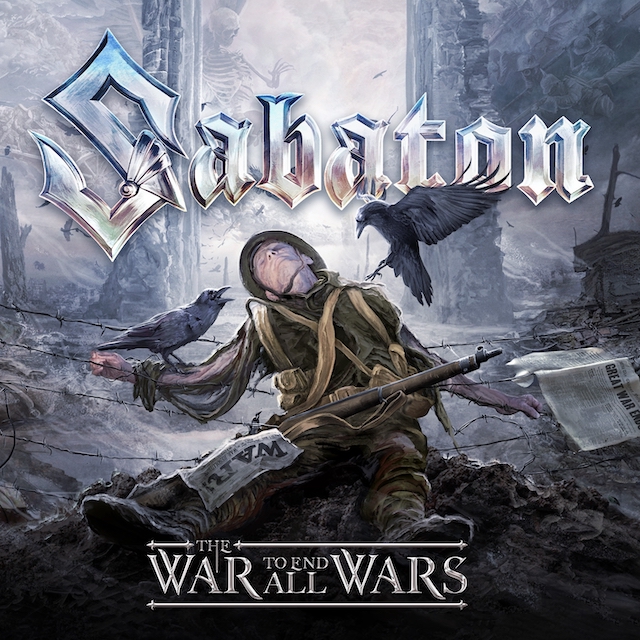 Review | Sabaton – The War To End All Wars
Nuclear Blast Records
In 2019 Swedish heavy metal band Sabaton released the album called 'The Great War', a concept album about World War 1 and now three years later 'The War To End All Wars', Sabaton's tenth studio album sees the light of day. This new album, again a concept album, is a sequel to the band's 'The Great War' album and this one also focuses on certain "happenings" around World War 1.
THE GLOBAL METAL APOCALYPSE AWARDS
The first single of this album, ,,Christmas Truce'', was released on 29th October last year and was nominated for Music Video Of The Year at the 2021 Global Metal Apocalypse Awards; unfortunately, it did not win…. ,,Christmas Truce" is probably the best and most powerful track on the album, featuring beautiful, melodic orchestrations and a more than excellent very addictive guitar-driven chorus ("and today we're all brothers, tonight we're all friends, a moment of peace in a war that never ends") indeed! Furthermore, you can enjoy the melody of the X – Mas song ,,Carol Of The Bells" throughout the track and the outstanding background vocals of "our" Floor Jansen (Nightwish). 
Another highlight of this war-themed album is the song ,,Dreadnought'', about that notorious British battleship, as it is filled with great guitar hooks, a very melodic guitar solo and you could best describe this one as a heavy stomping anthem!
TYPICAL SABATON
On 11 February Sabaton released the third single called ,,The Unkillable Soldier"; a straightforward kick in the teeth heavy metal song and again, as almost any Sabaton song, it features a very catchy singalong chorus! The shortest song, clocking just over three minutes, is called ,,Lady Of The Dark", a heavy melodic mid paced track which seems the odd one out here…. However, Sabaton's tenth studio album is a must for the fans as it is heavy, very melodic, catchy, well played and very well produced, although of course, musically speaking there is nothing new under the sun, but you would not that expect that from Sabaton in the first place, so… 
Play it LOUD and "enjoy" the stories and the history told on 'The War To End All Wars' and I am looking forward to hear the new songs in the flesh on Graspop later on this year! Listening tip: ,,Dreadnought''.
Release date: 4 March, 2022