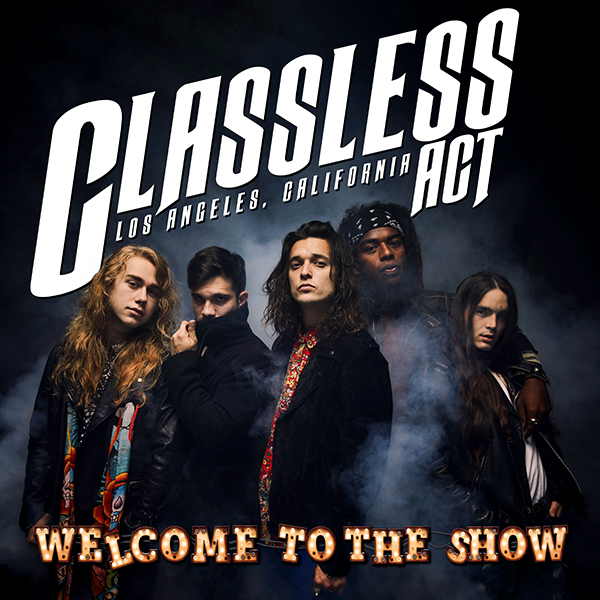 Review | Classless Act – Welcome To The Show
Better Noise Music
Classless Act are a relatively new band operating out of Los Angeles. Young and vibrant uniting over the irregular part of modern-day internet. Getting together through mutual likes, double-taps, direct messaging and tags, their mutual interest for classic rock soon found them as a brotherhood of rock. 
`Welcome To The Show' is their first effort and features guest appearances of none other than Justin Hawkins and Mötley Crüe's Vince Neil, while in the meantime rock icons such as Stephen Perkins (Jane's Addiction) oust their praise to the young band.
Prepping my review, I totally overlooked their opening slot on the current co-headliner stadium tour of rocking dinosaurs Def Leppard and Mötley Crüe. Kicking off every day the immensely talented squad rocks like a firestorm and raises the bar for the elder. 🙂 Cast aside your strollers, tug away your ventilators and life support equipment… cuz the Mötley Leppard has to ante up their game!
THE NEXT GENERATION OF ROCK WITH BALLS
Given their bio, these five youngsters are here to be a next-generation defining act. Well, they certainly play hardball on this gigantic debut `Welcome To The Show', as it rocks with balls and all. The opening ,,Classless Act" pulls ahead with immense licks and severe power. The band's guitar tandem Dane Pieper and Griffin Tucker lay down memorable riffs and sizzling classic guitar interaction with tons of rhythmic force, melodies and solos. Vince Neil adds his typical notes and belts out a wonderful job, but falls short of Derek Day's amazing vocals. Tremendous power, vim and vigour are unloaded in the sleaziest way. His range lies in between Andy Scott (Sweet), Justin Hawkins and Axl Rose when pitching up raw. Accessible but raw, with radiant feelgood power and appeal.
There's a sincerity in their bluesy delivery, and it all scatters with energy. Roots and Americana elements are present with its harmonica-guitar interaction, giving it a punch.
A COCKTAIL OF FEELGOOD
,,This Is For You", with Justin Hawkins guesting, is a mid-tempo energetic fuelled rocker with 70s power vibes and cruising vibe. With ,,Time To Bleed" they explore the melodic spectre even further. Opened with a slick Slash-ish lick it rolls into an Angus Young-like ,,Thunderstruck" swizzle before starts welling with great melodies and impeccable psychedelic rocking vibe. Bass player Franco Gravante and drummer Chuck McKissock lay down a sober but effective beat. McKissock's resonance is reminiscent to Ian Paice's typical style and it is powerful and energetic. Just check out the slower paced ,,On My Phone" with Chuck finding loads of swing and glam in the low end. It is mega-dynamic and executed with poise and power. The soloing is pristine and keeps tapping back to its bluesy swagger. 
It adds to the classic and contemporary grandeur of Classless Act that stylish falls in between the Mötley Crüe, The Darkness, Sweet and Cream, without lacking the Badlands signature melodic strut. Fusing styles from the contemporary era with hair metal and glam, they come out on top with a cocktail of feelgood injected melodic rock that makes Guns 'N Roses sound lacklustre.
CLASSLESS ACT IS CLASSY ON ALL ACCOUNTS
,,All That We Are" is tremendously driven with towering chorus and a Queen-reminiscent multi layered section. Moving back to power hauls ,,Made In Hell" has a stop 'n go motion, constantly exploding in its chorus, with Derek belting out raw energetic roars and soaring high pitches, switching in emotion. On ,,Storm Before The Calm" they switch back a couple of gears to delve into an emotional coaster that is vibrant and memorable. Its hook is tremendous and the chorus instantly nests, with severe power and lovable vibe. Bass and drums are intriguing and resonate heavily. Guitars with tons of reverb take the lead with Derek's vocal persistence wailing with glorious tendencies.
It preps us for the Stones-like opening chords and throbbing dynamics of ,,Haunting Love". Persistent it pulls forward with a rocking pulse and poppy melodies, echoing guitar slides and a psychedelic edged overall delivery. Switching to a bluesy register and swagger-packed dynamic the narratively sung ,,Walking Contradiction" is exactly what its title predicts. Dominant bass strut and striking melodies, with discomforting and pressuring musical interaction underneath slick bridge and chorus. It ebbs in blues tone but frequently unravels with Queen elements in drama and execution. It is another step up to the strut presented on ,,Give It To Me", the smokin' bluesy bar 'n grill rocker.
Injected with Aerosmith and Stones energy, it slides and roars with raw vocal delivery and vocal interaction. The low paced sizzling ,,Circles" paws in the Poison/Crüe catalogue with its melancholic vocal and guitar interaction, while maintaining enormous melodic gloat. Enuff Z'nuff comes to mind briefly, but Classless Act is classy on all accounts.
INSTRUMENTAL STORYTELLING
,,Thoughts Of A Dying Man" is another sublime tune with great intensity and musical diversity. It packs a glammy edge, melancholic tiding, and dramatic twists and turns, making it one of the finest tracks this year. It is bluesy, with howling guitars and great dynamics, and glorious arrangements deepening its sound, reverting back to the Queen components of drama and instrumental storytelling. Day again delivers in belting out a remarkable vocal performance, touching deep. Sensitively tapping the emotional vein with melancholic twists in his deliverance, but also makes his lyrics tower with power and fine accolades. Chorus and melodies are epic and powerful.
Classless Act certainly has a lot to go for them on this energetic `Welcome To The Show' album. Bringing in star vocalists on the first two tracks on your album is quite the challenge, but being gifted their strut and swagger, the band holds up with easily, surpassing prejudice. The daring outcome is an epic piece of work with insane power and devotion. Uniting styles of contemporary rock, glam, blues and Americana, they not only throw us back into those specific heydays, they also inject a ton of personality that holds up executing tons of memorable moments.
We are Classless Act and we play f*cking Rock 'n Roll; Lemmy would agree with me.
Release date: 24 June 2022