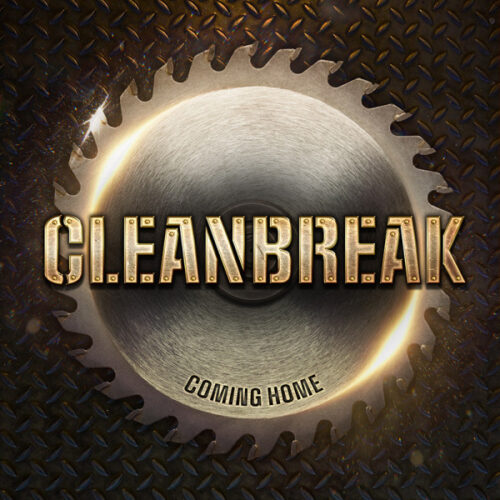 Review | Cleanbreak – Coming Home
Frontiers Music srl
It turns out that his record company Frontiers still has faith in singer James Durbin, who a decade ago reached the top 4 of American Idol. After several solo-albums and an involvement with Quiet Riot (which for me did not really make a lot of sense), last year under the moniker Durbin he released 'The Beast Awakens'. A pure and crunchy heavy metal album where his vocal chords could be admired to the fullest.
NEW TEAM MATES
For 'Coming Home' James has been teamed up with new team mates. To start we got guitarist Mike Flyntz, who is a vital part of Riot V. Furthermore the rhythm section of Stryper has been added to the mix in the persons of drummer Robert Sweet and Perry Richardson (bass). When you add to that the production and writing skills of a certain Alessandro del Vecchio who worked with James on the songs and you have a team that on paper will always win the battle.
THE RESULTS
After hearing 'Coming Home' for the last couple of weeks on a regular bases I dare to say that the results are good, and in some cases even excellent. Flyntz is a pure metal merchant putting down some monster riffs and several razor-sharp solos while Sweet and Richardson have created an energetic and punchy base with the necessary groove. The perfect environment for James Durbin to lay down some impressive and energetic vocal melodies. The man has a big reach and likes to combine power with high pitched singing.
I suppose in a way 'Coming Home' is style wise not so very different from 'The Beast Awakens', except for the fact that 'Coming Home' has as a whole some better songs, is relentless most of the time but certainly has the necessary melodic features. We are dealing most of the time with up-tempo metal songs that are picture perfect for Durbin's voice. ,,Man Of Older Souls'', ,,We Are Warriors'', ,,Cleanbreak'', ,,Coming Home'', ,,No Other Heart'', ,,The Pain Of Goodbye'' and ,,Dying Breed'' are all rocking and rolling hard and the energy just blasts though the speakers. Next to James Durbin's singing it is also the Mike Flyntz show that deserves some praise for his impressive playing.
CONCLUSION
My conclusion is quite simple and straight forward. 'Coming Home' is the best thing James Durbin has done so far in his career. It is not that the music on this album is trendsetting, but it is a pure heavy metal experience that will shake the fillings in your teeth!
Release date 8 July 2022