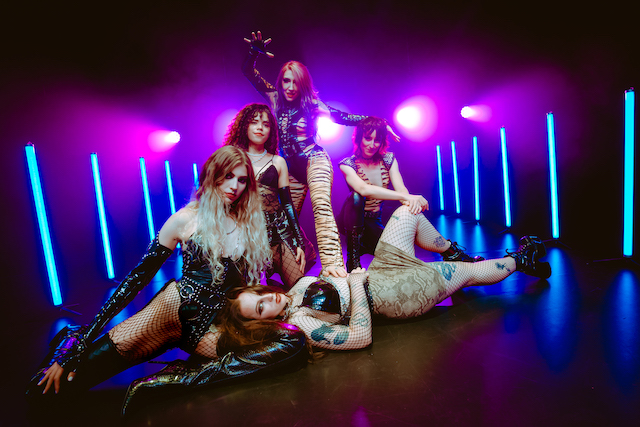 Review | Cobra Spell – Flaming Heart
Independent video release
Not even 24 years old and Sonia Anubis can vow for a recording streak of 7 records with 4 different band, in a variety of genres. A productive lady indeed and a string bender extraordinaire, as proven on 3 releases of heavy metal band Burning Witches and her death metal band Crypta (`Echoes of the Soul' – 2021). The latter being the outskirt of the extreme, her band Cobra Spell dances in a lighter genre. With Cobra Spell slowly transforming from a mixed gender line up into an all-female melodic band, the demand of fans for a debut recording of this stellar line-up was enormous. Scorching the stages at numerous summer festivals, the quintet left no room to argue. Cobra Spell is a force to reckon with!
A NEW LINE-UP
Following the release of their second EP `Anthems of the Night' the line-up was entirely revamped and Kristina Vega on vocals, Sonia Anubis on Lead Guitar, Angelina Vehera on Bass, Noelle dos Anjos on Rhythm Guitar and Jess on Drums now round up Cobra Spell. An international heavy glam metal act that charms, swings and bites.
Rave reviews upon the first presentation of their new line-up launched the demand for new music, and with ,,Flaming Heart" Sonia confidently presents her new band, in the meantime putting Crypta on ice to focus on the future of Cobra Spell. Pulsating bass brings forward the lushly arranged song displaying Kristina Vega as the versatile singer to pull the band forward. Her voice is whaling melodic and she is able to power up to hit the roar as well higher registers. Vibrant as her personality she wails the song alive. Point of attention is her annunciation as her accent is too heavy now.
SONIA ANUBIS
The rainy reverbing clean notes plucked are drizzling in the crystal-clear poppy mix. The beat is simple and effective, the bass line rolls vibrant. Anubis picks her clean notes before delving into one of her trademark solos. Not her flashy fierce shred solo, but a melodic eluding exercise that dazzles upwards with notes pitching higher and higher. Her slim fingers gliding over the fretboard and hammering away, in bright white light enhancing her fretboard wizardry. Working the camera as a Lady Coverdale on acid, she lays down some great harmonies bringing us back to the nesting slick chorus and an Anubis signature guitar breakdown.
Though the song evolves mid paced cheesy, the delivery is checking all the boxes. It is fresh, slick, melodic and mega melodic, reminding me of Vixen's best, with a breeze of 80s AOR in the Device (Holly Knight) and Heart (`Bad Animals') vein. True, I expected some flashy metal and Phantom Blue shreds following their heavier EP's, but I believe Anubis and her squad safe the best for last.
COBRA ON THE CATWALK
The video itself sets the band on stage with a catwalk paraded by the enticing fronter. Rolling over and claiming the camera, she ensures an abundance of men to be crawling frontstage at their upcoming gigs. Leather and chains, shiny latex and tight catsuits do the rest, while the pink and baby blue spotlights flash back and forth. The vibe is eighties, glamour pumps 90s and the lustre AOR.
No snake charmer able to have these cobra's dancing rather than bite, as they precisely spit their venom in a lethal dose. Cobra Spell's ,,Flaming Heart" instantly induces muscular paralysis, cardiovascular dysfunction, blurred vision and haemorrhage as the venomous Cobra casts it's ominous and lethal spell. With my heart skipping multiple beats and even seizing upon watching their glamorous and enticing flashy hair metal-esque video, I can only look forward to a glancing career at the front of melodic and heavy glam.
It is time for the Cobra effect!