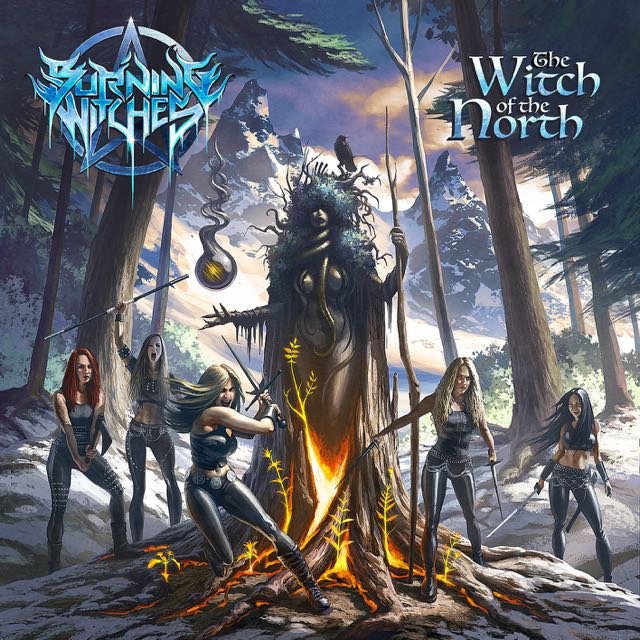 BURNING WITCHES-The Witch Of The North
Nuclear blast records
The Swiss/Dutch ladies of Burning Witches are on a heavy metal mission. They are most certainly a very productive and a seemingly unstoppable force. A year after the release of their 3th full-length album `Dance With The Devil' they already come with a successor. And make no mistake; `The Witch Of the North' is definitely not just a quick in-between album with fillers to keep the momentum, but a wonderful album full of heavy metal anthems. And let's not forget that this is their fourth full-length album since the 2017 debut `Burning Witches'. You can only have deep respect for that.
Dutchie Laura Guldemond (vocals), main songwriter Romana Kalkuhl (guitar), Larissa Ernst (guitar), Jeanine Grob (bass) and Lala Frischknecht (drums) managed to put together a cool album within a year. The recordings, led by Swiss metal legend VO Pulver and thrash titan Schmier (Destruction) as their producer, resulted in an album that also has a top sound.
The album opens with intro ,,Winter's Wrath", that leads us to the powerful title track ,,The Witch Of The North". Next up ,,Tainted Ritual" and ,,We Stand As One". The first moment where the pace slows down a bit is on ,,Flight Of The Valkyries", but only for a short time because after a minute and a half the tempo is full on again. ,,The Circle Of Five" is a song we already know from their recent EP and single releases.
Power ballad ,,Lady Of The Woods" is actually the first and only moment with a slower pace on the album. The coolest addition to this song is the fact that the man who's doing the vocals on the song is Romana's father (!!), who is an opera singer at the Zurich Opera House. What a great addition this is to the song. The rest of the album is, except for the ,,Omen" intro to ,,Nine Worlds" and the outro ,,Eternal Frost'',full power ahead.
In other words, `The Witch Of The North' has become more than 50 minutes of full throttle heavy metal anthems. I think many bands can cut a piece of the craftsmanship these ladies show on their fourth full-length album. Unfortunately the bonus track, Savatage's ,,Hall Of The Mountain King" is not on the promo version of the album. It is a cover that I am certainly curious about, especially after hearing the quality of this album.
If it wasn't already clear from their previous albums, it is now certain, these ladies deserve a place in the higher ranks of heavy metal. If they continue to perform at this level, the hard work will most certainly be rewarded.
`The Witch Of The North', to me, is one of the best metal albums I have heard in a while.