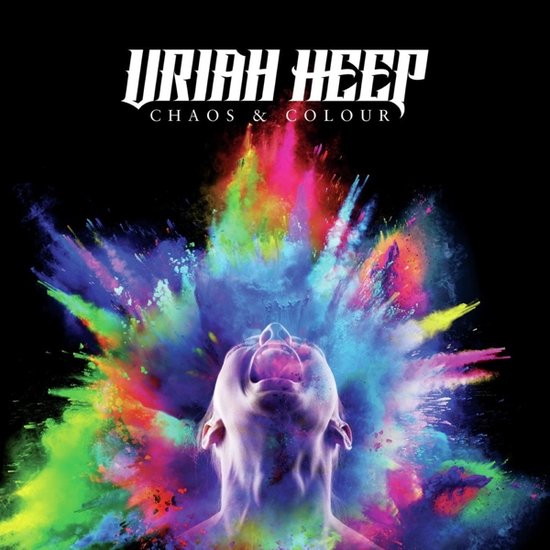 Review | Uriah Heep – Chaos & Colour
Silver Lining Music
Active for over five decades now and presenting studio-album number 25…. We are talking about Uriah Heep, led by the only remaining founding member Mick Box (guitar) who during the years lost many of his former musical friends (Gary Thain, David Byron, Trevor Bolder, John Lawton, Ken Hensley and Lee Kerslake) but as a real trooper carries on with his band as he has this rock and roll fever in his blood and no wish to retire and take things easy. He is already looking forward again to touring and including some new songs featured on 'Chaos & Colour' in the live-set.
URIAH HEEP HAS A STEADY LINE-UP
With Phil Lanzon (keyboards), Bernie Shaw (vocals), Dave Rimmer (bass) and Russell Gilbrook (drums) Uriah Heep has a steady line-up for many years now. It is safe to say that Box and company are forming a well-oiled machine. For their 2018 album 'Living The Dream' the group worked with producer Jay Rushton and as that album was quite a peach it was an easy and logical decision to carry on working with Rushton for 'Chaos & Colour'. Box has a simple explanation for the album-title stating that the world was in chaos for the last couple of years and the only colour there was in the life of many people was music, a thing you can always fall back on, even in desperate times. A simple but very realistic explanation, don't you think?
LIGHT AND SHADE
When you look at the career of the band their music has always been a combination of light and shade, a colourful mix of guitar, keys and superb vocal harmonies. Think back of old songs like ,,July Morning'', ,,Easy Livin''', ,,Free Me'', ,,No Place To Run'', ,,Wizard'', ,,Gypsy'' or ,,Stealin''', all of them dominated by these incredible vocal harmonies, without a doubt a trademark of the group. Not much has changed on 'Chaos & Colour''. Bernie Shaw sings his heart out, the other members contribute towards the harmonies making songs like ,,Hurricane'', ,,One Nation, One Song'', ,,Save Me Tonight'' (talking about an energetic and epic opener of this album!), ,,Silver Sunlight'' and the most epic track of the whole album ,,You'll Never Be Alone'' feel you at ease and excited at the same time.
'Chaos & Colour' sounds dynamic and has been provided with a pitch perfect production. It is actually quite amazing how Uriah Heep has managed to progress through the years without losing any sort of identity. Mick Box has done a remarkable job together with his fellow musicians keeping Uriah Heep alive and most importantly relevant. The years might have rolled on, Uriah Heep has rolled on with them with 'Chaos & Colour' as the latest and at times very impressive sign of life.
Release date: 27 January 2023