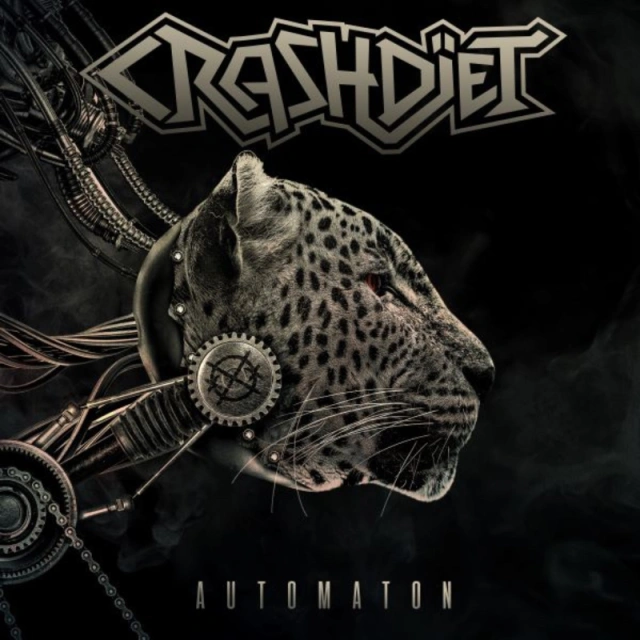 Review | Crashdïet – Automaton
Crusador Records
Crashdïet from Sweden are back with their 6th brand new album called `Automaton'. These rockers from what I call the new generation of sleaze/glam metal, have been already around from early 2000. There have been quite a few personnel changes in these 22 years. None of the original band members from 2000 are in the band anymore. Perhaps the most famous of these original band members was guitarist Mary Goore, now known to the general public as Tobias Forge, the mastermind behind Ghost.
ROCK 'N ROLL
However, guitarist Martin Sweet, bassist Peter London and drummer Eric Young are in the band since 2002. Although Eric is on hiatus now and for the tour replaced by the Finn Lacu [known for his work with Hanoi Rocks]. Lead singer Gabriel Keyes is the fourth lead singer of the band and is on board now for his second Crashdïet album. [Review former album `Rust' HERE].
What to expect from Crashdïet 2022? Well…, the well-known dose of rock and roll songs, with which these guys have built a name for themselves over the years. The record has a good production and sounds like a Swiss clock. The album opens with the 39 second intro ,,Automaton'' which seamlessly transitions into ,,Together Whatever'', a nice up-tempo stunner that also has a lovely chorus. Followed by the next rocker in the form of ,,Shine On'', a song accompanied by a delicious groove.
HEAVY BOUNDARIES
Singer Gabriel Keyes has a very pleasant voice to hear, especially for the genre this band plays. He has a nice rough edge on his vocal cords. The first single of the record is ,,No Man's Land'', a song with a slightly higher tempo, but here too there is enough room for melody and a lovely guitar solo by Martin. ,,Darker Minds'' is as far as I'm concerned a song that doesn't really touch me with a vocal line that crawling ahead. On the other hand, the main guitar riff of ,,Dead Crusade'' really gets to me. Perhaps because here the band flirts with the heavy boundaries of thrash, mainly in terms of main guitar work. The vocals are just melodic and have a nice sing-along chorus. It is absolutely one of my favorite songs on this album.
Unfortunately, ,,Powerline'' is also not a very strong song as far as I'm concerned, but ,,Resurrection Of The Damned'' is a great song. Again with a slightly rougher guitar edge and a wonderfully sleazy riff too. However, this song is also followed by a less strong song in the form of ,,We die Hard'. ,,Shell Shock'' is again easier to digest with its beautiful structure and wonderful guitar work. ,,Unbroken'' is a bit more up-tempo and melodic, with an earworm of a chorus.
The 'mandatory' track is closing track ,,I Can't Move On (Without You)''. It is a juicy ballad that adds little to the rest of the album. Certainly not the strongest moment of `Automation'.
DAVE LEPARD
What I've heard is an album that has some very strong songs, but it also features some meaningless songs. Crashdïet is a band that has dealt with quite a few setbacks in their 22 years of existence, with original frontman Dave Lepard tragically taking his life in 2006, and line-up changes since then. With the arrival of Gabriel, the band seems to have moved into more solid waters, which has certainly been translated on this album. Their love for the sleazy/glam music genre is clearly there, but I must say their flirtation with harder work is definitely a nice addition that works.

Crashdïet's `Automaton' has become a good album and especially if you're a fan of the genre or the band, it's definitely worth a listen.
Release date: 29 April 2022