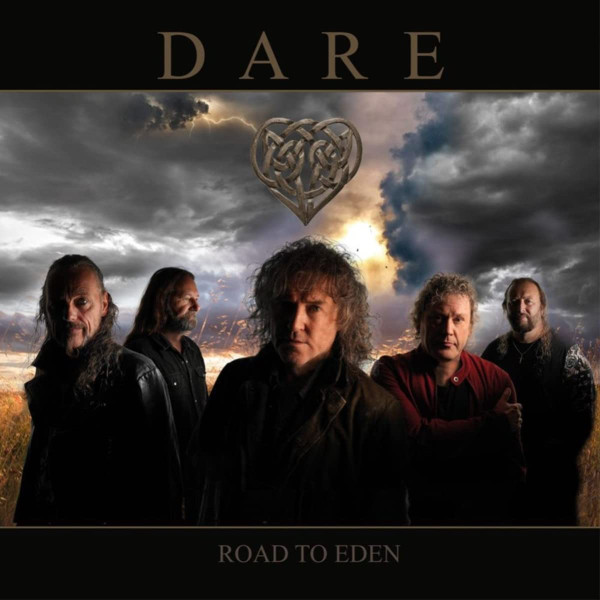 Review | Dare – Road To Eden
Legend Records
With a brand-new album 'Road To Eden' singer/keyboardist Darren Wharton and his band Dare give the rock world a welcome sign of life. Not that the band had been inactive or so but it was in 2016 that they released 'Sacred Ground' followed by a 2018 re-recorded version of 'Out Of The Silence'. So some new stuff was overdue.
A CERTAIN STYLE
If you have followed Dare since their beginning days in 1989 you will agree with me that Wharton and Co. have (throughout the years) developed a certain style sounding more and more smooth and more and more direction AOR with some Celtic influences. 'Road To Eden' has all these features as well, but since the return of original guitarist Vinny Burns to the line-up it is also obvious that Dare is sounding heavier. Burns adds a lot of force to the silky sound as opener ,,Born In The Storm'' immediately clarifies.
Darren Wharton's voice has matured throughout the years and although he never wanted to be a genuine hard rock and metal vocalist, he does a good job on this record. He has this melodic silky voice, very accessible and very recognisable, but Darren is not a man who wants or needs to demonstrate power and a big reach. He has got his own sound that fits the music that he has written. On the other hand, if you want to be critical 'Road To Eden' might be slightly heavier but the band remains safely within their own musical boundaries. They are not stepping out into something daring or very different. Dare has found their own little musical corner and is happy to roam around in that environment.
PHIL LYNOTT
When Darren was just 18 year old he became the keyboardist for Thin Lizzy and Phil Lynott took him under his wing, showing him around in the scene. The admiration Darren had and has for the legendary singer/bass player is once again displayed in the great rocking track ,,Only The Good Die Young''. Listen closely to the lyrics and you will understand what the song is all about. Darren remembers his deceased friend with an appropriate text that really touches the soul. One of the best songs of the album is ,,Thy Kingdom Come'', a rocking tune where Vinny Burns gets the room to show his ability.
One or two songs more in that vein would have given 'Road To Eden' more body, as most of the songs are reasonably laid back, smooth and not really that much different from earlier work. I suppose that at the end of the day 'Road To Eden' is for this band a very logical album. A touch more rocking for sure but also slightly predictable at stages. I am sure that fans of this outfit will lap this up and so they should. But will 'Road To Eden' lead Dare to be known and appreciated by a bigger audience? Time shall tell….
Release date: 1st April, 2022