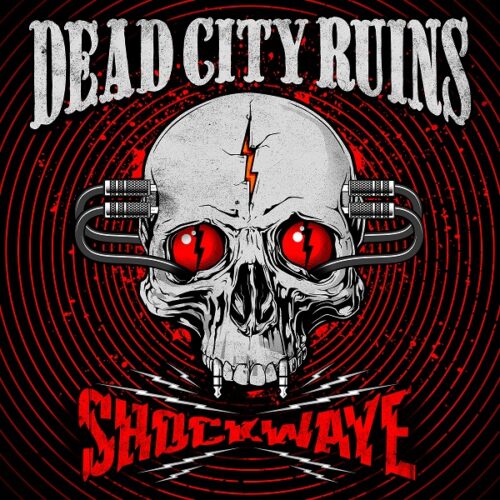 Review | Dead City Ruins – Shockwave
AFM Records
Not long after the release of their 2018 release 'Never Say Die' Melbourne, Australia based heavy rockers Dead City Ruins saw their singer Jake Wiffin call it a day. That was a pity as that third album was putting the band quite firmly on the map in Europe where they toured in 2019 supporting U.D.O. The band hardly wasted any time and recruited Steve Welsh, who with his more versatile voice soon proved to be the right man for the job. After making his debut on stage with Dead City Ruins it became time to record a fourth band album entitled 'Shockwave'.
AUGUST 2022
The month of August in the year 2022 is an important milestone for the band. Not only will the album be released all over the world but on the 30th of that month Dead City Ruins will play their biggest gig up to date. During the years they have opened for several international acts in Australia but a gig in the prestigious and sold old Rod Laver Arena in their hometown of Melbourne opening for an act like KISS is a different cup of tea. But I am pretty sure that these lads will storm the stage and with a lot of cockiness as one of their weapons will deliver a stellar show.
PRESENT THE NEW ALBUM
During that gig the band will have the ultimate opportunity to present the new album to close to 15.000 rock and metal fans. That new album is quite good if you ask me. It sounds robust, at times even relentless but there is also a lot of versatility in the material. Varying from ultra- heavy rockers like ,,End Of The Line'' or ,,Speed Machine'' to a slightly more 'sophisticated and radio-friendly' tune like ,,Dog On A Leash''. ,,Drifter'' is a more intense and groovier song while ,,This Side Of The Dirt'' is built around an inventive riff, has a pure 'rock and roll' character and a great guitar duel between Tommy Cain and Sean Blanchard.
This versatility in the material and performance is without a doubt one of the stronger points of Dead City Ruins. They are really a kick ass heavy and hard rock band but there is more on offer than just that. Steve Welsh is a big asset and I see no reason why these boys should not make it into the scene. All the ingredients are there: songs, sound and a certain hunger by all band members to take the world by storm. Destined to go further than Australia alone!
Release date: 19 August 2022