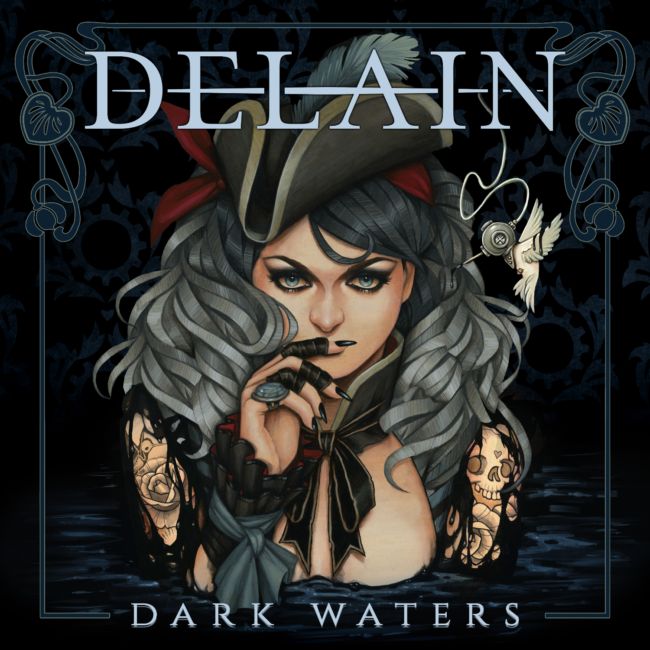 Review | Delain – Dark Waters
Napalm Records
With 'Dark Waters', the brainchild of former Within Temptation keyboardist Martijn Westerholt, Delain releases the 7th studio album. I can immediately reveal that it has become an amazing symphonic metal album. Romanian singer Diana Leah has a wonderful voice is not metal per se. Her slightly more poppy sound makes the mix with the raw guitars and orchestral parts even stronger. A bit like Anette Olzen with Nightwish.
MARCO HIETALA
Veteran guitarist Ronald Landa and drummer Sander Zoer are back on board. Bassist Ludovico Cioffi closes the list of musicians. Were it not for the fact that some guest musicians can also be heard on this album. The vocal department holds appearances by Italian guest singer Paolo Ribaldini and not to forget, Westerholt managed to get Marco Hietala (ex-Nightwish) as well
The album opens with the beautiful ,,Hideaway Paradise'', where singer Diana has plenty of space in the verses to showcase her voice. The chorus is one in the category, nice melodic that settles in your mind and stays there for the next few hours. All parts on this album serve a purpose and that purpose is to contribute to the whole. A beautiful proof of craftsmanship, not to lose sight of the bigger picture.
BOMBASTIC SOUND
,,The Quest And The Curse'' contains all the elements you would expect from a band in this genre. Beautifully worked out vocal lines, heavy guitars, grandly unpacked choirs, grunt vocals, but here too plenty of room to let the whole breath is captured in the composition. Delain knows perfectly how to showcase their bombastic sound with songs like ,,Beneath'', ,,Mirror Of Night'' and ,,Tainted Hearts''. The production is slick and all instruments have been given enough space in the mix. Beautiful vocals, catchy choruses, solid drum and bass parts and beautiful guitar solos.
Delain knows how to put the real fireworks on the album with ,,Invictus''. This 5-and-a-half-minute gem immediately grabs you by the throat at the opening with a wonderful classical choir, bombastic guitar parts and enchanting vocals by Diana. It has nice tempo changes and as icing on the cake the vocal power of Marco Hietala. It is a masterstroke by Westerholt to give Marco a role in this song.
NEW CHAPTER OF DELAIN
On album closer ,,Underland'' the power of Delain is once again displayed in a beautiful way so it is the perfect conclusion of a fantastic album.
'Dark Waters' is a wonderful new chapter to add to Delain's already impressive catalog. Fans can be happy that Westerholt always tries to add another high-quality musical chapter to the band's discography. Kudos to the other band members, because their contribution to the whole is also essential to make a product like this. Fans of Delain will be over the moon when they hear these new songs and many new fans are won. Hopefully Delain will soon enter the stages soon to blow off some roofs with their music.
Release date: 10 February 2023